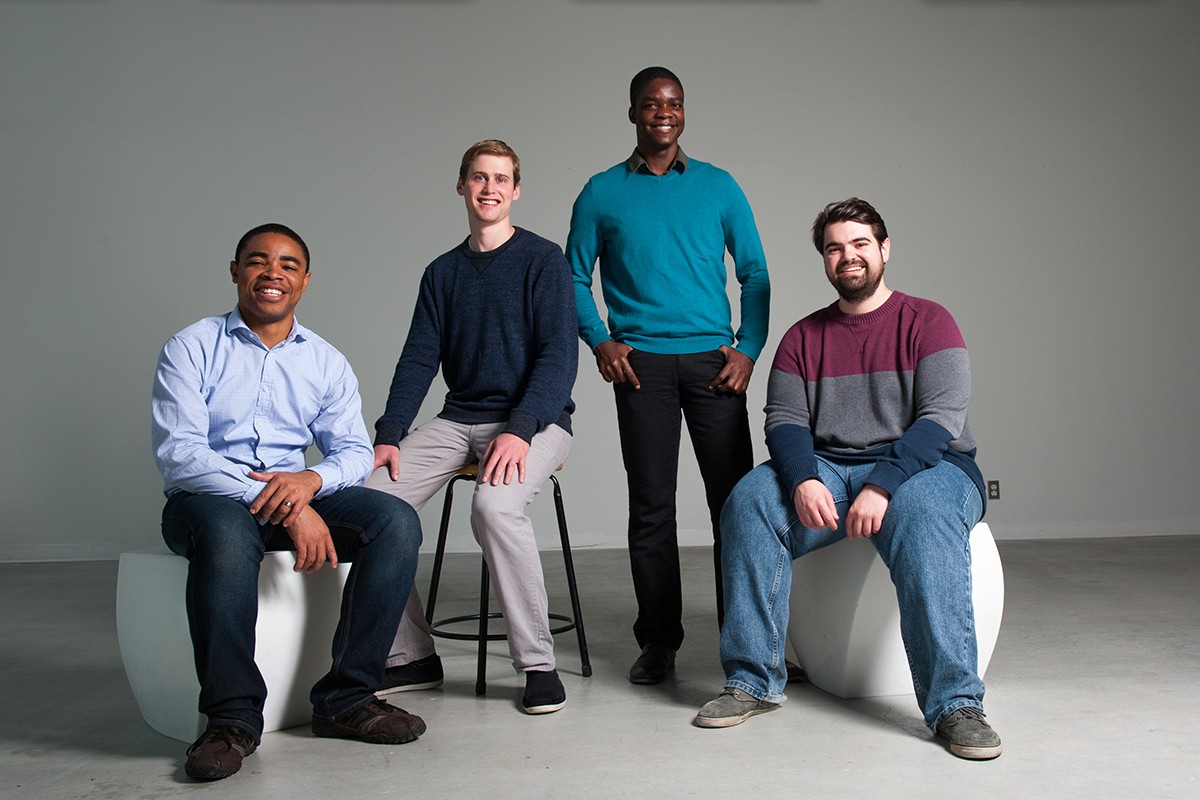 Successful students
January 1, 2016 —
In 2015 students at the University of Manitoba continued to succeed. The past year marked four more Vanier scholars, two Schulich leaders, awards for a humanitarian and photographer, and unique initiatives driven by our students. These are some of the top stories of student success from the past 12 months.
Four more to be reckoned with
For the first time ever, four U of M graduate students in a single year are recipients of the prestigious Vanier Canada Graduate Scholarships. The recipients – Chigbo Arthur Anyaduba, Ifeanyi D. Nwachukwu, Michael Becker, and Jonathan Challis – study subjects as varied as nutritional foods, crop disease, pollution and genocide. Read more.
"I literally hopped around the lab on one leg in delirious joy!" says Nwachukwu, describing how he reacted when he received the Vanier Scholarship
Schulich Leaders forging their own paths
Two exceptional new students joined the U of M community this past fall after receiving one of the most generous and competitive scholarships available to Canadian students. Harley Bray and Christopher Dyck have each been awarded the Schulich Leader Scholarship a four-year award totally $60,000-$80,000. Read more.
"You always have to be stepping out of your comfort zone and getting to the edge of your ability level to find out just how far you can go," says Bray.
Red Cross names U of M student Young Humanitarian of the Year
Rhianna Holter-Ferguson is a fighter. She has a black belt in karate and numerous gold medals for her efforts with the Stonewall Karate Club. In her life outside the dojo, however, there lies a stark contrast to the power she exerts on the mat. The 19-year-old is also an anti-bullying advocate. Her winning battles to help create safe spaces earned her the title of 2015 Young Humanitarian of the Year. Read More.
"Helping to raise awareness about the issue of bullying is so important to me because when someone is being targeted by bullying behaviour they are not going to feel safe, and everyone has the right to feel safe in their school or their workplace," says Holter-Ferguson.
Student wins photography scholarship
Graham Wiebe, a BFA (Hons.) student in the School of Art, was announced as one of three winners of the 2015 Aimia | AGO Photography Prize Scholarship Program on May 20.
This is Canada's largest photography prize. The prize awards more than C$85,000 to artists working in photography each year and comprises an annual exhibition at the AGO (Art Gallery of Ontario), international artists residencies, public programming and a national scholarship program. Read more (and see the winning shot!).
Asper student builds cultural bridge
Earlier this year the Winnipeg Blue Bombers set a new record. Thanks to an initiative from a Brayden Harper, a student in the Asper School of Business, the Bombers became the first CFL team to acknowledge the land they play on is on traditional Indigenous territory. Read more.
"I was nervous, but I just keep thinking that this is the right thing to do and it's such a small piece, but it means a world of a difference to the Indigenous community," says Harper.
Against all odds: The remarkable story of Ashley Richard
Maclean's tells the inspiring story of Asper School of Business student Ashley Richard. Ashley has overcome incredible obstacles on her courageous journey to get to where she is today. She is an award-winning student, a proud Metix, a role model – and she has big plans for her future. Read more at Macleans.ca.
"I feel like I really need to show people that I am stronger because of all of these experiences, that I am not broken," says Richard. "These stories – while they may seem shocking – have made me the person that I am today."
We are negotiation champions
This summer Canada 1 and Canada 2, two teams from Robson Hall, Faculty of Law, took first and fifth places at the 2015 International Negotiation Competition hosted by the Law Society of Ireland. No other Canadian law school has ever won both the international and U.S. national negotiation championships. Read more.