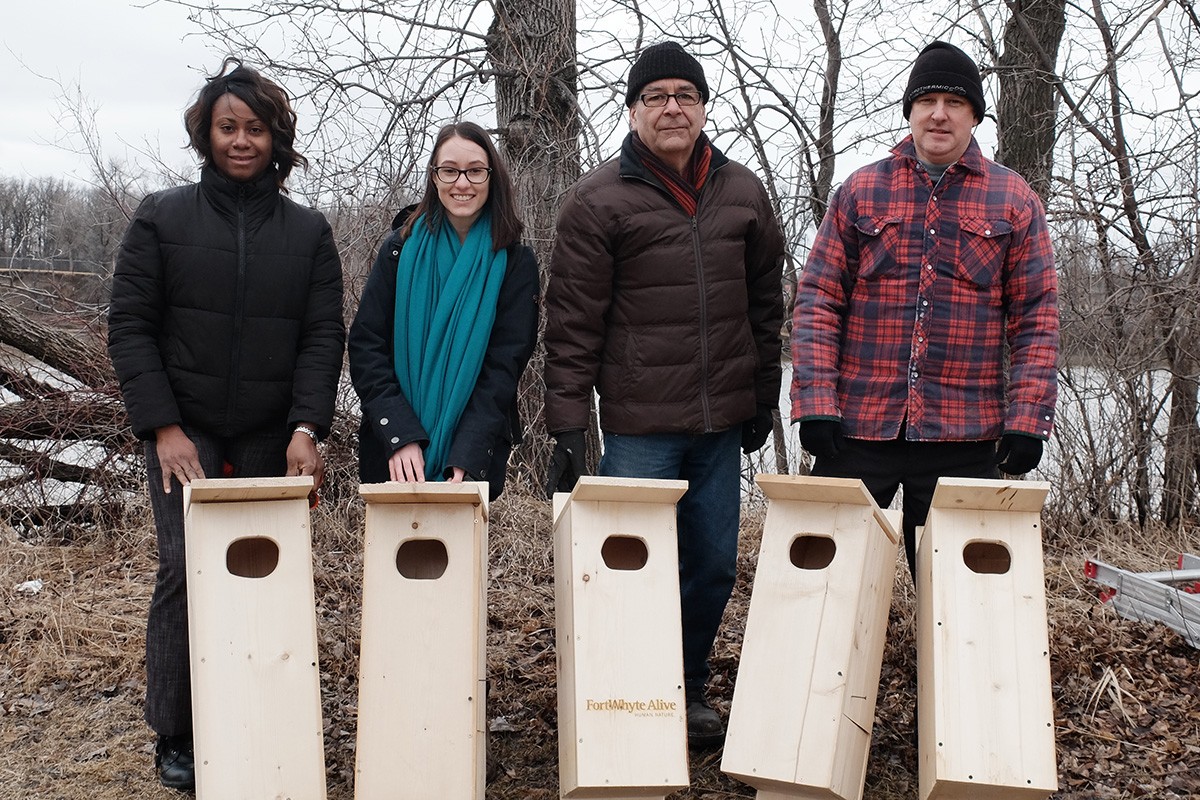 Student's research helps guide U of M to partner with FortWhyte on wood duck conservation project
April 18, 2016 —
Sabina Mastrolonardo is in the final year of her Bachelor of Environmental Studies degree (Hons., Co-op) at the University of Manitoba with a focus on wildlife conservation and biodiversity. For a class assignment, she was asked to volunteer time to an environmental organization. Through the Office of Sustainability, she connected with FortWhyte Alive, who needed help distributing letters about their Wood Duck Nest Box Project to riverside residences.
The Wood Duck Nest Box Project was launched by FortWhyte in the early 1970s in response to declining numbers in the local wood duck population. The voluntary program installs wood duck nest boxes in trees on the properties of FortWhyte members who live near water to provide habitat and support population resurgence. This year, volunteers visited 78 homes to replace and maintain old boxes, as well as install 18 new ones. Fort Whyte also sells their logo-engraved boxes in their Nature Shop.
With the Red River making up much of the border of the Fort Garry campus, the University of Manitoba seemed like an ideal candidate for participation in this program. When it was proposed that Mastrolonardo research the feasibility of the University of Manitoba participating in this project, she was thrilled.
"My passion lies in anything environmental or sustainability related, but my love for animals – especially birds – trumps all," said Mastrolonardo.
Through the Office of Sustainability's Sustainability Research in Action Program, Mastrolonado undertook a research project to determine if and how the university should participate in this program. The Sustainability Research in Action program connects faculty, staff and community members with students who are passionate about solving sustainability challenges through research projects.
Based on Mastrolonardo's research and subsequent recommendations, the University of Manitoba became the first post-secondary institution to partner with FortWhyte on the Wood Duck Nest Box Project.
"By participating in this program, the university will help conserve the once critically low population of wood ducks in Manitoba," said Ian Hall, Directory of the Office of Sustainability. "In providing habitat for these ducks to nest, the university will support biodiversity on campus, a key goal in the university's sustainability strategy."
In early April, five wood duck nest boxes were installed by FortWhyte volunteers in trees along the south bank of the Red River between the Wallace Building and northeastern boundary of The Point.  As part of the partnership, FortWhyte will be responsible for the annual maintenance including repairs, replacements, and tracking wood duck numbers. However, there is potential to expand this program in future years engaging students to maintain and in research-related to the nest boxes.
Do you have a project idea that could help solve a sustainability challenge on campus or research area that would benefit from the assistance of a student? Contact the Office of Sustainability for more information on the Sustainability Research in Action program at sustainability [at] umanitoba [dot] ca or (204) 474-6121.
The University of Manitoba is committed to being a sustainable development leader. Our teaching and research contribute to global knowledge of sustainability and the actions and decisions we make build a healthy, inclusive community that respects the Earth.