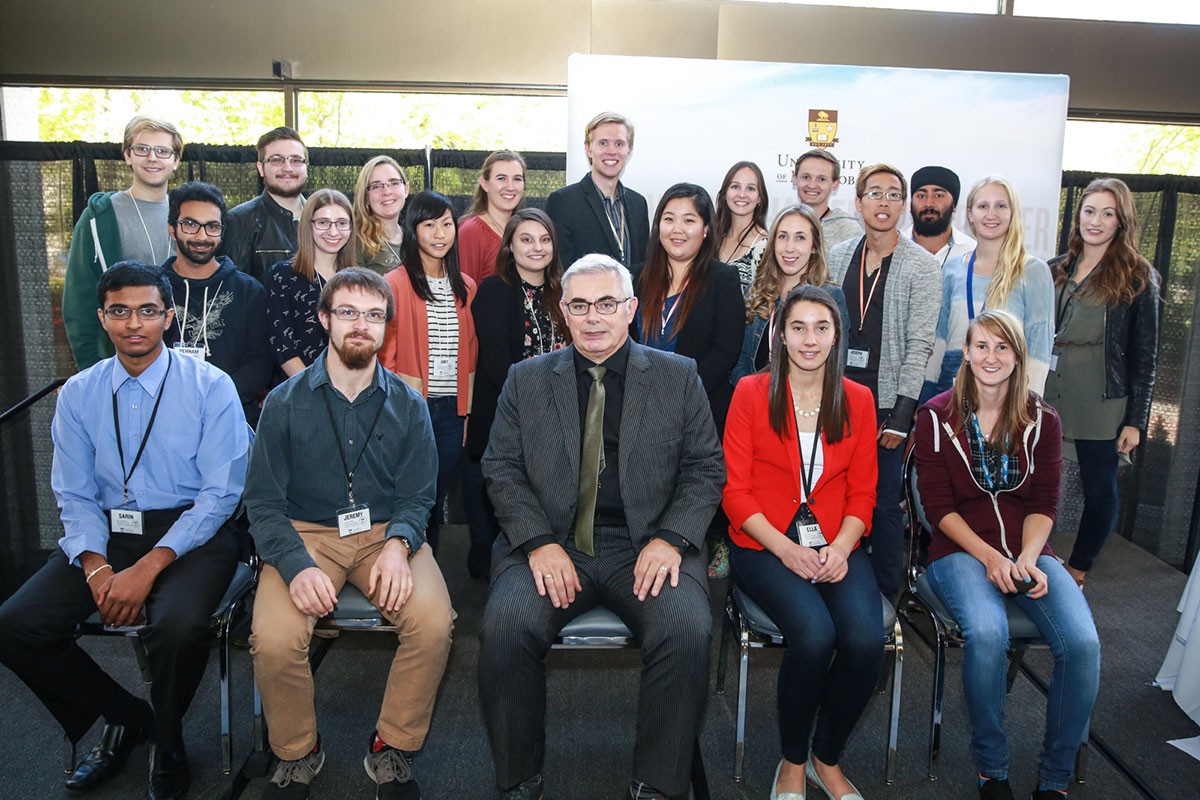 Students recognized with President's Scholars honours
September 20, 2016 —
At a celebration on Wednesday, Sept. 14, 2016, University of Manitoba President and Vice-Chancellor David Barnard recognized students who earned the distinction of President's Scholar at a reception held in their honour. The designation is given each year to students admitted to the U of M with a minimum 95 per cent high school average and who maintain a minimum grade point average of 4.0 for the rest of their first degree.
President's Scholars who reach their fourth year maintaining their 4.0 GPA are presented with a gold pin they can wear to proudly show their commitment to their academic studies and leadership. This year, the university awarded 43 senior students with a pin. There are now almost 450 President's Scholars at the University of Manitoba.
Jade Kirstein, student leadership coordinator with Student Life, was the emcee at the event. "President's Scholars share more than an exceptional GPA, you also share a determination to pursue excellence in your academic and professional lives…On behalf of all of my colleagues I would like to thank you for joining us today to recognize new scholars, welcome back returning scholars, and celebrate fourth-year scholars," said Kirstein.
Benham Beizaei, fourth-year scholar and pin recipient shared insight about attending the event.
"Basically, throughout these years, I have never missed the greeting events…I found the events emotionally stimulating in terms of recognizing old friends from my own faculty as well as other faculties," said Beizaei. "Getting engaged in conversations with scholars from upper and lower years allows me to absorb and transfer my experience. It is truly a moment of bonding."
"Having the Deans and the President there to talk with is also awesome! It is great to see how different university faculties and departments can join together in one room to celebrate the young achievers with high potential," said Beizaei.
Third-year scholar Taylor Nimchonok said: "Being a President's Scholar and attending this event is this opportunity to pause and reflect not only on all the work you've done, but on the fact that the university sees you in this amazing way. You are acknowledged for your work ethic, your academic performance and rewarded in ways that continue to help you succeed."
To close out the pin ceremony, fourth-year President's Scholar and engaged student leader, Ryan Sherbo shared a few words about his overall student experience.
"I'm immensely grateful to the wonderful professors and mentors I've had through my time here, and to the friends and family who've helped me along this journey," he said. "As advice, to the first-year scholars – congratulations, and good luck on a journey that you're already starting on the right foot. To the second and third year scholars – keep it up. You've already proven yourself time and time again, and it only gets easier from here. To my fellow fourth-year scholars – nothing to do but learn, grow, and keep on excelling."
The distinction of being a President's Scholar makes a student eligible for a number of benefits, such as: scholarship funding of $1000 in each second, third, and fourth years of study (providing he or she meets renewal criteria), priority registration, notation on the university transcript, access to the President's Scholars Study Lounge and special events.
The President's Scholars program is a collaboration between the President's Office, Financial Aid and Awards, University 1 First-year Centre and Student Life.