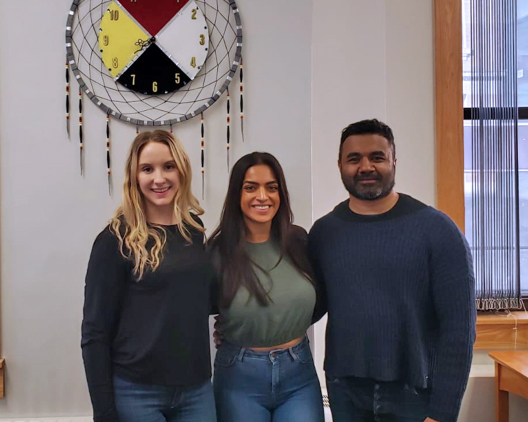 Students honoured for campus leadership
April 29, 2019 —
Six students from the Faculty of Agricultural and Food Sciences were recognized for their exceptional community engagement with the University of Manitoba Emerging Leader Award (ELA) this spring.
The ELA is a way the University of Manitoba recognizes the outstanding contributions that students make to the enhancement of the institution and our community. The award was introduced in 2006 to recognize students who are committed to furthering its educational mission by contributing to the social, cultural or economic well-being of communities on and/or off campus, while encouraging cross cultural understanding and demonstrating sustained leadership and initiative that is worthy of recognition.
This year 44 students from across the University of Manitoba were honoured with the ELA, including diploma students Krystal Pelepiuk, Mathieu Simard and Julia Strecker, degree students Bhanu Pilli and Michelle La, and M.Sc. student Matthew Granger.
Krystal Pelepiuk, who grew up in Pansy, MB, had been involved in her community long before she came to the University of Manitoba to pursue a Diploma in Agriculture. She credits her parents' work ethic and leadership roles as setting the example for her wide range of activities, including horseback riding, Ukrainian dancing, and speed swimming. At horse shows, Krystal would teach younger riders their patterns, and at her high school and church, she took a lead role in helping others.
"I have been taught how to work with others and take their opinions into consideration. I learned that it's important to understand that 'your' way isn't always right, and that it's okay to make mistakes. What counts is how you fix those mistakes and that you learn and grow from them," said Krystal.
At university, Krystal continued to contribute to her community. When one of her classmates passed away unexpectedly, Krystal and others helped plan a memorial service to honour their friend. However, she downplays her contributions, noting that sometimes it is more important to be a team player than a leader.
"The most important thing I've learned this year is that tomorrow isn't guaranteed, so live life to the fullest and do the things that are out of your comfort zone. Because of this I really don't know what the future holds but can't wait to find out," she said.
Krystal, who graduates next week at the School of Agriculture convocation, is working with Paterson Grain in Steinbach, and wants to pursue a career as a sales agronomist.
Bhanu Pilli, who hails from Waterloo, ON, came to the University of Manitoba to pursue a Bachelor of Science in Human Nutritional Sciences. In addition to his studies, one of his proudest collaborations was with two senior undergraduates in designing and implementing a food literacy program for newcomer international students. 'Food Beyond Borders' consists of a series of hands-on food skills workshop sessions that focuses on community building and acts as a practical resource for helping students transitioning into the a new Canadian food environment.
He has also been active as a teaching assistant and sessional instructor in Anatomy & Physiology, an experience which he said allowed him to facilitate student learning and establish supports for students in developing self-efficacy, self-confidence, and critical thinking skills within a lab and classroom setting.
Bhanu sees the University of Manitoba not only as a home for a diverse group of students from different walks of life, but also a new environment and experience that involved adversity, growth and the unknown.
"My time at the U of M has helped shape me to be the person I am today. I believe it is important to give back to my community in a way that allows me to express that each person matters, each person has a voice, and that we have a collective capacity to make a difference and positively impact each other's experiences," said Bhanu.
With a long-standing interest in public health, Bhanu also had the opportunity to participate in global health research last summer in India in projects addressing complementary feeding practices in the community, iron folic acid supplementation in pregnant mothers, and improving knowledge and counselling practices of village health nutritionists. And he is already looking to the future.
"While my most immediate plans are to continue contributing to my community through my teaching and research platforms for the next year, my long-term goal is to bring an interdisciplinary health approach to community health care with a special focus in trauma and emergency medicine. I hope to continue building my skillset, experiences, and awareness to put myself in a position to contribute to both community and global health," he said.
Krystal and Bhanu both exemplify the outstanding student leadership and commitment to community that exists in the Faculty of Agricultural and Food Sciences.