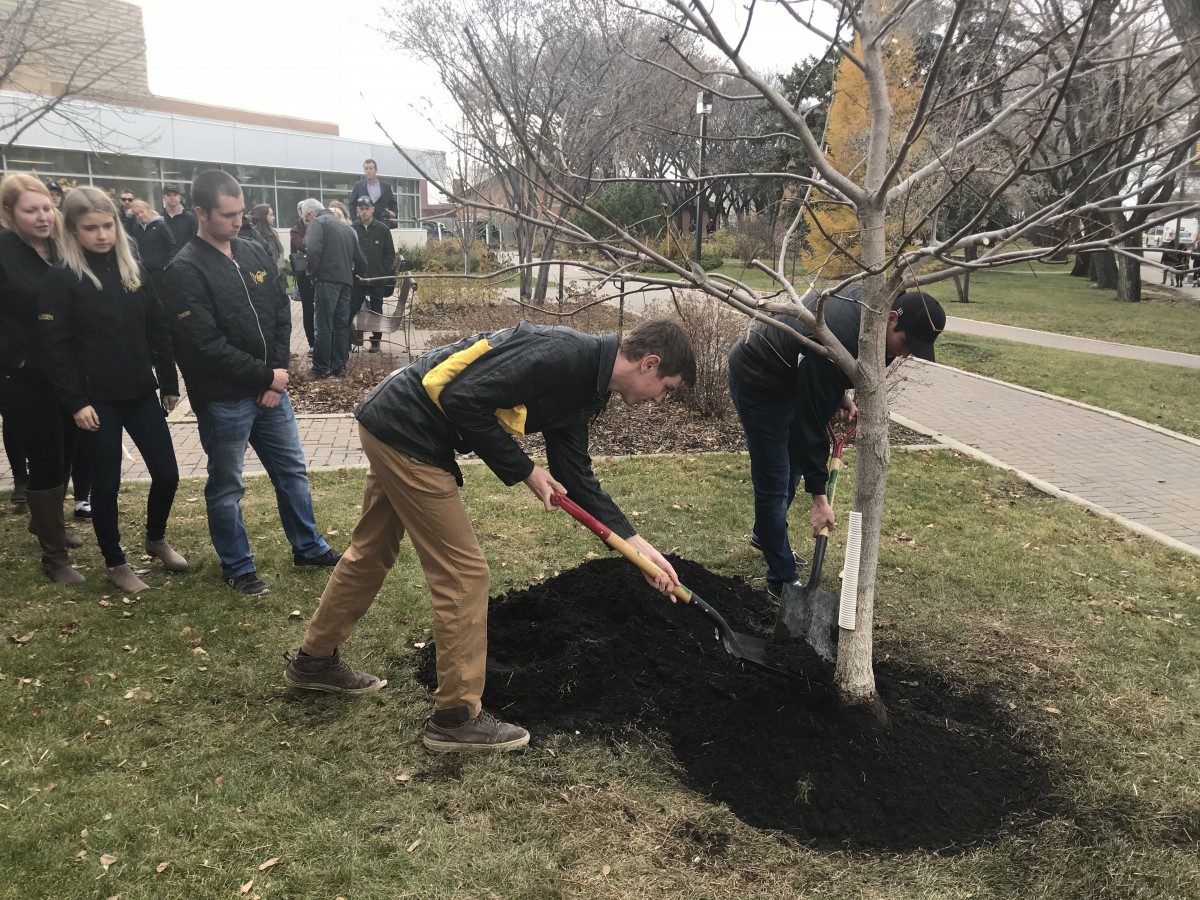 Remembering Kyla
Students honour classmate with living memorial
October 31, 2018 —
Aggies from the University of Manitoba have a long history of being part of a strong-knit, caring community. Students and alumni, along with faculty and staff of the Faculty of Agricultural and Food Sciences, form strong bonds that begin during their academic studies and stretch into their careers and lives after graduation.
During times of loss, those deep-rooted connections can also provide comfort and support.
In honour of their classmate Kyla (Bateman) Staib, who passed away in April 2018, students in the Faculty joined together this fall to create a living memorial and to hold a special service in her memory.
"We thought this service was important as some students were unable to make it to her funeral service, so for them this was their way of paying tribute to her. She had an impact on many people in the Agriculture Diploma program so we felt it was important to honour her," said classmate Sam Van Hulle.
With the assistance of Physical Plant staff, the students organized the planting of a tree and installation of marker stones.
Campus arborist Les Wellwood says the tree chosen – an Autumn Splendor Buckeye – is a hardy variety sourced from a local nursery and planted in a prominent spot near the Agriculture Building. The site was selected with the endorsement of Rob Visser, greenhouse manager for the Department of Plant Science.
"When students come back to campus each fall, this tree will be in its glory, with bright red foliage," said Wellwood.
The students, with the help of the University of Manitoba spiritual care coordinator Edgar French, organized a memorial service with Kyla's family, which took place on October 30. Matt Simard, the Senior Stick for the Diploma students, was the master of ceremonies, and students read poems and shared their memories of Kyla.
"Kyla was a beautiful person all around. She was a friend to so many of us, a person to just let loose with, someone to vent to or ask advice, and was always there to help many of us when we struggled with class work," said Van Hulle.
"I was lucky to meet Kyla the first day of school. She had the biggest smile that she wore daily and the most welcoming personality. She was very special and taken way too soon," said classmate Krystal Pelepiuk.
"Kyla brought out the best in me along with the best in everyone else who got to know her. Even though our time together wasn't long I'll always cherish the memories we had and will proudly say she was one of the best friends I'll ever have," said classmate Julia Strecker.
Following the memorial service was a reception in the Aggie Student Lounge, provided by the Faculty of Agriculture Students Organization (FASO).
Kyla's husband Albert Staib, parents Bruce and Kim Bateman and sisters Karissa, Keanna and Julia were also in attendance. They were presented with a 2018 Bedpush shirt which noted the initials of Kyla and two other students on the sleeve in memory of their passing.
"We are thankful for being included in the memorial service as it meant so very much to us. Kyla enjoyed being a part of the 'Ag Diploma Family' and she honestly could not say enough good things about all the staff and students," said Kyla's mom Kim. "She loved every minute of her 'Aggie' experience! She kept telling us it was the best place on campus and that the two year program was not enough for her – she was already thinking about extending her education. We want to thank everyone who touched Kyla's life and we ask that you remember her often."
"In recent years, we have experienced several tragic losses in our Faculty. I have been deeply moved by how our students, our faculty and staff, and our broader base of alumni and agricultural supporters have come together to take care of each other," said Karin Wittenberg, Dean of the Faculty of Agricultural and Food Sciences. "While our students attend the University of Manitoba to pursue their education, I am proud to think that they also join a larger community that will support them in their lives."