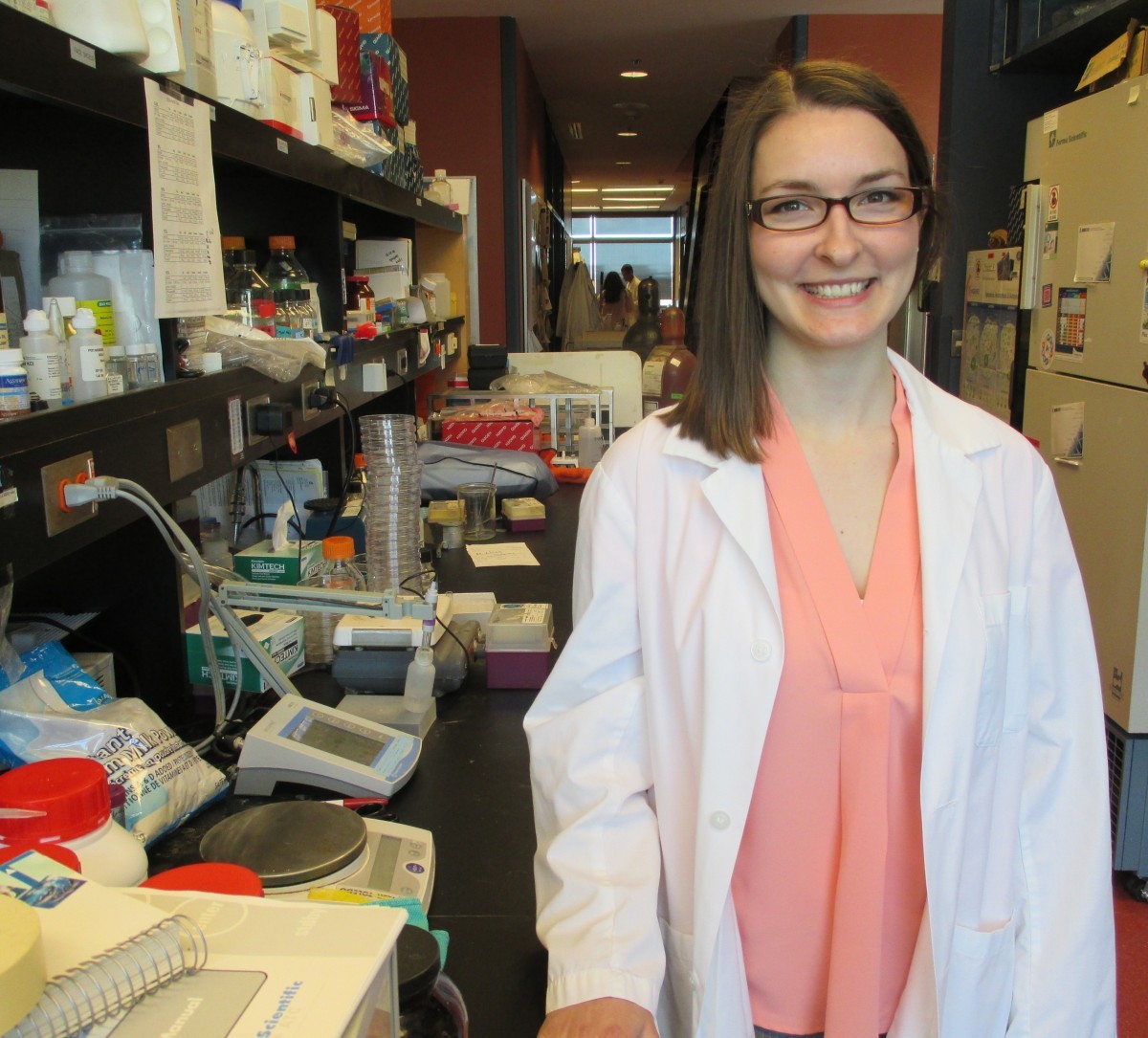 Student wows national audience
Doctoral student places second in national competition
June 5, 2015 —
Rebecca (DeLong) Dielschneider, doctoral student in immunology at the University of Manitoba, has placed second in the national Three Minute Thesis (3MT) competition, in which graduate students had only three minutes and one static slide to explain their research to judges and a lay audience. More than 1,500 students participated in the 3MT process at 36 schools across the country, and Dielschneider won the rounds in Manitoba and was voted People's Choice here and at the regional competition in western Canada.
"Rebecca is just one example of the University of Manitoba's outstanding graduate students," says Jay Doering, vice-provost (graduate education) and dean of graduate studies. "Three Minute Thesis is a challenging competition that hones graduate students' ability to communicate the nature, goals and significance of their research to a non-specialist audience. We're proud of Rebecca's showing at the competition."
Dielschneider is involved in student government and leadership at the University of Manitoba as she pursues graduate studies. She explained that she chose immunology and cancer research because she wanted to help people "from behind the scenes." She said scientific research allows her to think creatively and pursue answers to tough biological questions, advancing medicine and improving human health.
She began her studies at the University of Manitoba following her graduation from Dalhousie University with a bachelor's degree in 2011. Her research in immunology in the U of M Faculty of Health Sciences concerns signaling pathways and testing novel therapeutics in human chronic lymphocytic leukemia cells, under the supervision of Dr. Spencer Gibson, Professor of Biochemistry & Medical Genetics and Immunology, and Senior Scientist, Research Institute of Oncology and Hematology, a joint institute of U of M and CancerCare Manitoba. Her work has led to publications in medical journals and several significant research grants, a clinical trial, and many awards and distinctions including being named one of CBC Manitoba's "Future 40 Under 40."
Beyond her scientific and professional activities, Dielschneider finds time to be active in science education for youth, including Winnipeg Schools Science Fair and the Biomedical Youth Summer Camp.
Regarding her devotion and passion about her research, Dielschneider says she was inspired by a guest speaker in a high school biology class who explained how vaccines educate the immune system to respond to various foreign entities, such as viruses. She said: "I knew that someday I wanted to conduct research and perhaps even be a guest speaker to high school classes and alike to inspire young adults the way that I was inspired."
As for future career plans, she noted: "Investing my time and effort into scientific research allows me to think creatively and pursue answers to tough biological questions with the goal of advancing medicine and improving human health. I hope to become a principle investigator with a research program focusing on cancers of the immune system and on ways to use the immune system as a cancer treatment."
Research at the University of Manitoba is partially supported by funding from the Government of Canada Research Support Fund.