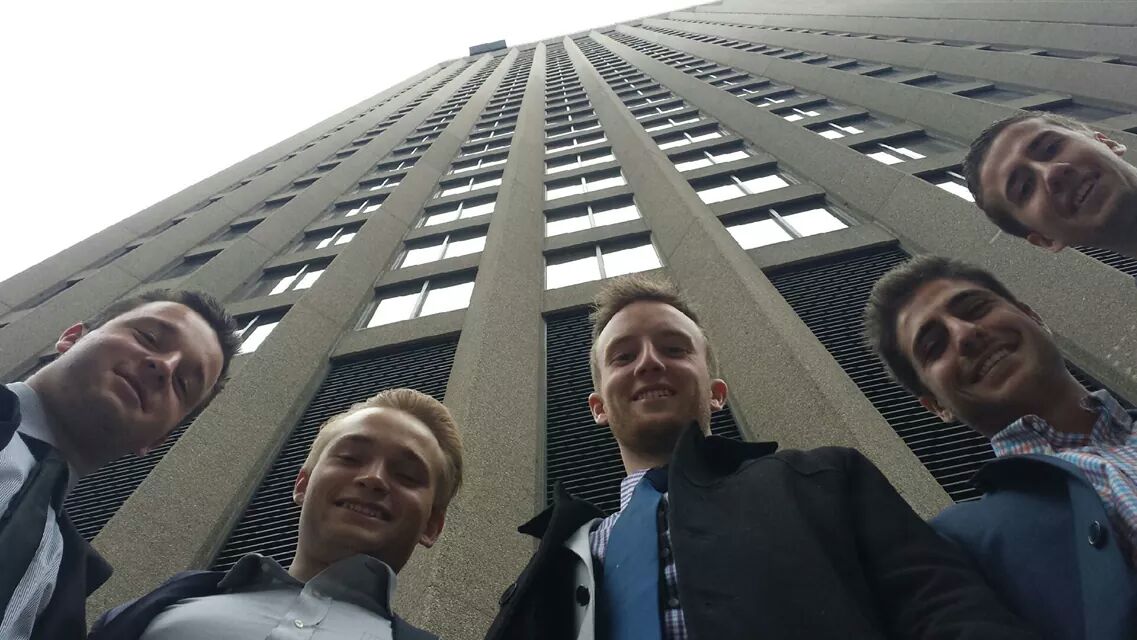 Going Up
Student Entrepreneurs take "Elevator Pitch" to a whole new level
November 13, 2014 —
Imagine stepping into an elevator with someone who has the power and resources to propel your exciting idea into a successful business venture. The steel doors shut and the elevator starts to move. You have until the elevator reaches its destination to persuade this person to invest in your concept.
On the morning of Friday, October 3, sixteen student entrepreneurs faced such a challenge at a competition called the (REAL) Elevator Pitch. The event placed competitors in an actual elevator at Richardson Centre in downtown Winnipeg, where they each had just under 60 seconds to convince two judges to invest in an original business idea as they hurtled from the 27th floor to the lobby and back.
The (REAL) Elevator Pitch was hosted by the Collegiate Entrepreneurs' Organization (CEO) Manitoba, an entrepreneurial student group run by students at the University of Manitoba's Asper School of Business.
"Usually the term elevator pitch is a metaphor for a quick opportunity to get someone interested in an idea," says Christos Vasilarakis, President of CEO Manitoba. "We thought we'd take the concept literally and create a more exciting challenge for participants."
Up in a meeting room on the 27th floor, the competitors – decked out in suits and vibrating with nervous enthusiasm – watched each other's pitches on two large-screen monitors. One student pitched a strip that would test food and drink for allergens. Another pitched a mouthwatering business selling gourmet marshmallows, while another proposed a business that would market virgin canola oil as a healthier alternative to olive oil.
Other would-be innovators pitched mobile apps – including the competition's ultimate winner, second-year Asper student Andriy Rudnyk. He proposed an app that would let fast food customers order meals ahead of time and cut down on drive-thru lineups.
Rudnyk describes the experience as "nerve-wracking, to say the least. Pitching in an elevator with two judges and a video camera staring at you isn't easy." This was Rudnyk's first pitch competition. He says his background in sales and a great deal of practice honed his ability to deliver his pitch clearly and quickly – "even when my ears popped."
Heather McKenzie, a Business Administration student at Red River College, placed second for pitching an app that locates available parking spots. She says the competition felt like an accurate sample of a situation every entrepreneur must face. "One minute is not a lot of time, but it's often all you have when you're talking to potential customers or investors. It was really good to be put on the spot like that, because that's exactly how it will be in the real world of business."
Mitch Roznik, a third-year Asper student, placed third for pitching a business that integrates change machines and smart cards in convenience stores. Like all entrepreneurs, he describes himself as someone "always looking for opportunities." He came up with the idea on an Asper International Exchange trip to Hong Kong. "Everywhere I looked, dealing with loose change was a real problem in a city where time is money." Encouraged by his win, he plans to develop the idea into a business he can actually launch in Hong Kong after he graduates.
All three winners received an all-expenses-paid trip in November to the CEO National Conference in Orlando, Florida. Judging the event were Michael Aldor, Senior Manager, Technology Consulting for Meyers Norris Penny LLP, and Jos Vervaet, Director of Corporate Development for Richardson International.