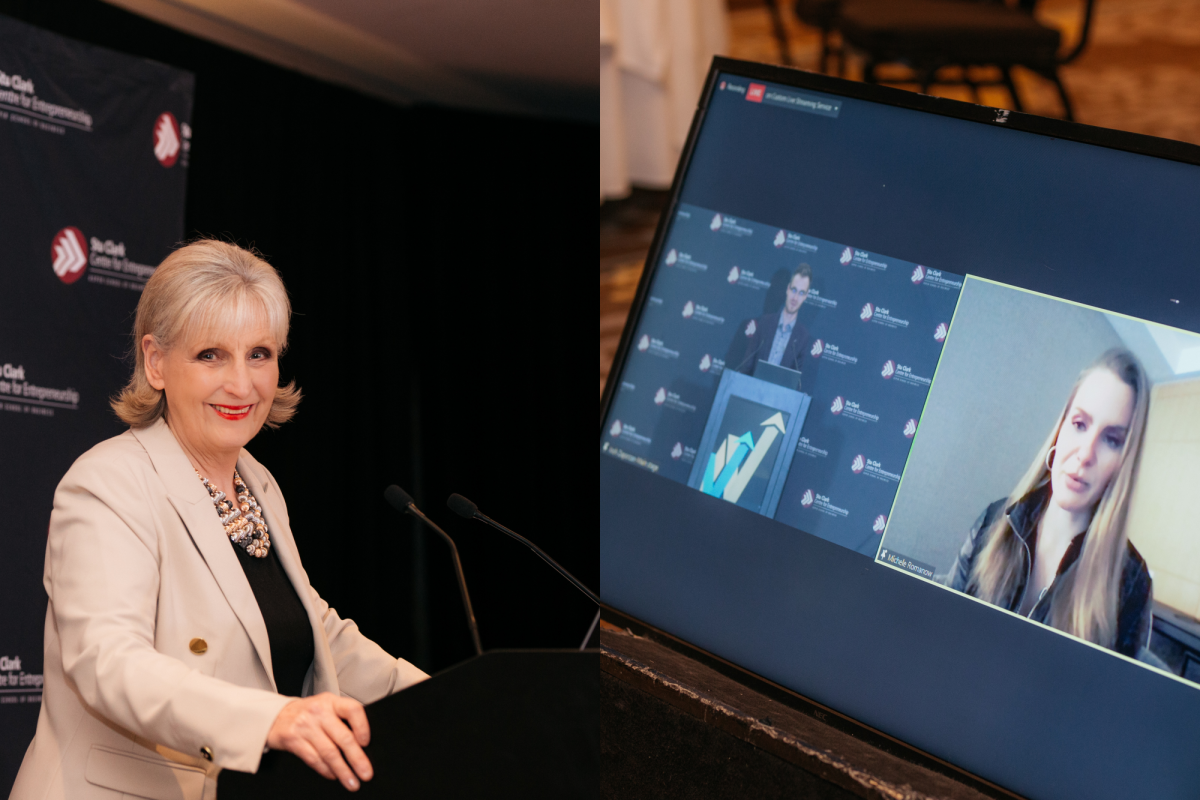 Stu Clark New Venture Championships welcomes competitors from across North America
Graduate and Undergraduate Edition had more than $60,000 up for prizes
March 23, 2022 —
The 2022 New Venture Championships were hosted virtually this past weekend and did not disappoint. This year, the Stu Clark Centre for Entrepreneurship (SCCE) went big. We combined the graduate and undergraduate competitions and expanded the undergraduate event to be open to students from around the world. With this new combination it certainly made for an exciting whirlwind three days of celebrating entrepreneurship and student innovation.
Throughout this three-day competition graduate and undergraduate level teams presented their Elevator Pitch and Business Plan Presentations for a total of more than $60,000 CAD in prize money. We received over 85 applications from across North America, and were excited to have selected 16 teams competing in each of the undergrad and graduate level competitions. There was a great geographic mix representing teams from across Canada and the United States, and the judges were blown away by the diverse and thought-provoking ideas presented. From solutions solving complex medical challenges, to technological advances touching on a variety of industry problems, to innovative ideas aimed at making life better for our world – we had it all this year.
"We are continually amazed with the variety and quality of ideas generated and the caliber of presentations, and this year was no exception," said Debra Jonasson-Young, Executive Director of the Stu Clark Centre for Entrepreneurship at the Asper School of Business. "Although meeting virtually is a different experience, we were still able to showcase Winnipeg's unique community, and for a few days provide students from across North America with the opportunity to come together and share their business ideas. These students represent our future and based on what we saw this year we are in excellent hands!"
A highlight of the weekend was a special live streamed Fireside Chat with Michele Romanow, Entrepreneur and Dragon from Dragons' Den on Saturday March 12. Romanow is a Canadian tech entrepreneur, television personality and venture capitalist. She made the list of the 100 Most Powerful Women in Canada, the Forbes Top 20 Most Disruptive Millennials on a Mission, and Canadian Innovation Awards Angel Investor of the Year in 2018. Romanow competed in the Stu Clark New Venture Championships in 2008 and took home second place in the business plan competition and is currently the cofounder of Clearco.
This competition would not have been possible without the support of more than 50 local business executives and professionals from a broad range of public and private sector organizations who served as judges while offering invaluable feedback to the students. In addition, University of Manitoba alum, donors and competition namesake Stu Clark [BComm (Hons)/76, LL.D./11] joined us virtually alongside, Silvia de Sousa, Chuck LaFlèche [BComm(Hons)/84], and Stuart Henrickson [BComm(Hons)/85] to judge the Graduate Championship round. A special thanks goes to The Associates of the Asper School and the Asper Foundation for sponsoring the event again this year.
Congratulations to the 2022 winners:
Graduate Level Business Plan Competition
1st Place: Rogue Processing – University of Manitoba
2nd Place: Cardiova Health LLC – Georgia Institute of Technology
3rd Place: Horizon Health Solutions – University of Arkansas
4th Place: Visilant – Johns Hopkins University
Graduate Level Elevator Pitch Competition
1st Place: Visilant – Johns Hopkins University
2nd Place: SealCore – Johns Hopkins University
3rd Place: CiphrX Biotechnologies – University of Arkansas
Undergraduate Level Business Plan Competition
1st Place: Simple + Sweet Creamery – University of Arkansas
2nd Place: Wheel Easy – Western University
3rd Place:  Beam Commerce – University of Waterloo
4th Place: Moonlight Haptics – University of Waterloo
Undergraduate Level Elevator Pitch Competition:
1st Place: Pitch Profile – University of British Columbia
2nd Place: Wheel Easy – Western University
3rd Place: Homeable – Western University
The Stu Clark Centre for Entrepreneurship is appreciative for the continued support from all the community partners, industry judges and university partners. We hope to see everyone live and in person in 2023.