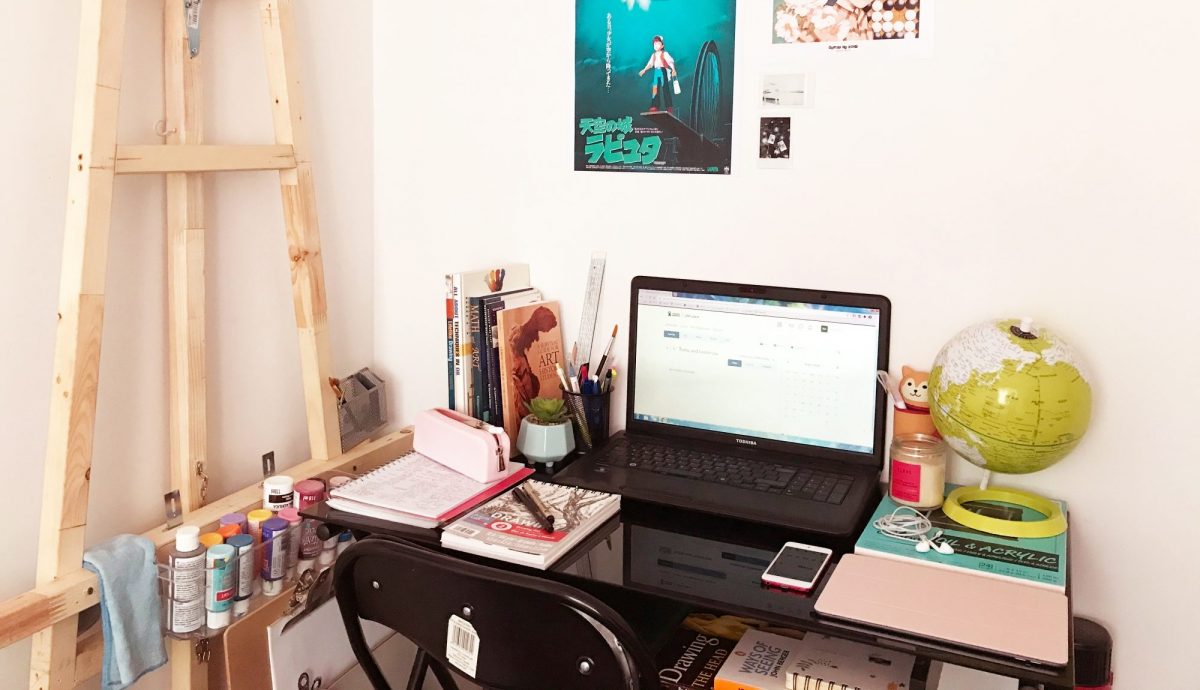 Stu Clark Centre Learn From Home Competition
Students share tips for success in a virtual learning environment.
September 15, 2020 —
Entrepreneurship is about being your own boss, something students across the University of Manitoba will be required to master this upcoming year. Working and learning from home means students will have to take control of their environment to be set up for success.
To support student success in this new environment, this past August, the Stu Clark Centre for Entrepreneurship (SCCE) hosted a virtual Stu Clark Learn From Home Competition, where students were asked to share photos of their learn from home setup and top tips for staying motivated.
The SCCE received entries from numerous faculties across the University of Manitoba, and the selection committee was impressed with the thought and care that went into the submissions.
Five winners received a cash prize of $500 for their winning entries.
WINNER #1: KELLY ABALUS, SCHOOL OF ART, FACULTY OF ARTS
For this upcoming year, Kelly plans to be her own boss by focusing on being well organized and keeping a planner of homework, tests, important deadlines, and to-do lists. She also believes that taking advantage of technology will be useful in enabling reminders, alarm clocks, and timers on cell phone devices for study periods and projects.
Kelly says she also plans to stay motivated, "As a Fine Arts student, finding my own art style is a goal that keeps me driven! Keeping your mental health in shape by surrounding yourself with positive energy is also a great way to find motivation. Having plenty of sleep, food, and water on a daily basis is important in taking care of oneself during a school year. Also, we must not forget to keep in touch with our family and friends as we work hard in school during a global pandemic."
WINNER #2: LALAINE BALMEDIANO, FACULTY OF ARTS
Lalaine is a firm believer that establishing a healthy routine is critical to success as well as having a designated work / study space which she urges should be kept clean and comfortable. Another important tip she provided was to stay in touch with peers. Lalaine says, "Remote learning is not an excuse to stop making connections with the learning community. Communication with my professors and peers helps me stay motivated, proactive, and engaged with my classes."
WINNER #3: HANNAH PENNER, ASPER SCHOOL OF BUSINESS
Hannah's first tip was to make lists and take the time to go over her course outlines and make a schedule of what needs to be done and when. She noted that she finds crossing things off her list satisfying, and that it encourages her to stay motivated and on track.
Hannah also says that she plans to stay healthy and keep active during her virtual studies this year. "Although it may seem counter-intuitive to take time away from your studies to prepare nutritious meals and exercise, it will actually increase your overall quality and ability to do better school-work."
WINNER #4: DANG NGUYEN, ASPER SCHOOL OF BUSINESS
Dang's first tip was to dress for success, even while at home. "Just because you are working or learning from home doesn't mean you have to be stuck in your pajamas all day! Make it fashion!"
Dang also had a different approach to his learn from home set up. He shared that it doesn't matter where you set yourself up to learn, and sometimes having a change of scenery is a good thing! "Whether you are working from your kitchen island, your dining table, or a comfy couch, as long as you can find a productive space with a cup of hot coffee your day will feel fantastic!"
WINNER #5: OGHOGHO OKORO, RADY FACULTY OF HEALTH SCIENCES
Oghogho's top tip on how she plans on succeeding this year is to avoid procrastination. "Never put off until tomorrow something that can be done today. Procrastination is the enemy of efficiency and success."
Another important tip she shared was to set realistic goals and commit to achieving them. "Although the learning environment has changed from the traditional classroom to your home, the academic goals remain the same."
On behalf of the Stu Clark Centre for Entrepreneurship and the University of Manitoba, we wish you a successful semester as you navigate being your own boss in your learn from home environment. Please remember, you can achieve whatever you set your mind to. Dream big work hard and success will be near!
To hear more tips on learning from home, follow @stuclarkcentre on Instagram.