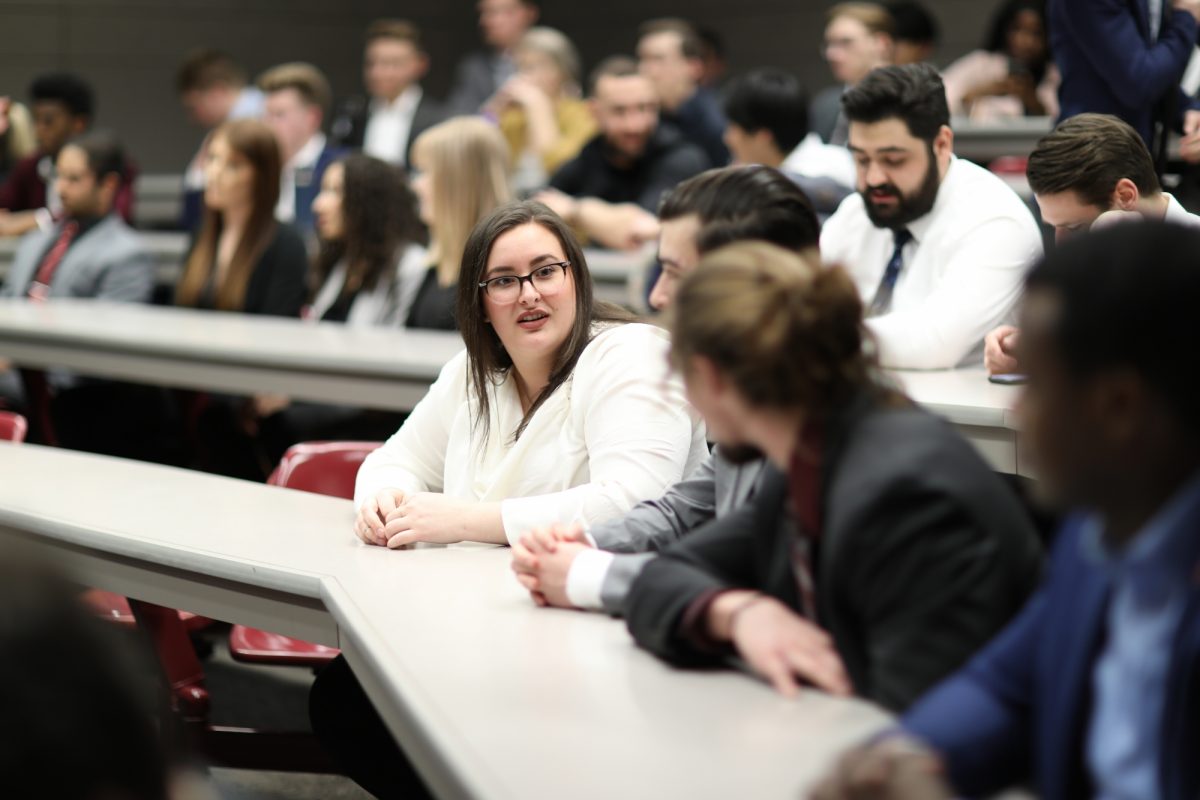 Stu Clark Centre for Entrepreneurship hosts second ENTR Pitch Competition
April 9, 2020 —
On Friday, March 6th the Asper School of Business with filled with a buzz of nervous energy and excitement as students prepared to compete in the ENTR Pitch Competition.
This was the second ENTR Pitch Competition hosted by the Stu Clark Centre for Entrepreneurship (SCCE) as part of the new core entrepreneurship course ENTR 2030 and the launch of the parallel ENTR 2020 course for non-Asper students.
Approximately 300 students flocked to Asper to present their pitches in teams of five – where students from Asper, Science, Engineering, Agriculture, Arts and more, joined together in cross-faculty teams to present their ideas in front of a panel of industry and academic judges.
This core entrepreneurial course and pitch competition provides UM students a unique experiential learning opportunity; beginning with idea creation, through pitch development, and concluding with a real life Dragon's Den format with students pitching in front of an audience while fielding tough questions. The SCCE is grateful to provide UM students a safe space to practice and learn the art of an effective pitch before entering the real world where the stakes are higher.
In the span of one week after the competition, life changed dramatically for students in Manitoba due to Covid-19, however, creating a student community is one of SCCE's foundational pillars and the Centre is committed to continue nurturing this community.
Upcoming Events
Two new UM student-wide events are scheduled for the fall for students to build off of their experience in the ENTR classes and to continue exploring their entrepreneurial spirit.
The first event is the Stu Clark Startup Crawl taking place Friday, October 16 where students will experience the field trip of a lifetime. This event is free for all students and will showcase what's behind Winnipeg's most dynamic startups and provide insight at all the amazing support and resources that our local entrepreneurial ecosystem has to offer. The Stu Clark Startup Crawl represents a chance for students to meet the brains behind successful businesses and check-out their work spaces. If students are interested in starting their own business, or simply just curious, then this tour will provide a view of amazing innovation taking place in our own backyard.
The second event is the Stu Clark Elevator Pitch Competition taking place Saturday, November 21 where students will step inside a moving elevator and have only the elevator ride to pitch their venture in front of judges. The SCCE will provide guidance and resources for students to effectively prepare for an Elevator Pitch. This event is also a tremendous time to network with like-minded students, receive valuable feedback from the judges and win amazing prizes.
We urge all students to stay positive and committed to learning and never underestimate the power you have to create your own career path and successful future.
Be sure to check out the ENTR Pitch Competition video here: https://www.youtube.com/watch?v=Ykjwyip49xY&feature=emb_logo