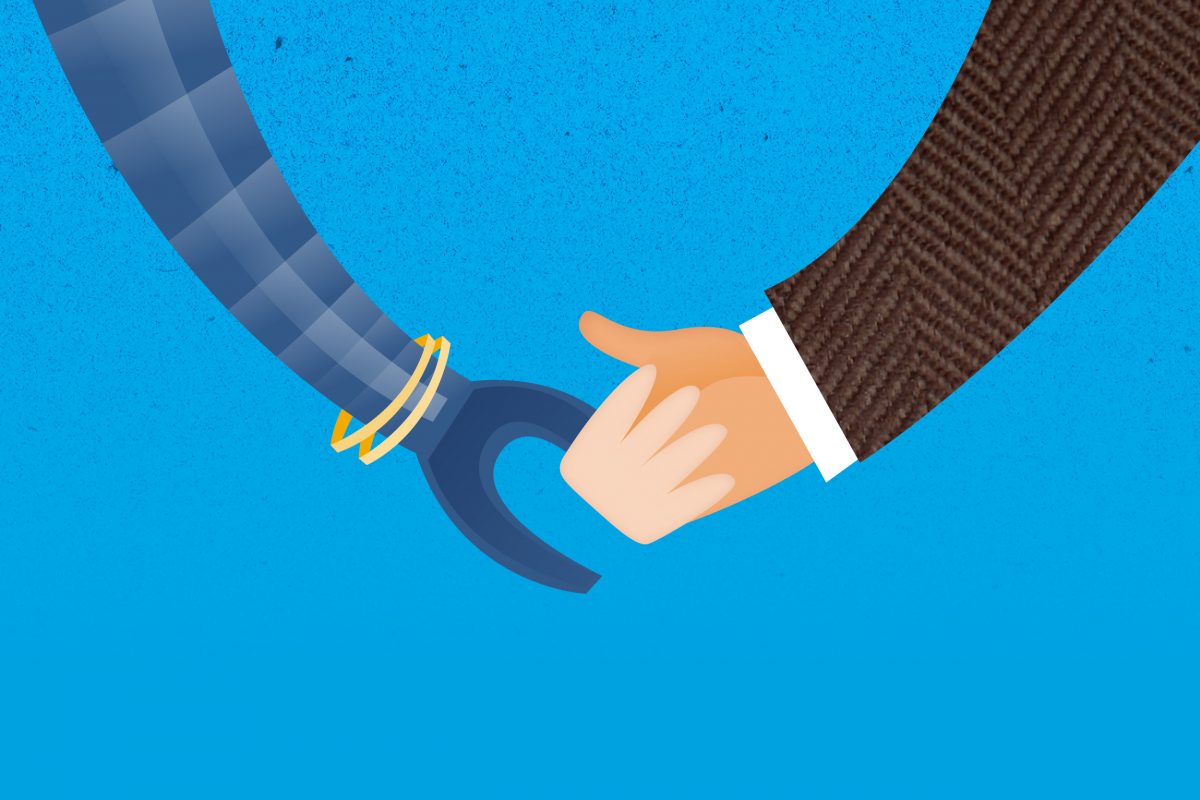 Strange new tech world? We have courses for that.
July 17, 2023 —
So you want to get ready for a strange new world. Good.
Here are five courses teaching students how to think about and apply technology in new ways so that we can make sure the cows are happy and the machines don't toy with our emotions.
Think responsibly
Course: Technology, Ethics and the Law, Faculty of Arts
This upper-level seminar is open to anyone who has taken a philosophy course in the past and it explores a smorgasbord of issues. Yes, the brand new course will touch upon humanity's potential annihilation by artificial intelligence (AI), but that almost seems banal compared to the other topics you'll cover: what happens to copyright law when an algorithm can create songs with Drake's voice and paintings with Georgia O'Keefe's style; what does life mean when AI can do all our fulfilling, creative, cognitively-rewarding jobs; should we bring in guaranteed incomes and then just lay on a beach reading AI-fiction; what happens if we fall in love with an algorithm and then it dumps us after a Terms and Conditions update; how do we approach new religions that pop up to worship immortal, all-knowing AI?
AI is a big part of Neil McArthur's course, but it will also examine the ethics of computer hacking and using nanobots to tinker with the atmosphere to mitigate climate change, as well as tech that can edit our genes and influence reproduction.
"What I want students to take away is that these are huge issues that they're going to have to deal with for the rest of their lives," the director of the Centre for Professional and Applied Ethics said. "But at the same time, I think that we as a society are capable of handling these issues if we think about them in the right way. Hopefully my students will be part of that. If we start to really think about these issues in the right kinds of ways, then yeah, we can really harness this AI and make society better. If we get it wrong, I think then we're going to be in big trouble. But I think that if we get it right, it has huge benefits."
iPigs and iCows
Course: The animal and its environment, Faculty of Agricultural and Food Sciences
Course: Domesticated animal behaviour, Faculty of Agricultural and Food Sciences
Assistant professor Meagan King teaches these third- and fourth-year courses that expose students to technology used on commercial farms. You'll also frequently visit UM's experiential learning spaces such as Glenlea Research Station, where a new state-of-the-art chicken barn with laying hens just opened. Topics covered include how to use electronic collars (akin to a Fitbit) to monitor a cow's behavior, and why you can't always trust a pig. King says piglets, for instance, appear to behave differently when they know they are being observed and when you look away, they do naughty things like chew on other piglets' ears. So, King trains students in how to read video and still images of barn surveillance systems as well as do in-person observation work.
"My goal in having repeated visits to the barn is that students are, number one, familiar and comfortable in different types of commercial barns, and that way they have some experience under their belt and a little bit of confidence—they've had at least a certain amount of experience and this many hours with this technology and these species. Maybe they're not handling that animal, but they gain a sense of, 'I can do this.'"
Alongside gaining hands on experience with farm technology, her courses also teach how to read body languages of domestic animals—from dogs and cats to sheep and goats, as well as about Truth and Reconciliation Commission's Calls to Actions and the historic harms of past settler farming practices.
"I'm trying to decolonize my courses as best as I can but I'm still at the beginning stage," she says. Also, good news: she is trying out "deadline windows" for many assignments because she has found that this allows students to produce better work and be more creative in their thinking when they are working in a supportive environment.
Only you can stop the robot uprising
Course: Computing: Ideas and Innovation, Faculty of Science
This course could save your life if in the distant future you are one of the last humans alive and need to understand the basics of how to stop a robot uprising. You'll also learn what a picture of a cat looks like to a computer.
This half-year survey course is open to anyone who wants to understand the basics of computing, from how they are built, how they use logic and represent information, and what they can and can't do. You will do some coding and you will think critically about algorithms. It is applicable to anyone because computers are central to, well…virtually everything.
"Computers are fundamental to everything we do today, but they're sort of magic boxes, right?," says professor David Gerhard, department head and first-time teacher of this course. "We do a thing and we type some stuff in and something magical happens. I want students of this course to really understand what goes into making that magic. I want them to really be excited about what computers can do, how they work, and what they may be capable of in the next version of computing. So, what can you as a student do with a computer that maybe has never been done before?"
Small warning: you will learn enough about computers that should your laptop, say, fail to connect with your printer, you may get more frustrated than you currently would because you'd now know why and how the coding failed you. But maybe it'll be a relief to know that it wasn't your fault.
Gavel to gadgets
COURSE: Law, technology and the future, Faculty of Law
Taught by an engineer-turned-lawyer whose PhD thesis examined artificial intelligence and the law (back in 2017 when people thought that was a farfetched concept), this upper-year law course prepares students to view the technology landscape in new and critical ways.
"You want to be more discerning than just 'this technology is going to ruin everything,'" assistant professor and course creator Katie Szilagyi says. "There's definitely a tenor of moral panic that tends to accompany new technologies. The latest existential fears are about artificial intelligence and ChatGPT, but people in the 1600s said similar stuff about how books and the written word were destroying knowledge. I want to help students conceptualize the big issues and how they connect to the law, particularly areas like autonomy, consumer protection, privacy, property, intellectual property. And be able to think through how you might regulate all these things."
Should algorithms determine the fate of refugee claims? As software becomes better at seeing through the "fog of war," is it still necessary to have a human "in the loop" when pulling the trigger, or will autonomous weapons do better? As new technologies emerge and change society in incremental ways, what role do lawyers have in ensuring better equity among technology users, and between them and the technology's owners?
"This is a whole new frontier," Szilagyi says. "We need lawyers who can think about these issues in new ways. A big part of my course is setting up people to think about philosophies and frameworks for analyzing the issues before investigating the individual technology."