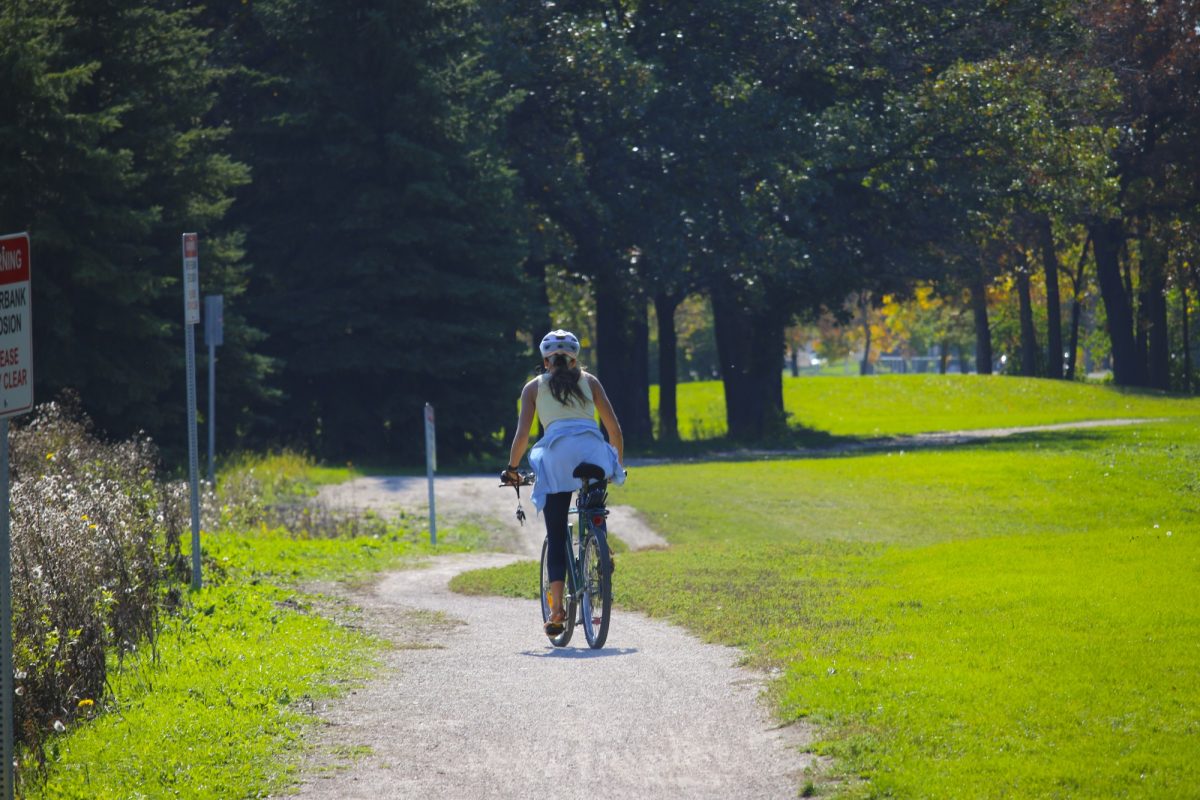 Steering around the potholes of spring cycling
How to plan your route and lock up your bike
May 17, 2021 —
With the arrival of spring, thousands of University of Manitoba students and staff are dusting off their bikes for a fresh new season of summer cycling. Whether you cycle for transportation, exercise or pleasure, biking has many benefits for you and the planet. Follow a few tips from the Office of Sustainability and UMCycle to help find your route, arrive safely and secure your bicycle.
Tune up your bike:
Most importantly, ensure your bicycle is in good working order before heading out. Green Action Centre offers its ABC quick check. If your bike needs repairs, visit a community bike shop or bring it to a private local bike shop. Be sure to call ahead to confirm hours of operation.
Find your route:
Plan your route using the City of Winnipeg's bike map or Google Maps. Refer to the city's facility type definitions to find a route to match your comfort level.
If you travel to campus, find cycling routes and bike parking on the Fort Garry campus and bike parking locations at the Bannatyne campus*.
Lock it up:
Be sure to lock your bike up with a strong u-lock and cables as necessary. On the Fort Garry campus, u-locks are available for purchase at the UM Bookstore**.
Follow these bike-locking tips from UMCycle to ensure your bike stays safe and secure:
1. Secure U-lock to bike rack around bike frame through rear triangle and wheel rim.
2. Secure front wheel with cable through U-lock and around front wheel.
3. Replace quick release seat and wheels with locking skewers for added security, or secure with cable.
Bike safely:
Has it been a while since you got on a bike? Brush up on your cycling skills with MPI's Adult Cycling Booklet. Prepare to share the road as both a driver and a cyclist with these helpful tips.
Partner up:
If you are unsure about cycling, register with GoManitoba to find cycling partners near you! You can also use this application to track your travels or share your cycling journey with your friends and family.
For additional cycling information and resources, visit the UM website.
*If you are required to come to campus, you must wear a 3-ply disposable or reusable mask at all times on UM grounds, including all indoor and outdoor spaces.
**The Fort Garry Bookstore is open for online shopping, and at limited capacity for in-store shopping. Hours for shopping and online order pickups are Monday to Friday, 10-4:30. At this time, FG Bookstore is not open Saturdays for online order pickups. The Health Sciences Bookstore at the Bannatyne campus is closed to in-store shopping but open for online shopping with pick-up at Fort Garry Bookstore in University Centre. Hours are Monday to Friday, 10-4:30.