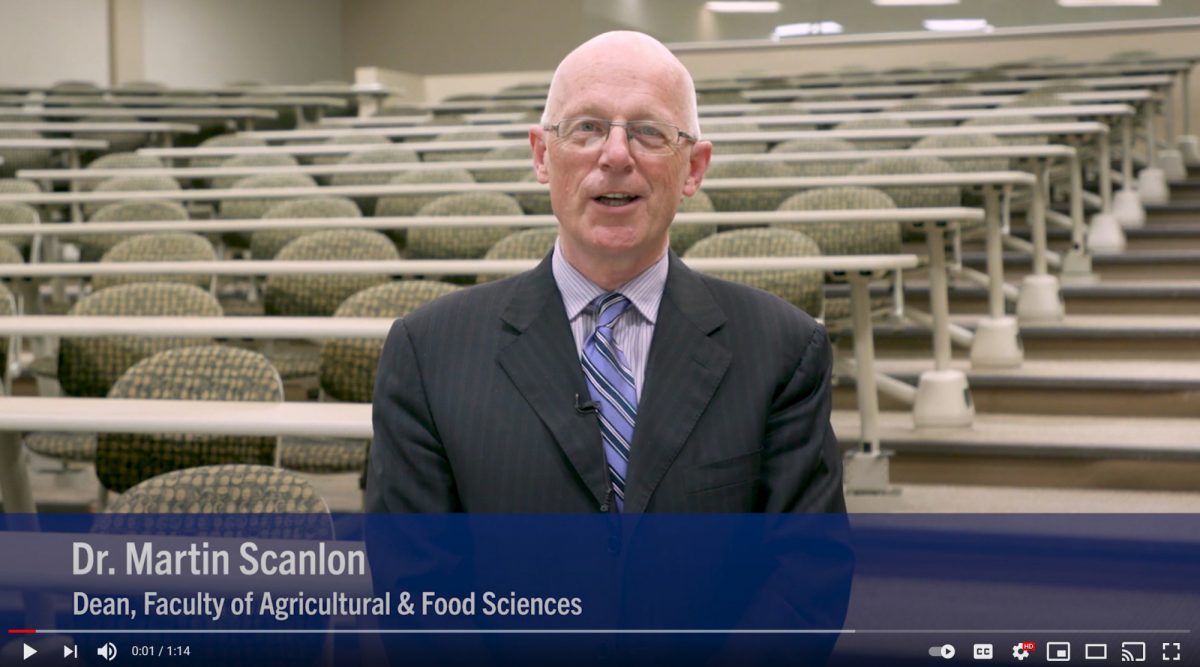 Spring convocation celebrates Agricultural and Food Sciences graduates
June 18, 2021 —
On Thursday, June 17, the Class of 2021 was recognized in an online ceremony which capped an academic journey that began in person and concluded virtually for diploma, degree and graduate degree students from the Faculty of Agricultural and Food Sciences
The University of Manitoba Spring Convocation session, hosted by UM President Michael Benarroch, featured special greetings to the graduates from Dean of the Faculty Martin Scanlon and School of Agriculture Director Michele Rogalsky. Chancellor Anne Mahon presided over the online procession.
"You are now entering one of the world's most vital professions – one engaged with food, human health, business and science – and you are well-prepared for the opportunities and challenges of that profession," said Dean Martin Scanlon. "You leave the Faculty with our best wishes as you put your talents and training to the creation of a more resilient future for Canada's food system."
"Congratulations Class of 2021 – the School of Agriculture is proud of you," said Director Michele Rogalsky. "As a class, you have done amazingly well adjusting to this year's challenges. I hope that we have the opportunity to host you for a reunion in the near future."
The Faculty of Agricultural and Food Sciences Class of 2021 included graduates from diverse programs, many tuning in along with their families from all over the world. Among them there were 54 Diploma in Agriculture, 149 Bachelor of Science, 37 MSc and seven PhD graduates.
AWARD WINNERS
Diploma medal winners included Mackenzie Booker who received the Governor General's Bronze Medal, an award given to the graduate with the highest academic standing in the two-year Diploma Program in Agriculture. David (Mack) Moser received the President's Medal, given annually to a student who combines scholarship with outstanding qualities of leadership.
Degree program medals are presented to students with the highest standing in their program. This year's recipients include: Luke Bossuyt who received the B.Sc. (Agribusiness) Medal; Ashlynn Scott who received the B.Sc. (Agriculture) Medal; ZhongYang Wan who received the B.Sc. (Food Science) Medal; and Beth Ivison who received the B.Sc. (Human Nutritional Sciences) Medal.
Avery Penner who graduated with a B.Sc. (Human Nutritional Sciences), was honoured with the University Gold Medal in Agricultural and Food Sciences given for the highest grade point average.
Kate Letexier, also a B.Sc. (Human Nutritional Sciences) graduate, was awarded the Lieutenant Governor's Gold Medal, given on the basis of scholarship, personal excellence and leadership.
The Teacher of the Year Award was presented to Garrett Sawatzky from the School of Agriculture in recognition of teaching excellence and contribution to the students' program of study. This award is selected by the graduating class of diploma students.
Earlier this spring, degree students had named Dr. Emma McGeough, Department of Animal Science, as Professor of the Year, an honour voted on by the graduating class.
See a complete list of School of Agriculture awards (normally presented at the annual Diploma Convocation banquet).