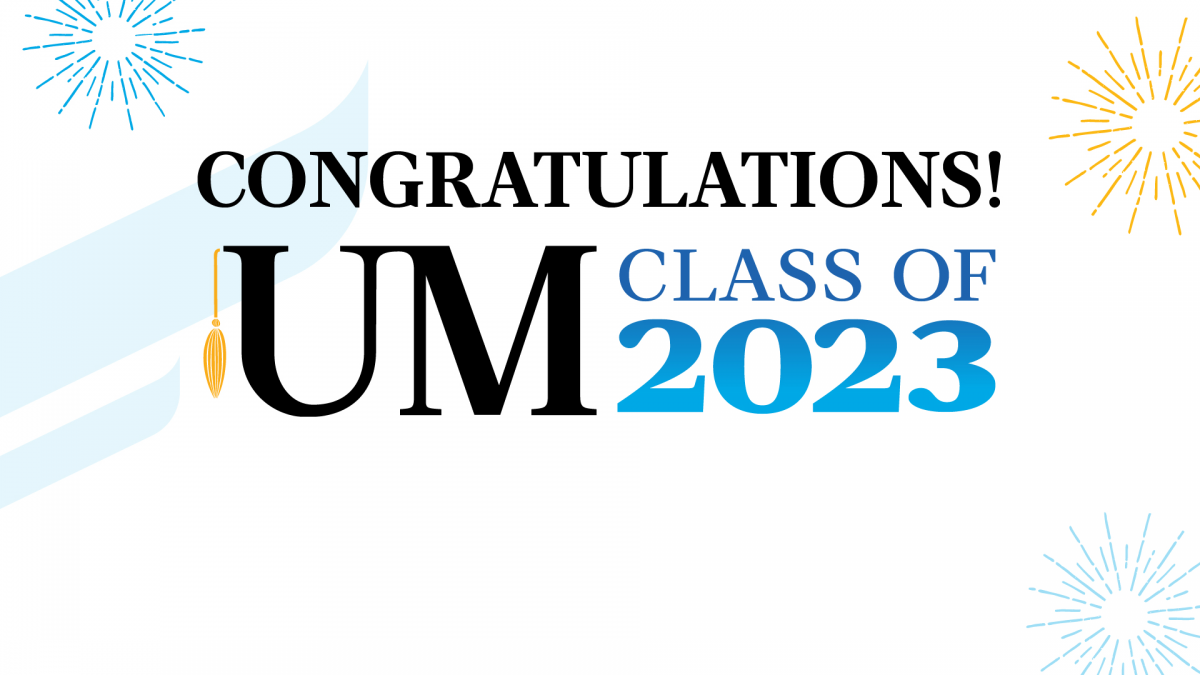 Spring Convocation 2023: Graduate students
Meet some of FKRM's 2023 graduate students
June 7, 2023 —
Each new year, students in the Faculty of Kinesiology and Recreation Management and across the UM campuses close the chapter on one part of their journey and begin a new one. Although each FKRM graduate has taken a different path during their education career, one constant is their hope to make a difference wherever they end up. Graduation is an opportunity to reflect on and celebrate the impact that FKRM students are already making in the world.
Liz Markwart
Master of Arts (Kinesiology and Recreation Management)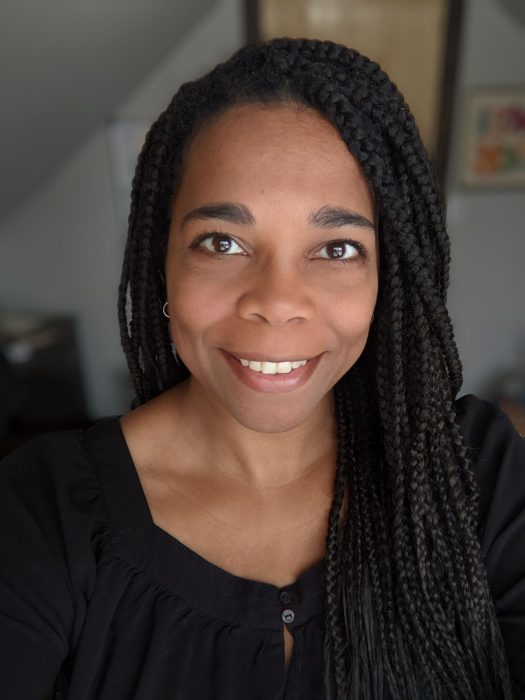 Liz Markwart has been dancing since age three and said her dream was to one day open a studio. She achieved this goal and completed an undergraduate degree in dance from York University. But once she was operating her studio, she couldn't help but wonder about things she felt were off in the dance community.
While interested in learning about the systemic shortcomings of representation across dance in Canada, particularly within the university sphere, Markwart didn't initially plan on completing a master's. However, with encouragement from FKRM Associate Dean Leisha Strachan, a teacher at her studio, Markwart returned to education full-time, completing her thesis titled: Still Colorblind: Using Mapping and Interviews with Former Students to Explore the Racial and Ethnic Diversity in University Dance Programs in Canada.
Her work involved speaking with students from various dance programs nationwide and getting their perspectives on how race is used.
"It just kind of opened up this whole door of what needs to be done and that there's not enough being done about it," said Markwart. "It [dance] is such an incredibly physical, emotional, artistic, creative thing to do that barriers shouldn't be there for anybody."
Markwart is also engaging in anti-racism work with several professional dance divisions in the city.
"I'm seeing the progress that can be made when people who are in it are listened to," said Markwart.
Markwart will continue her work looking at the under-studied traumas in dance as she begins her PhD program in Peace and Conflict Studies at UM this fall. In the future, Markwart hopes to teach at the University.
Liz wants to thank her advisor, Leisha Strachan, her committee members, David Yi and Fenton Litwiller, Graduate Studies Coordinator Jody Bohonos, and her husband and three children.
"They teach me every day that I am worth the time and effort, and remind me that I am capable while setting an example that we can be anything we want to be if we work hard and are good to people."
Chris Voth
Master of Arts (Kinesiology and Recreation Management)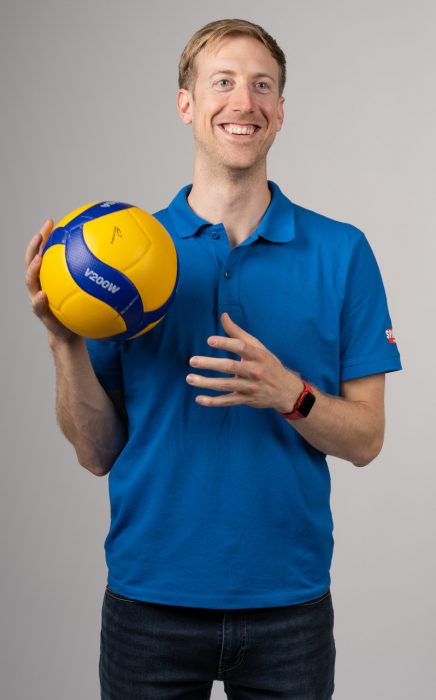 Chris Voth doesn't have an issue with saying yes. He said his current challenge is trying to find a balance between being open to new experiences and deciding what his long-term plans are.
Voth's excitement at the possibility of new experiences is evident when looking back on his time with FKRM. He joined the faculty in 2010 and began working towards his BPE. However, before finishing his degree, the Bison player left Winnipeg to play professional volleyball in Europe and on the Canadian National Team during the summer before returning and finishing before the COVID-19 pandemic began.
While the pandemic changed almost all graduates' education journeys, it also enabled Voth to start and complete his master's as he coached volleyball professionally in Europe. His thesis, Shining a Light on the Unseen Athletes: Exploring the Experiences of Gay Team Sport Professional Athletes, emerged after Voth wrote some articles for the Huffington Post on his experience as an openly gay team sport athlete.
"I thought, okay, well, wouldn't it be interesting to then share experiences of team sport athletes and try and figure out what's holding them back?" said Voth. "Why couldn't they come out or what happened when they did come out, and the long-term repercussions of that."
Voth saw a need for more representation when it came to male athletes coming out, and even more so in professional sports, where changing teams often meant facing different personal environments.
"It was just about trying to share their experiences and to give people an appreciation for what gay team sport athletes go through on a daily basis," said Voth.
Today the experienced writer is completing a book reflecting on his time playing professional volleyball while also coaching overseas.
Chris would like to thank his parents, Lloyd and Val, his sister Ashley, and associate professor Kyoung June Yi for their constant support and patience. Additionally, Chris would like to thank his teammates over the years and the support of Bisons Volleyball alum, Allan Edie, who provided scholarship opportunities for Bisons athletes.
"My parents supported me in anything I pursued while my sister was a shining beacon, always showing me the way and being an incredible role model."
Courtney Addison
Master of Science (Kinesiology and Recreation Management)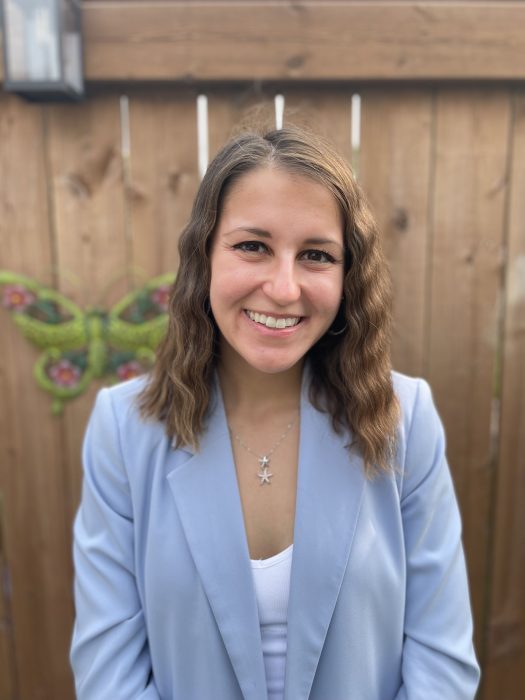 Courtney Addison's connection to her education has always been close to her heart. Her thesis, Finding Memories Through Music and Movement in Cognitive Impairment, was inspired by her relationship with her Papa, who lived with Alzheimer's disease. Addison said whenever she talked about her work, she talked about her Papa.
"He always said I could do anything I set my mind to and shoot for the stars," said Addison. "I just hope that I did him proud."
Addison's work looks at the different impacts of self-chosen music versus researcher-chosen music and how they can improve movement performance, and anxiety in persons with mild to moderate cognitive impairment.
Addison's thesis work exposed her to the idea of becoming a recreation therapist and lead her to complete a recreation therapy diploma at Mohawk College in Ontario. Now working as a full-time recreation therapist at Misericordia Health Centre, Addison is also working on achieving her Certified Therapeutic Recreation Specialist (CTRS) certification.
"I know parts of what I learned through my master's thesis, I've transferred here with the music I've put forward with curated playlists," said Addison about her work at Misericordia.
Addison said that in the future, she hopes to help develop new pathways for recreation therapists here in Manitoba and one day take her field experience and bring it to the classroom.
Courtney would like to thank her family and nana, advisor Cheryl Glazebrook and committee members Zahra Moussavi and Shaelyn Strachan for their support and belief in her over the years. Additionally she wants to thank her papa, John Addison, who was the inspiration for her thesis.
"He always told me to shoot for the stars and I did just that. I hope I made him proud."
The Faculty of Kinesiology and Recreation Management is proud to congratulate all of our graduate students on what they have achieved within the faculty and the difference they are already making in the world.