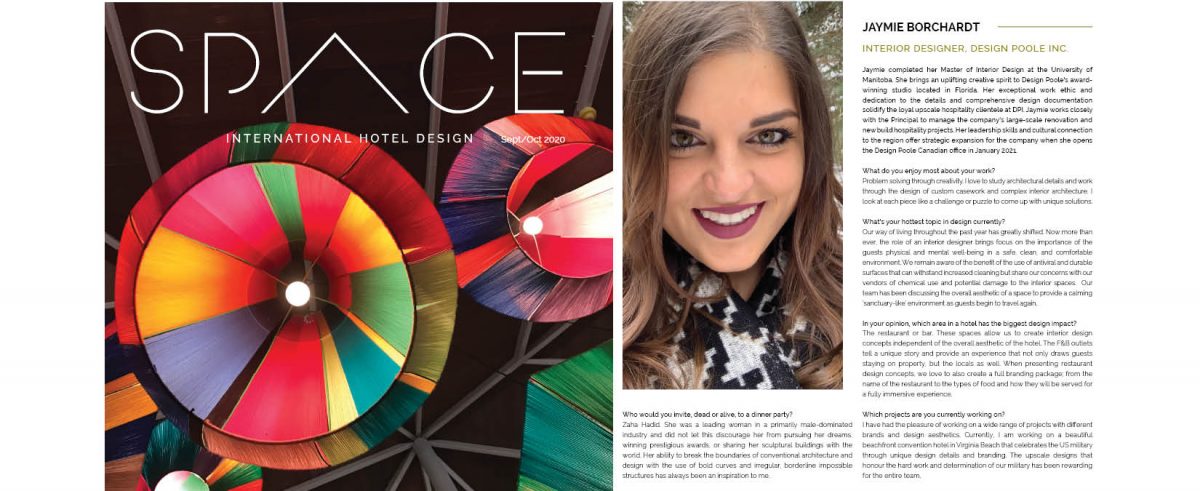 SPACE magazine names M.I.D. alumna in Top 20 Rising Stars in hospitality design
November 5, 2020 —
Jaymie Borchardt (2013 B.Env.D., 2016 M.I.D.) was named as one of the 20 Rising Stars to look out for in 2020 by SPACE international Hotel Design magazine as they featured a list of some of the hottest up-and-coming talent in hospitality design.
Read full article here: https://edition.pagesuite-professional.co.uk/html5/reader/production/default.aspx?pubname=&pubid=3fffb808-688a-44aa-9dd1-a11fcfae418b
Jaymie is currently working in Winter Park, Florida with Design Poole, an International Hospitality design firm offering cutting edge design and serving the mid scale to luxury market. She works closely with the Principal to manage large-scale renovations and new build hospitability projects. Jaymie is looking forward to returning back to Canada in 2021 where she will be opening Design Poole's Canadian office.