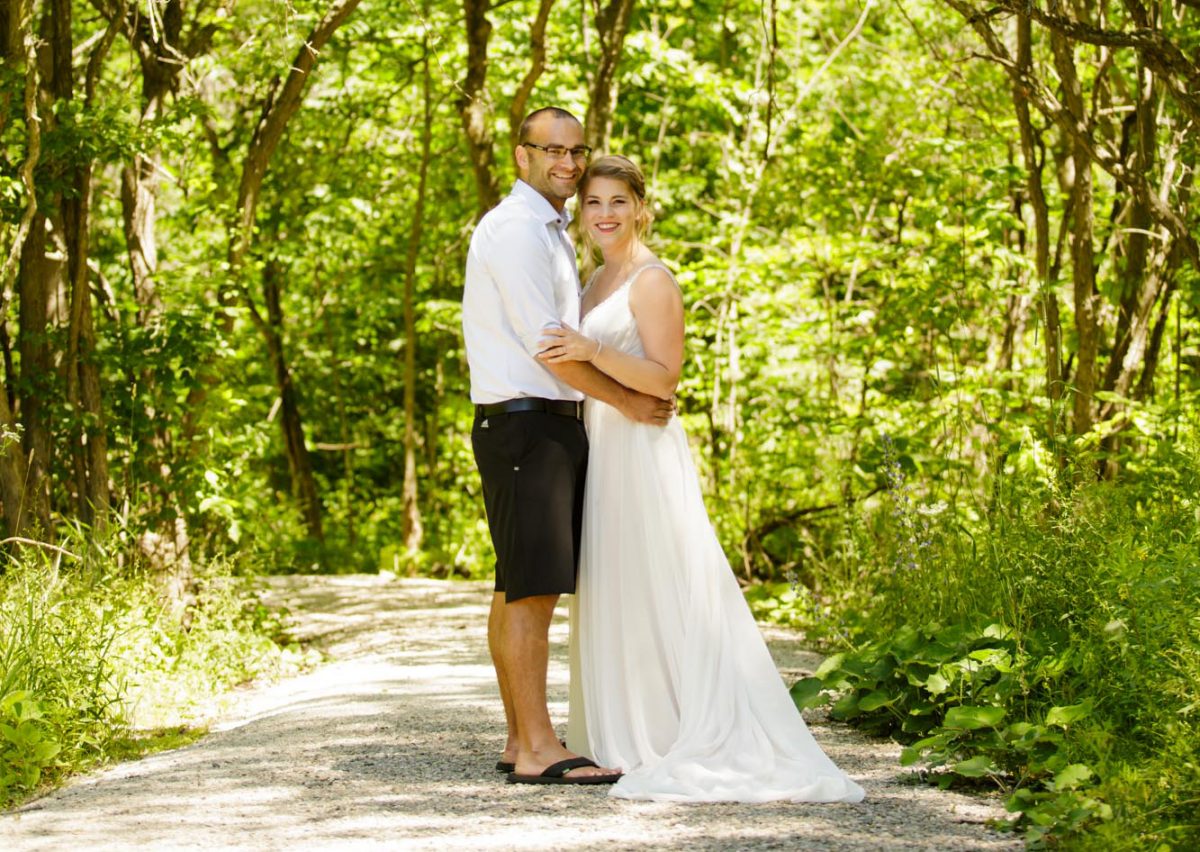 Sometimes, conflict can lead to love
October 11, 2019 —
Ellen Sikorski had an assignment to finish from a course she was taking through the Arthur V. Mauro Institute for Peace and Justice at St. Paul's College, University of Manitoba. She knew that one of her classmates, Nicholas McKenzie, had already completed the assignment, so she talked with him about some ideas she had about it. Discussing the assignment eventually led to "a few beers" at Confusion Corner in downtown Winnipeg.
"And the rest is history," Sikorski says.
They fell in love at UM and married this year. Of course, they're graduating together during Fall Convocation 2019.
Their paths to matrimony converged from very different backgrounds. She's from Toronto and had degrees in social justice and peace studies, while he's a "Kiwi" from half a world away, with degrees in classics.
McKenzie's research here at UM has been about the Cambodian Genocide and the journalists who covered it.
He explains: "The topic seemed understudied and I was curious about how these individuals attempted to process and explain what they were seeing. My research showed how much individual accounts can impact our understanding of an event."
Sikorski had a more experiential approach to peace and conflict studies.
"My thesis was about volunteer travel and the Canadian youth who participate in those trips," she says. "I was looking at how participants of volunteer travel view their experiences and if there were any long-term impacts of those trips on their ongoing development of critical consciousness. I've had personal experience with volunteer travel, and there is much research on the good and the bad, but not anything from the tourists' perspective."
She adds: "My research really showed me how impactful a short volunteer travel trip can be on one's life."
While deciding on a post secondary institution to do graduate studies, Sikorski found that UM was the only school in Canada offering a PhD in peace and conflict studies. McKenzie's choice was somewhat more serendipitous.
"I wanted to move to Winnipeg from my home in New Zealand because I have friends here, and the peace and conflict studies program in the Arthur V. Mauro Institute for Peace & Justice caught my eye," he explains.
Although neither of them are from Winnipeg and no longer live in Manitoba, they note: "The University of Manitoba will always have a special place in our hearts."
---
Top five ways to avoid conflict in marriage
Since they both graduated from Peace and Conflict Studies, UM Today had to ask them about their tips for married life:
Ellen Sikorski and Nicholas McKenzie's Top Five Ways to Avoid Conflict in Marriage
The first thing to know is that conflict shouldn't be avoided! Conflict can be positive because it can be a necessary catalyst for transformation.
To ensure positive conflict, we believe it's necessary to be open and honest with each other. When something is bugging us, we try to diffuse it before it gets too large.
Always be respectful of each other; just because you are butting heads doesn't mean you don't love each other.
Make each other a priority.
Have fun with one another—that's the whole point of marrying your best friend!