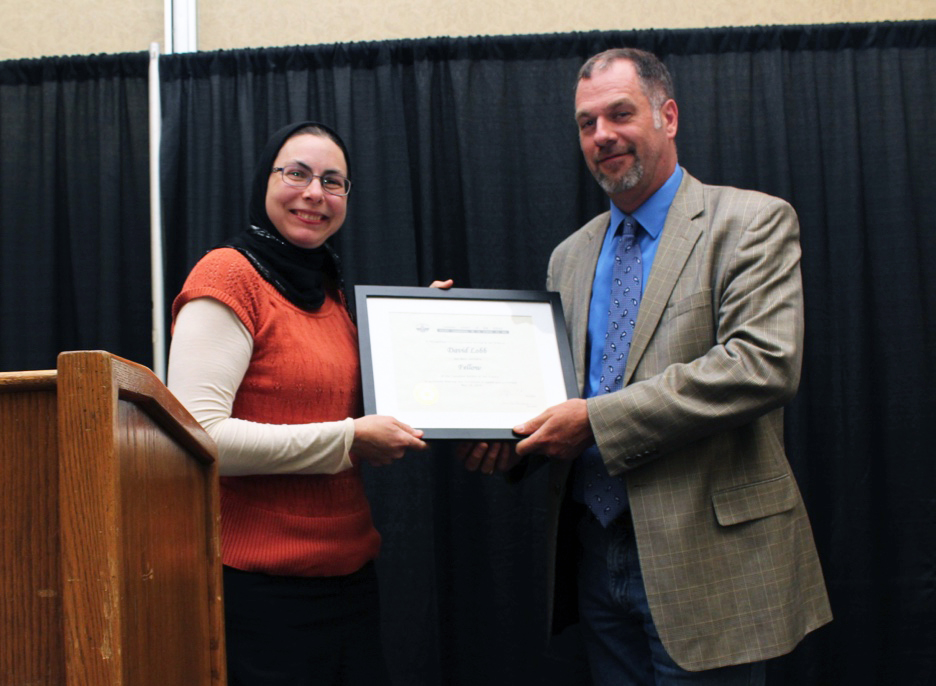 Soil scientist honoured for contributions
May 26, 2016 —
Dr. David Lobb was given a Fellowship in the Canadian Society of Soil Science (CSSS), an award presented to a member with a distinguished record of accomplishment in soil science and service to the society .
Since 2010, he has been the Senior Research Chair for the Watershed Systems Research Program at the University of Manitoba, where his main focus has been on understanding the processes and evaluating the beneficial management practices that affect nutrient and sediment loading to water bodies such as Lake Winnipeg.
David received his B.Sc. (1987) in physical geography from the University of Toronto, and his M.Sc. (1991) and Ph.D. (1998) in Soil Science from the University of Guelph. Prior to joining the University of Manitoba in 1999, David worked at the Eastern Canada Soil and Water Conservation Centre at the University of Moncton, and at the Centre for Soil and Water Conservation at the University of Guelph. He grew up on a cash crop farm in southern Ontario, where his father was a pioneer in the development of no-till cropping systems for that region.
Dr. Lobb's research, teaching and extension activities are in the areas of soil erosion, soil and water conservation and sustainable agriculture. A major focus of David's research has been the causes and management of soil variability in agricultural landscapes. He is internationally recognized for his research in tillage translocation and tillage erosion. In support of Agriculture and Agri-Food Canada's agri-environmental risk indicator program, David has made major contributions to the development of the tillage erosion risk and soil erosion risk indicator models. David was also a significant contributor in Agriculture and Agri-Food Canada's Watershed Evaluation of BMPs program, providing expertise in soil erosion and sedimentation. Information from David`s research can be found in BMP guides, Environmental Farm Plan manuals, and other extension materials across the country. David has also contributed substantially to the Canadian Society of Soil Science, having served as a Councillor as well as President and other roles.
These professional contributions have not gone unnoticed by others. David has received a variety of honours and awards, including being inducted into the Canadian Conservation Hall of Fame, Soil Conservation Council of Canada (2015), receiving an Outreach Award from the University of Manitoba (2010), a Science Award for Leaders in Sustainable Development in recognition of outstanding contribution to advancing and communicating science in support of sustainable development in Canada from the Government of Canada (Agriculture and Agri-Food Canada, Environment Canada, Fisheries and Oceans Canada, Health Canada and Natural Resources Canada) (2002), the Young Scientist Award for excellence in research, teaching and extension, Soil Science Society of America, SSSA-S6 (2001), an International Travel Award from the Canadian Society of Soil Science (2000), and the President's Citation for outstanding contribution and a Commendation Award for leadership and service from the Soil and Water Conservation Society (1997).
David joins a group of distinguished scientists from the Department of Soil Science at University of Manitoba who have been named CSSS Fellows, including Joe Ellis (1963), Bob Soper (1981), Geza Racz (1988) and adjunct professor Cynthia Grant (2011) as well as Don Flaten, CSSS Soil Science for Society Award (2009).