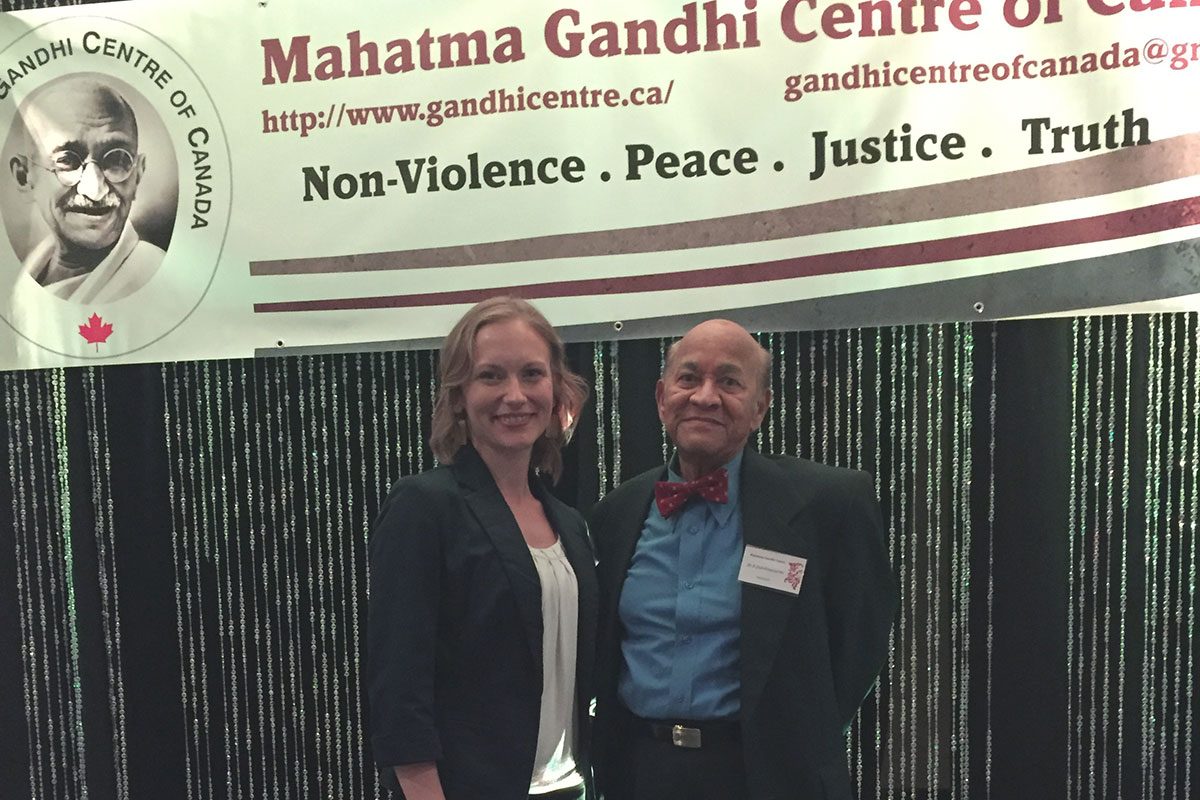 Social change: are you doing it right?
June 9, 2017 —
How do you spark social change?
It's a question that, despite having been asked by many in every generation, still gives pause for thought.
For Katelin Neufeld, it's a question that she believes we may be thinking about too concretely.
Neufeld [MA/14] is the inaugural recipient of the Mahatma Gandhi Scholarship in Human Rights, established by Max Rady College of Medicine professor emeritus Dr. Krishnamurti Dakshinamurti and his wife Dr. Ganga Dakshinamurti [DEd/92]. The scholarship, which is also supported by the Mahatma Gandhi Centre of Canada, provides support to graduate students as part of the U of M's Front and Centre campaign.
The Gandhi Scholarship is awarded to grad students who have a focus in human rights research, social justice, and peace and conflict studies. Neufeld, a PhD candidate in the department of Psychology, applies social psychology theories and methods to study social inaction.
Her research is adding an intriguing layer of knowledge to the many conversations happening at the university surrounding reconciliation, social justice, and human rights.
UM Today sat down with Neufeld to discuss her research, and the importance of funding for graduate students.
UM TODAY: You've been recognized many times throughout your studies – as an Emerging Leader, a Wu Scholar, and now the Ghandi Scholarship. How has such support impacted you?
"Incredibly grateful" doesn't even cover it. It's given me the freedom to focus on my research, and the time and other resources to work on projects related to my area of interest, which is promoting social change.
Beyond financial aspects the recognition has also given me a huge sense of encouragement and motivation and inspiration. To receive an award in the name of Mahatma Gandhi is a huge honour! To me it's a sign that what I'm researching is seen as worthwhile. It sets such a high bar for me in terms of the impact I think my research can and should have in the area of human rights or social justice.
Your Master's thesis focused on resolving local injustices using abstract construals. What does that mean?
Abstract construals is a fancy way of saying abstract thinking. Social psychologists have found when people are thinking more abstractly they're more likely to act in line with their morals and values. But when people think more concretely, they're more likely to be concerned with the details of what is feasible – "Is fixing the issue affordable?" "Will it take too much time?"– those sorts of things.
People tend to think concretely about local events, but abstractly about ones happening far away. Putting all this together, I thought that maybe one potential barrier to address in local injustice is people's tendency to think concretely. It might make them less inclined to address injustice because they think that it's not feasible, too expensive or too time consuming.
But since abstract thinking is associated with acting on your morals, I thought that if we could make people think abstractly about a local injustice, they'd become less concerned about feasibility and more willing instead to address that issue because they are thinking about what's right and good. I tested these ideas in my master's thesis, which was co-supervised by Dr. Katherine Starzyk and Dr. Danielle Gaucher (University of Winnipeg).
You connected this idea to the lack of adequate water services in First Nations communities. What did your study find?
In my study we used an abstract and concrete thinking task. To make people think abstractly, we asked one group of participants a whole bunch of "why" questions. "Why should we fix the issue?" "Why would you say that's the reason?"
In the other group of participants, we asked a series of "how" questions, which gets people thinking concretely. "How can we fix First Nations water issues?" People started coming up with concrete details like: "Maybe we can dig wells." So we asked, how can we do that? "I guess we need to pay for it." They often came back to these feasibility issues.
Compared to the people who were thinking concretely, people who were led to think abstractly were more supportive of addressing injustice because they were more morally outraged, experienced more empathy, and thought the problem was easier to solve. So, the results suggest that inducing abstract thinking may be an effective tool for achieving local social change.
I don't know if you're a fan of Harry Potter …
Huge fan!
Well, there's a quote from Dumbledore: "Dark times lie ahead of us and there will be a time when we must choose between what is easy and what is right." What do you think? Do we have to choose, or can we do both?
When we are making people think abstractly about local issues, the results seem to suggest it makes what is right also seem easier. When we had participants think more abstractly, they came to see the solution as more feasible. It seems easier, or more possible, and less expensive to do, which leads them to be more inclined to do what I would argue is right: providing a basic need to those in our community and our country.
Also, if I remember that quote correctly – Dumbledore then goes on to remind Harry that he has a lot of friends at Hogwarts. Social psychologists have talked a lot about how having a sense of community is vital to psychological functioning. When you have that need met, it's associated with a lot of positive effects.
In work with my advisors Drs. Katherine Starzyk and Danielle Gaucher, and with PhD candidate Greg Boese at Simon Fraser University, we've been looking at how we can leverage fulfilling this need (for a sense of community) to lead to support for social change.
We've found that when we remind people how connected they are to their own communities, they come to see more value in all communities, not just their own. In turn, this makes them more supportive of rectifying injustices of communities they're not a part of. We have found this for First Nations water rights as well as other issues impacting minority communities.
You really ran with that quote – impressive! Have you been sorted into a house?
I have not! I'd like to think that I'd be in Gryffindor … but I think with my studiousness I'd be sorted into Ravenclaw.
So if you're not going on to get your PhD in potions from Hogwarts, where do you see your education taking you, after the U of M?
For now, I want to keep using my skills as a behavioural scientist to contribute to positive social change in Canada. I really enjoy mentorship, so I'd also love to have a hand in training future generations of students. Ideally, I think that would be in a university context, but through collaborations with community and other NGOs as well.
Neufeld was awarded her scholarship at the Mahatma Gandhi Peace Award Gala on June 8, which also included a presentation of the Peace Award to David Matas [BA/1964] and Art DeFehr [BComm/64].
The U of M's Front and Centre campaign is the largest philanthropic investment in the history of Manitoba, and will invest $100 million to support graduate students like Katelin Neufeld. The research they contribute is vital to the innovation, growth, and wealth of our province and our international research reputation.