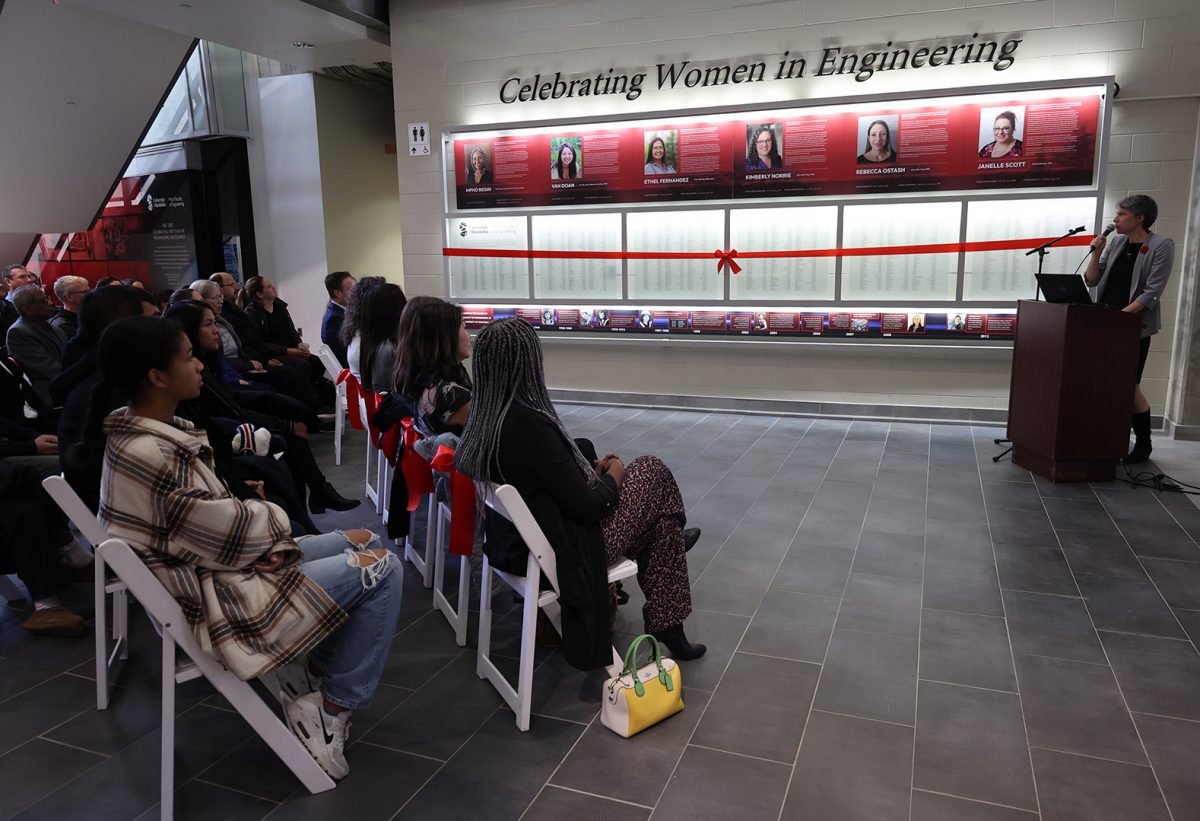 Six women being celebrated in Engineering installation
November 3, 2023 —
In 2013, the Price Faculty of Engineering unveiled a permanent installation, Celebrating Women in Engineering. Ten years later and thousands of female-identifying graduates later, we are thrilled to unveil a new set of six women who continue to excel in their field and contribute to the engineering community in so many ways. All six women were able to join us (one virtually from Alberta), to mark the occasion. Continue reading to discover more about these phenomenal women who truly deserve to be celebrated. The installation can be viewed in person in the Atrium of the Engineering and Information Technology Complex at the University of Manitoba.
MPHO BEGIN
B.Sc. (Comp. Eng.), 2001; M.Sc. (Elec. Eng.), 2004
From a journey in Engineering that began in Southern Africa, Mpho (Otukile) Begin is an entrepreneur in the healthcare sector.
Growing up in a rural village in Botswana, curiosity and hard work led Mpho to an academic scholarship to pursue undergraduate and graduate Engineering degrees at the University of Manitoba.
Her career has spanned multiple industries, including as a designer of video electronic products and a consultant to the Canadian Network for Public Health Intelligence developing software for disease surveillance. It was during this time that she realized her passion for healthcare technology, seeing how technology can have a positive impact on people's lives. Since then, she's been using her skills in the medical device industry, ensuring medications are prepared safely for patients all over the world.
She is the founder of Cassidy e-Care Solutions, a digital health company that empowers people with diabetes to self-manage their health outside the hospital setting. Mpho also works at ARxIUM, leading people, projects, and systems to help pharmacies of all sizes and types improve safety, productivity and efficiency for health systems, long-term care, retail, and central fill with category-leading automation hardware and workflow software.
Mpho volunteers with various local and national organizations, and she likes hiking, traveling and exploring different cultures with her family.
VAN DOAN
B.Sc. (Bio. Eng.), 2002; M.Sc. (Bio. Eng.), 2003
Van Doan was the first female biosystems/agricultural engineer hired by Manitoba Agriculture in 2003 and today leads the engineering services for the entire department.
 Van was born in Viet-Nam to a farmer/soldier father and homemaker mother. Amid political turmoil after the Viet-Nam war, her family built a rickety boat and with only the clothes on their backs escaped Viet-Nam in the hope of a better life. This led them to the agricultural community of Swan River, Manitoba, where she grew up. These experiences guided Van to pursue biosystems/agricultural engineering. 
As technical lead on a wide range of priorities for the agricultural sector, she is involved with renewable and energy efficiency, GHG mitigation technology implementation, drainage/irrigation engineering, livestock environment and mortalities management, farm building code analyses, agri-processing, grain handling and storage design, and animal disease emergency planning and preparedness. Van enjoys using her engineering skills to improve processes and find simple, effective solutions to the task at hand. However, the greatest moments in her career have always been attributed to the people.
Van strives to build Manitoba's agricultural engineering capacity by offering her time to do in-class presentations, judge science fairs and mentor engineering students. She is also an active volunteer for sports and social programs in her community of Landmark where she lives with her husband and three children.
ETHEL FERNANDEZ
P.Bacc.Dip.Eng. (IEEQ), 2013
From a successful engineering career in the Philippines, Ethel (Clemente) Fernandez is now a powerful force supporting internationally-educated engineers re-entering the profession upon immigration to Canada.
Born and raised in the Philippines, Ethel has always been driven by her innate curiosity and desire to create positive change in the world. Already in her 30s with a successful engineering career with a Japanese electronics firm in the Philippines, Ethel made the bold decision to immigrate to Canada with a spouse and two children.
The Internationally-Educated Engineers Qualification (IEEQ) program led her to the Price Faculty of Engineering, which paved the way for Ethel to obtain her professional engineer designation, solidifying her expertise and opening doors to new possibilities. As Quality Systems Senior Engineer at the Royal Canadian Mint, she now manages and ensures the highest standards of supplier quality within her organization.
Ethel's experience was a springboard to organize and advocate for newcomers to Canada pursuing foreign engineering credential recognition. She became the first woman to lead the Filipino Members Chapter of Engineers Geoscientists Manitoba and extended the chapter's reach into community volunteerism. She serves on Engineers Geoscientists Manitoba committees of Council and with Camp 8 of the Iron Ring ceremony. Her regular past column in the Pilipino Express continues to inspire Philippine-trained engineers in the present. Her leadership and positive drive have inspired many others, particularly women in the Filipino Members Chapter, to embrace challenges and pursue their passions.
KIMBERLY NORRIE
B.Sc. (Mech. Eng.), 1996
Kimberly Norrie is a rocket systems engineer and an engaged community volunteer, wife and mother.
Kimberly always had an interest in math and science. A high school physics teacher's habit of bringing household appliances into class for "dissection" parked a lifelong interest in engineering and learning how things work.
For over 25 years, Kimberly has had a passion for rockets, overseeing much of the technical development, contracts and operations for the venerable Black Brant Sounding Rocket program at Magellan Aerospace. She has redesigned the Black Brant sounding rocket, a legacy Magellan product, to improve performance and modernize materials. Magellan's Black Brant rocket is almost entirely designed and managed by women, led by Kimberly, and the Black Brant rockets boast a success rate greater than 98%. A highlight of her career was sitting in a NASA control room watching one of her rockets take flight.
Beyond her professional pursuits, Kimberly proudly embraces her role as a hockey mom supporting her children's passion, from cheering enthusiastically in the stands to volunteering as team manager.
Kimberly is keenly aware of the importance of representation of women in male-dominated industries. She visits classrooms with Engineers in Schools to inspire young minds to consider a future in engineering. Kimberly believes that young girls need to see successful women in STEM so that they can see what they can be.
REBECCA OSTASH
B.Sc. (Elec. Eng.), 2001
Coming from a family of engineers, Rebecca (Brandt) Ostash is Vice President of Business Development for TransGrid Solutions, a world-renowned power systems consulting firm.
Rebecca grew up in St. Adolphe, Manitoba, and was drawn to engineering from the results of a high school aptitude test. Her career began at Manitoba Hydro, which started her down the path of power systems and renewables, and she was involved in the first wind farm built in Manitoba.
Rebecca became TransGrid Solutions' first employee, securing projects from around the world that address complex issues of adding renewable forms of energy and retiring fossil-fuel based generation. The company has grown to 25 engineers, including eight women. Rebecca specializes in performing studies and modeling for clients around the world to enable the interconnection of renewables to the transmission grid. Rebecca is also involved in the international organization CIGRE, where her work on study committee B4 addresses current issues in today's power systems.
Rebecca finds engineering to be a career where her interest to be challenged, solve problems and a teamwork approach have found expression. Her long-standing mentoring activities pave the way for new engineers just beginning their journey.
She enjoys spending time with her husband and two boys, whether it be at home, on family vacations or at the lake.
JANELLE SCOTT
B.Sc. (Civil Eng.), 1995
Janelle (Ducharme) Scott is a proud Métis engineer, wife, and mother, combining her deep expertise and leadership in the energy industry with passion to develop people's potential and pay it forward to Indigenous communities.
Janelle was one of the first three Indigenous female engineering graduates from the Engineering Access Program. This led her to Syncrude Canada Limited in northern Alberta's oil sands, where Janelle spent over 20 years leading the company's activities and plans at progressively impactful levels. She was pivotal in advancing their Environment, Sustainability and Governance initiatives with mine reclamation and closure planning, landscape design and land reclamation certification. She also conducted internal audits and reported on the adequacy of business controls and management systems and compliance with corporate policies and standards. Janelle championed Facility Master Plans for over 100 office facilities across five worksites, advancing safety for 8,500 people related to process and building code non-compliance risks and aging infrastructure.
This expertise led her to Scout Engineering and Consulting Ltd., project managing and coordinating civil engineering infrastructure projects in Indigenous communities. In this role, Janelle liaised and collaborated with First Nations and engineering contractors and developed federal government support applications for green energy projects.
Passionate about innovation, mentoring, and personal growth, Janelle provides career transformation coaching with Higher Landing Inc. guiding engineers in career transition and other professionals to market and brand themselves to land higher careers.
Past honourees
Brianne Bates – B.Sc. (Mech. Eng.), 2011 
Koren Bear – B.Sc. (Civil Eng.), 1995 
Ruth Eden – M.Sc. (Civil Eng.), 2002 
Leah Guenther – B.Sc. (Bio. Eng.), 2010 
Marcia Friesen – PhD (Bio. Eng.), 2009 
Carolyn Geddert – B.Sc. (Mech. Eng.), 1988 
Kathleen Kompauer – B.Sc. (Civil Eng.), 1972 
Robyn Koropatnick – B.Sc. (Elec. Eng.), 1998 
Irene Mikawoz – B.Sc. (Ind. Eng.), 1988 
Zahra Moussavi – PhD (Elec. & Comp. Eng.), 1997 
Diana Nicholson – B.Sc. (Bio. Eng.), 2006 
Christine Wu – PhD (Mech. Eng.), 1996