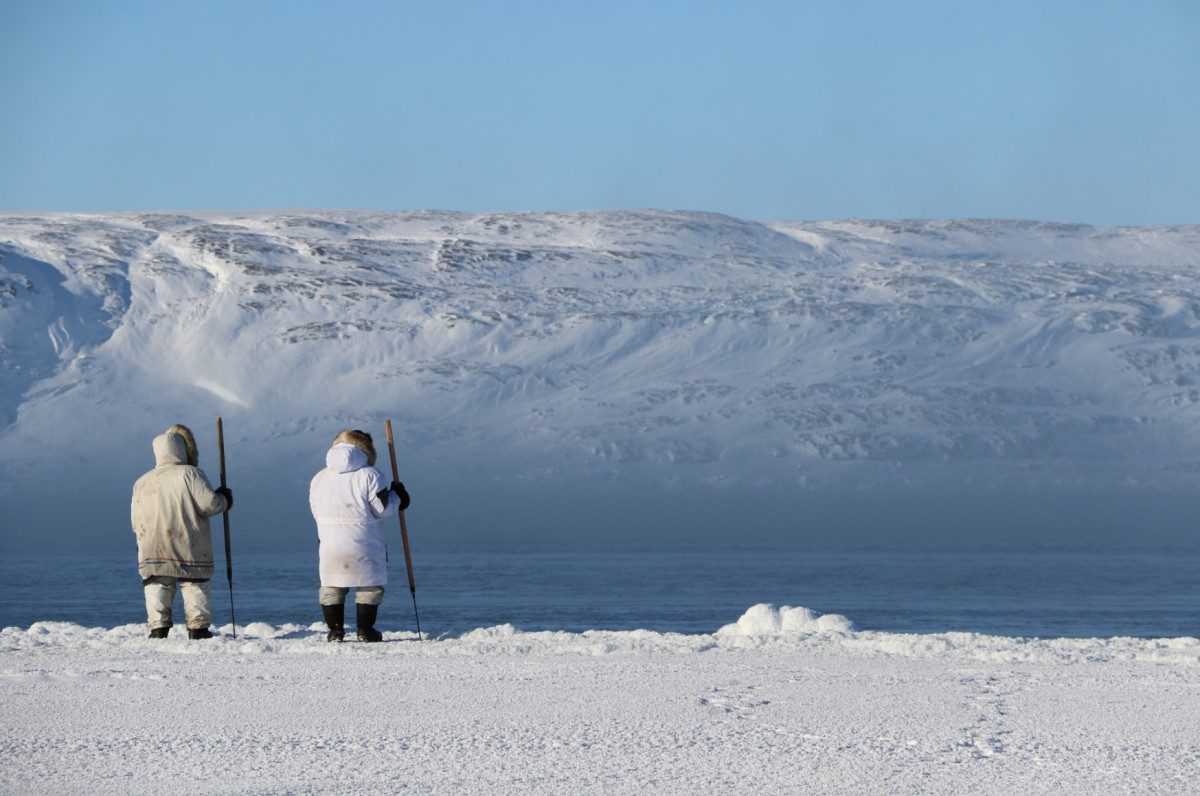 Vote: SIKU mapping platform a finalist for Google challenge
March 22, 2017 —
Changing sea ice in the Canadian Arctic is the inspiration behind SIKU (pronounced: see-coo) a new online social media and mapping platform, which is a finalist for the Google.org Impact Challenge. Headed by a University of Manitoba researcher, the not-for-profit Arctic Eider Society (AES) is harnessing social media, wiki and digital mapping technologies to address these challenges.
This month, AES is one of 10 finalists competing for the top prize in the 2017 Google.org Impact Challenge, and the public can vote for it until March 28.
"It's an honour to be nominated alongside many established and respected charities," says AES executive director Joel Heath, a research associate at the University of Manitoba's Centre for Earth Observation Sciences (CEOS). "We're a small charity with a big heart. This funding will go a long way toward achieving our goals and helping Inuit communities address long-standing priorities for environmental and community health."
Sea ice environments are changing across the Canadian Arctic, making travel on the ice more dangerous. These changes affect food security for Inuit. Named for the Inuktitut word for sea ice, SIKU will provide tools and services designed specifically to meet the unique needs of northern communities.
"Inuit are observing these changes," says Heath. "SIKU will provide novel ways to document and mobilize that knowledge to improve safety, knowledge transfer, education and environmental stewardship."
SIKU, AES and U of M
AES runs a community-driven research network in eastern Hudson Bay region where it works closely with CEOS researchers such as professors Zou Zou Kuzyk and Jens Ehn, alongside graduate students like Rosemary (Annie) Eastwood and Vlad Petrusevich. The team conducts oceanographic research with Inuit hunters. This research is featured on the SIKU platform in near-real time, and the innovative Inuktitut terminology and tagging tools will allow Inuit communities to continue contributing their own knowledge to this research.
The charity is interested in combining local knowledge and traditional tools with cutting-edge science and technologies to address Inuit priorities. A prototype mapping platform is already making results from community-driven research available to the public. The full vision for SIKU expands this capability to create social media profiles and living wikis for Inuit knowledge and terminology of sea ice, wildlife and traditional place names, while participatory mapping tools will support storytelling and knowledge mobilization. These new tools will allow communities to document their own narratives for their own benefit. SIKU will also become a one-stop shop for the latest satellite images and weather data, making it easier for coastal communities to make informed decisions about navigating on the land and sea ice.
"The project is going to have important benefits for northern communities" Lucassie Arragutainaq, Board Member of AES based in Sanikiluaq, and northern liaison for the project, "particularly for sea ice safety, environmental steward- ship and transfer of knowledge from elders and hunters to our computer savvy youth"
Public voting for the Google.org Impact Challenge is open until March 28, 2017. To learn more about this initiative, please visit VoteSIKU.com.
From the Field: Researchers write about SIKU work
Submitted by: Zou Zou Kuzyk, Jens Ehn, Misha Warbanski, and Joel Heath
It's finally winter here in southeast Hudson Bay/James Bay and the ice is thick enough to travel along the coast, so it was high time to get out of the office and into the field! As part of our partnership with the Arctic Eider Society's Community-Driven Research Network and with support from ArcticNet, the first stop for field work this winter (January 2017) was Chisasibi in eastern James Bay. This is our second year working on a Cree Nation of Chisasibi-funded project to understand ice and ocean processes in the eastern James Bay coastal domain. Specifically, we are studying how river water from La Grand complex and other large rivers discharging into James Bay modify ocean and ice conditions and ultimately coastal ecological processes. Understanding this oceanography is a step to better understanding declines in eelgrass habitats, which were once abundant on this coast. They provided an important stopover point for geese as well as rich hunting and fishing grounds for the coastal Cree but have declined in recent decades.
To study the winter oceanography in this region, we have been measuring snow and ice thicknesses, collecting water samples and installing moorings to collect information on currents, water temperature, salinity and water clarity, among other indicators. We're particularly proud of a satellite-linked mooring we have set up just north of town that is feeding us real-time salinity and temperature data at three depths under the ice. You can follow along and see what we're up to using the Arctic Eider Society's IK-MAP.
The mooring site is indicated by the anchor symbol, centred on your screen. On the left panel, you will see green boxes listing the 3 sensors (IN-SITU TROLL 100 CT). Click the box and you can see the real-time data for salinity and temperature.
Many thanks to staff at CEOS (in particular Michelle Kamula and Emme Wiley) for making the preparations for this field work, and to the Cree Nation of Chisasibi, in particular George Lameboy and our community research partners John Lameboy and Jimmy Snowboy, for their help this past week and indeed over the last two years, as the partnership developed.
Next stop, Kuujjuaraapik! Our Inuit partners there have been watching the ice and doing CTD casts and are ready for a week of intensive work to look at the coastal domain in that region. Let's hope the weather holds!
Research at the University of Manitoba is partially supported by funding from the Government of Canada Research Support Fund.