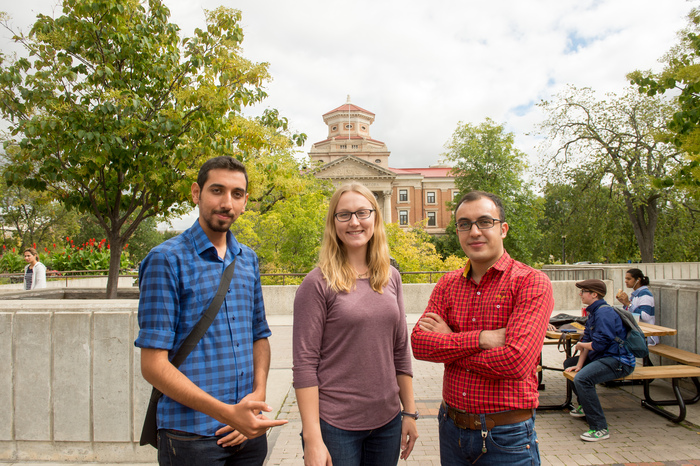 Setting up for success
Graduate Student Orientation will set students on the right path
August 29, 2017 —
On Sept. 5-6, 2017, Graduate Student Orientation will take place at the University of Manitoba. It's a chance for new graduate and professional school students to get familiar with campus and learn how to make the most of their graduate experience.
Co-hosted by the Faculty of Graduate Studies, Student Life and the University of Manitoba Graduate Students' Association, a full slate of events is planned to help ease the transition to graduate school.
The two-day event includes a welcome session where students will hear from Todd Mondor, Vice-Provost (Graduate Education) and Dean, Graduate Studies; Carl Neumann, President of the UMGSA; and a panel of four seasoned graduate students who will be answering questions from the audience. Other events at orientation include campus tours, lunch on each day, a resource fair, and a number of workshop sessions. Registration is required for all events.
In addition to returning favourites like the How to Network Workshop and Library Essentials, two new workshops are being offered for 2017.
Know Your Indigenous Campus Bingo is presented by Trevor Phillips, Indigenous Graduate Student Success Coordinator. Open to all graduate students, it's a fun, casual and informative way to take a virtual tour through campus from an Indigenous perspective, highlighting the key spaces, places, and artwork that give the U of M its multi-national Indigenous character.
"I believe that to be oriented to campus as a new student is to be welcomed into the Indigenous Student Centre with food and games while also being oriented to where they have chosen to conduct their research both historically and geographically," said Phillips. "Namely, how the U of M sits on Treaty One territory and within the traditional homeland of the Métis Nation, and the ways this university seeks to mark, name, and honour the history and relationship of Treaty with the Indigenous peoples of this area."
Another new workshop this year is called Intercultural Considerations in the Classroom. This session is also open to all new UM graduate students and will explore how cultural diversity may influence academic studies and interpersonal relations, in an effort to help new students navigate the cultural landscape in a Canadian classroom context.
"Very often, culture is considered as something invisible, sensitive or even intimidating to talk about in the classroom," said Yunyi Chen, workshop presenter from the Centre for the Advancement of Teaching and Learning. "However, both international and domestic students may encounter challenges derived from cultural diversity in their daily studies and communications without knowing the real causes and appropriate solutions." Chen is offering this session as a resource to help new students build an initial awareness that their own expectation of education, understanding of academic integrity, ways of learning, and communication styles play an important role in the classroom.
The schedule for Graduate Student Orientation can be found online.