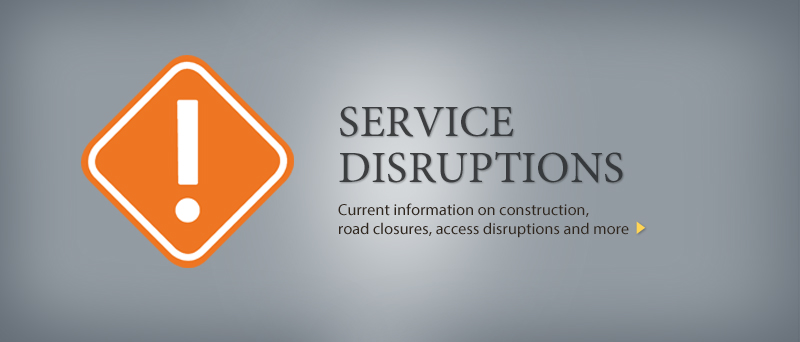 Service Disruptions webpage will improve accessibility on our campuses
November 28, 2017 —
The University of Manitoba has created a Service Disruptions webpage to share information about disruptions on our campuses that could affect users of all abilities to access services. This can include information about disruptions such as elevator repair, major transit changes, road maintenance and construction in or around a building.
The Service Disruptions webpage can be found on U of M's Accessibility Hub website, a convenient, one-stop online location for accessibility-related resources and information at the University.
This initiative reflects the University's commitment to accessibility as part of its evolving Accessibility Plan to identify, prevent and remove barriers to accessibility and create an accessible environment to all who utilize services on campus. A first version of the U of M's plan was released in December 2016.
Over the past year, the University has been training staff and faculty in order to comply with the province's customer service standard as required under the Accessibility for Manitobans Act, or AMA, which passed into law in December 2013. The compliance deadline for the standard was Nov. 1, 2017.
Service Disruptions webpage: what info will be provided?
The new Service Disruptions webpage is designed to provide information of importance to all faculty, staff, students, and visitors based on the anticipated timeframe of the disruption.
Disruptions are broken into two main groups: Building and Construction Notices; and Road and Transit Notices.
Within these groups, they are further categorized by building, type of disruption, and location information — allowing users to know the specifics of each disruption. Additional information (such as disruption times, alternate means of access and egress etc.) is also provided.
For those interested in disruptions pertaining only to buildings they visit on a regular basis, a simple search of the page can be done using the keystrokes provided on the page.
Users are encouraged to contact the project lead (also provided) associated with a given disruption if they have any questions or concerns.
For questions regarding service disruptions in general, or to provide comments or feedback about the service disruption webpage, e-mails can be sent to servicedisruptions [at] umanitoba [dot] ca
Visit the new webpage here: umanitoba.ca/servicedisruptions
---
Our accessibility commitment: The University of Manitoba is committed to creating an inclusive, welcoming environment that supports all abilities. The University wishes to promote and support a community that embraces accessibility, diversity and inclusion, provides for equality of opportunity and recognizes the dignity of all people. See more at the Accessibility Hub website, a convenient, one-stop online location for accessibility-related resources and information at the University of Manitoba.