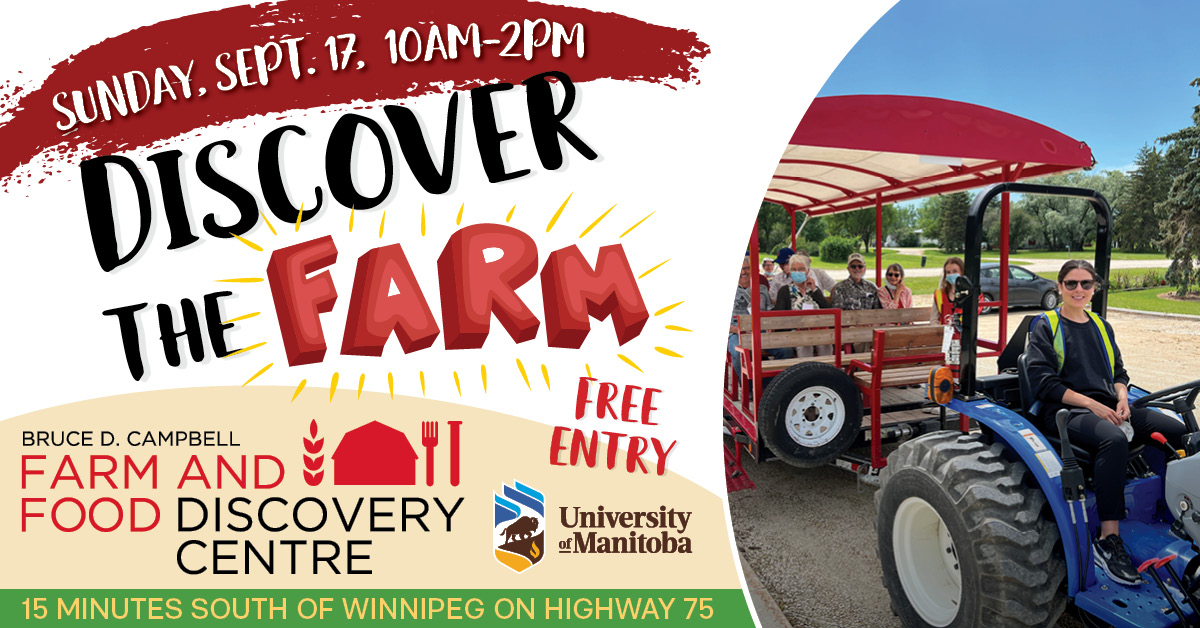 Second annual "Discover the Farm" celebrates Manitoba agriculture
September 13, 2023 —
Returning this Sunday, September 17, the highly anticipated "Discover the Farm" event once again invites urban and rural Manitobans to explore farming and food production.
The free event, which kicks off Farm and Food Awareness Week in Manitoba, will run from 10 am to 2 pm at the Bruce D. Campbell Farm and Food Discovery Centre, 15 minutes south of Winnipeg on Highway 75.
Visitors will have the unique opportunity to engage in conversations with local Manitoba farmers, take a wagon ride to visit pigs, dairy cows, broiler chickens, and laying hens, and explore crops grown on the Prairies.
Hands-on activities include crushing canola to make oil, guessing the identity of different seeds and finding the queen bee in a working honeybee hive. Visitors young and old can try their hand at the Guardians of the Grasslands grazing simulation game, the Henny Penny ring toss, and the Wheel of Chicken trivia game. Participating organizations will be sharing recipe books and other free giveaways, including kitchen utensils, activity books, reusable bags, squeeze toys, temporary tattoos, and more.
Free food samples that feature Manitoba products will be served while supplies last, and include kimchi beef meatballs, pulled chicken and pork sliders, desserts made from eggs and canola, and delicious chocolate and white milk.
"Discover the Farm" gives visitors an opportunity to learn more about the great diversity of food production in this province and the importance of agriculture to the provincial economy.
Manitoba's agriculture and agri-food sector generates $17.1 billion in direct output, employing over 36,000 people in the province or essentially one in 20 jobs in Manitoba. The province is home to 24 agri-food research and development centres featuring world-class research programs.
For more information:
Crystal Jorgenson, University of Manitoba
crystal [dot] jorgenson [at] umanitoba [dot] ca