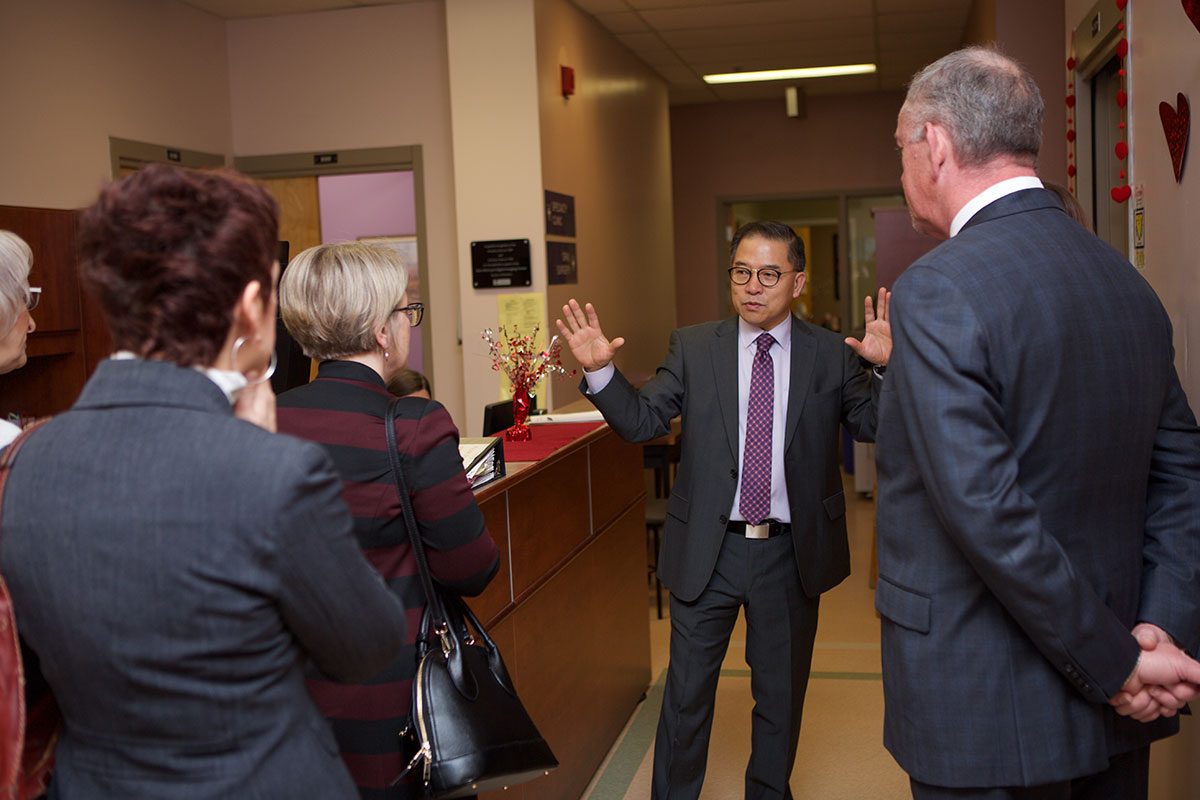 Scotiabank donates $500,000 to the University of Manitoba
Establishes dentistry fund to help underserved populations, and endows new scholarship in data analytics
January 15, 2018 —
Scotiabank has donated $500,000 to the University of Manitoba's Front and Centre campaign, giving students academic support and opportunities to serve their community.
A portion of the new donation will help more Manitobans get the oral health care they need, while enhancing dentistry student training. The remainder will establish the Scotiabank Scholarship in Data Analytics in the Asper School of Business.
The Scotiabank Clinical Education Fund in Dentistry will support treatment for patients at the College of Dentistry's Patient Care Clinic. Though the U of M clinic charges 50 per cent less than private clinics, many are still unable to afford care. Scotiabank has addressed this challenge by establishing this new endowment. With the support from Scotiabank, patients who can't afford dental treatment at the Clinic will have improved access to care. Scotiabank's endowed gift will provide a secure source of ongoing support for the Patient Care Clinic that will benefit patients and students now and for years to come.
"At Scotiabank we believe that investing in young people is the pathway to community prosperity," says Martin MacCool, Scotiabank's District Vice President of Winnipeg. "As an organization we are committed to helping young people reach their infinite potential and recognize that our donation to U of M will not only support the students focused on analytics and dentistry, but will also provide significant benefits to the community."
The College of Dentistry in the Rady Faculty of Health Sciences offers one of the best clinical training programs in North America, requiring students to perform more procedures than any other dental school in Canada. Its main teaching clinic is one of the largest in Western Canada and Scotiabank's support will enhance students' clinical training as they are exposed to a greater breadth of oral health cases from members of the public seeking their help.
"Scotiabank's visionary gift is truly transformational, as it addresses the largest issue in today's dental education environment," says Anthony Iacopino, Dean of the College of Dentistry. "Traditional dental school clinic business models are failing due to the high costs of modern technologies and materials as well as the increasing proportion of underserved populations that require oral health services. This particular partnership is unique in North America as it ensures comprehensive training for our students while, at the same time, enabling the College of Dentistry to achieve important community service and outreach goals."
The Scotiabank Scholarship in Data Analytics will recognize and support exceptional students with an interest in data analytics studying in the Asper School of Business. This support will attract and reward the sharpest students, who will graduate with the skills they need to work as database administrators, developers, analysts, and scientists. Joshua Wiebe, the first recipient of the scholarship, says he has always been passionate about Data Analytics, and that Scotiabank's support helps him have greater flexibility when planning for the future. "It gives me more time to spend on my studies instead of working to pay the bills," he explained "and provides the freedom to continue pursuing further education sooner."
The Front and Centre campaign has been structured on five institutional priorities: Indigenous Achievement, Graduate Student Support, Research Excellence, Outstanding Student Experience, and Places and Spaces. These priorities respond to our province's most pressing needs and allow us to be reactive to some our most urgent issues, like ensuring equal access to dental care for Manitobans, and providing exceptional experiences to our students.
Individuals interested in becoming patients at the College of Dentistry's Patient Care Clinic can contact the College at 204-789-3505 to learn more and express their interest in the program. The College will be in contact to arrange screening appointments, which are scheduled weekly.