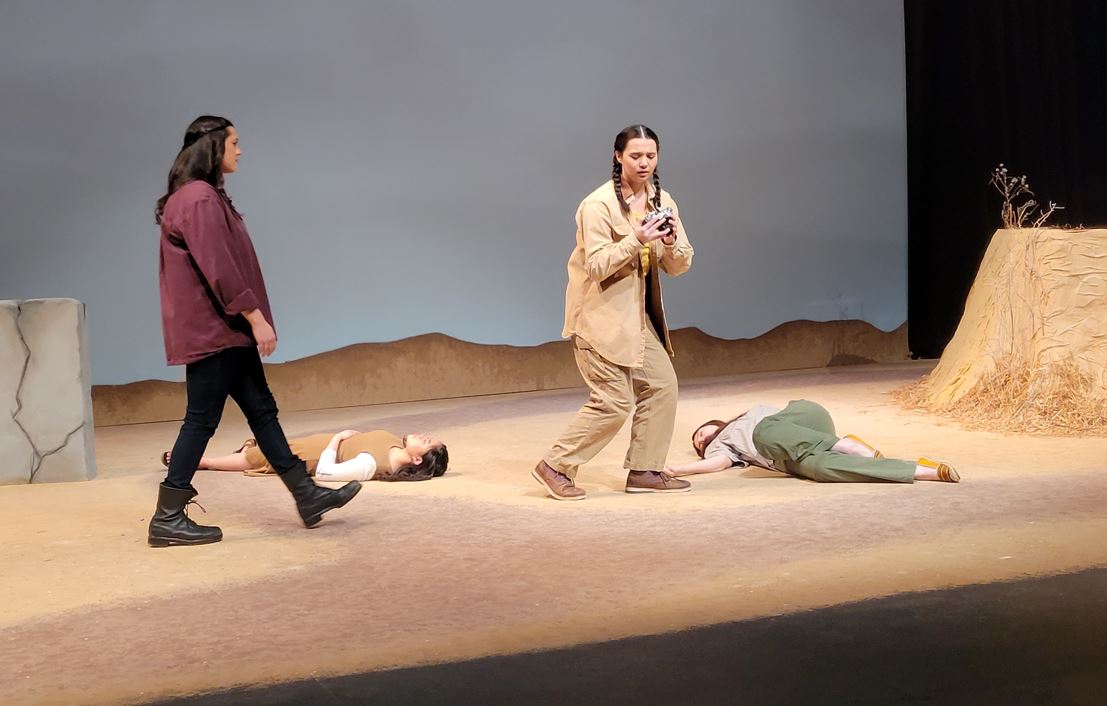 Scorched, a fiery performance
Student theatre delivers in latest mainstage production
March 9, 2023 —
A brilliant tale that is equal parts riveting, suspenseful, dramatic and heartbreaking, Scorched by Lebanese-Canadian writer Wajdi Mouawad is a breathtaking tale of two twins, Janine and Simone, trying to fulfil their mother's last wishes. Weaving past, present and future, Mouawad brings together multiple storylines into one organic tale of tragic love. On March 2, 2023, the curtains rose on opening night for an incredible performance by the students of the Department of English, Theatre, Film & Media's Theatre Program, drawing tears, laughter and bated breath from an astounded audience. After the show, I had a chance to sit down with actors Nadine Maranan and Sam Fergus to have a conversation about their performance and the feelings that came with it.
With energy levels still running high, we debriefed on Sam and Nadine's performance and how they felt after opening night. Sam was still feeling the high of performing while Nadine felt quite relaxed despite the short rehearsal period. While this was Nadine's last show as a student, it was Sam's first major role in a UM theatre program performance. However, that didn't mean that each of their performances didn't come with their own set of learning curves. Both Sam and Nadine had an incredible amount of lines to memorize in their scripts as both had long monologues written into their characters. In addition to the memorization, both Sam and Nadine spoke of challenges they had to overcome in their performances. In Nadine's case, she spoke of the traumatic issues that her character faced and how she needed to learn to separate her character from her own self. In Sam's case, he needed to balance the high intensity of the physical comedy that his character provides to the show with the dramatic tone shifts that often accompanied his character's environment.
In the end, both Sam and Nadine agreed that they gave their best efforts and were satisfied with how opening night went. The audience seemed to agree, ending the night with a standing ovation.
The Faculty of Arts would like to extend its heartfelt congratulations to show director Dr. William Kerr and the students of the theatre program for another round of sold-out performances and wish them the best of luck for the remainder of the shows.
Design credits: Costume design by Alison Holliday. Set design by Regina Avíla Alamilla.