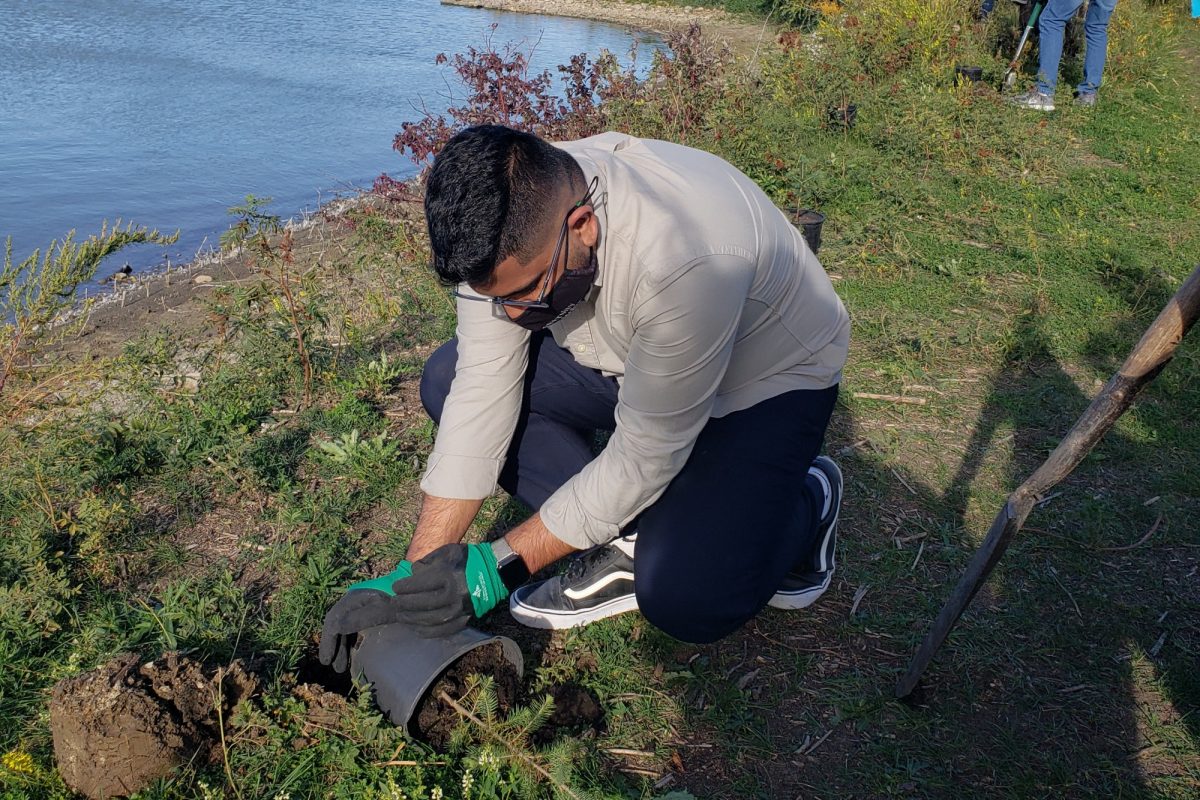 Science students contribute to Million Tree Challenge on National Tree Day
September 24, 2021 —
September 22 marked the 10th anniversary of National Tree Day, a celebration for Canadians to appreciate the roles that trees play in providing benefits to our ecosystems. In a monumental year where more people took to green spaces due to the pandemic, the mission to complete the Million Tree Challenge (MTC) is more essential than ever before.
The Faculty of Science partnered with Science Rendezvous, UNESCO, Trees Winnipeg, the Province of Manitoba Forestry and Peatlands Branch, Ariel Gordon, author of Tree Talk, and Tree Canada to help the community take action.
The MTC aims to plant one million trees by the time the city's population reaches the same number. This planting program not only helps combat the threats to Winnipeg's urban canopy, but it also serves as an education campaign to raise awareness on urban ecological issues and the importance of conserving these spaces.
Celebrations of this milestone spanned across the country in 12 cities including North Vancouver, Edmonton, Saskatoon, Ottawa, Montreal, St. John's, and more. In Winnipeg, volunteers gathered at Fort Whyte Alive to plant trees and come together for a great cause.
Beyond this event, 3300 trees were also distributed to multiple public schools in the city this month. As of now, the Faculty of Science Manitoba has helped plant approximately 8000 trees in the past three months alone.
Sadbhawna Sharma, a fourth-year student in the Faculty of Science, was one of several UM student volunteers in the project. As someone who has always loved staying close to nature and cherishing its beauty, participating in this event came naturally to her.
"This project celebrates one of the most essential gifts of nature – the trees! We are so lucky to enjoy the fresh air, beautiful scenery, and other benefits because of trees," says Sharma. ""I want my city to stay green for generations to come, and that's why I wanted to play my role in saving our greenery."
Sharma reflects on one of many other rewarding aspects of the project – indirectly developing the public's relationships with nature by enriching the city's green spaces for the benefit of the whole community. She adds, "I loved how most people were there with their families, friends and classmates, gathering to cherish the life we have and returning the favour back to Mother Earth."
In addition to volunteering in the MTC, the Faculty of Science and the University of Manitoba have and continue to contribute to this mission in many ways. Visit the Manitoba School Tree Planting Challenge website for more information.