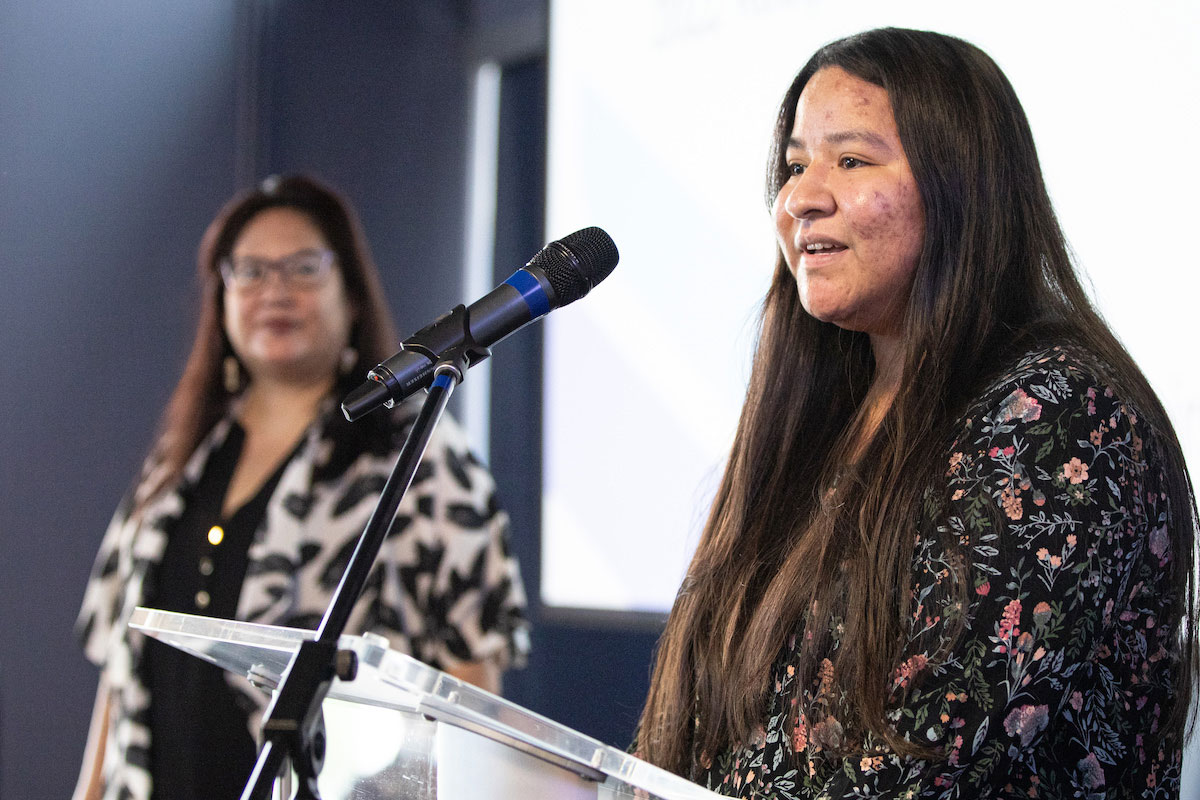 Science student Zoe Quill receives 2022 Student Affairs Participation Award
June 23, 2022 —
After receiving a record number of nominations, Zoe Quill was unanimously selected as the recipient of the 2022 Student Affairs Participation Award by this year's committee.
The award aims to recognize a student who has maintained high academic achievement while making a significant voluntary contribution to UM and/or the broader community. This year's award was presented on June 16 at the kick-off to the Student Affairs Strategic Planning retreat, attended by over 150 staff.
"It is fitting that we begin our time together celebrating the outstanding accomplishments of one of our students," said Laurie Schnarr, Vice-Provost (Students). "This year's recipient reminds us that individual contributions can and do make a difference – in the lives of our students and in cultivating a strong sense of community on campus."
A third-year Science student majoring in genetics, Zoe has spent considerable time volunteering for roles within the Faculty of Science including the Science Students' Association, the Indigenous Achievement Committee, the Selections Committee, the Committee on Student Standing and the Local Disciplinary Committee.
Zoe is passionate about giving back to the community through mentoring, sharing resources and taking on the role of leader. For the past three years, she has worked as a mentor in the Neechiwaken Indigenous Peer Mentor Program, helping create a supportive environment for Indigenous students on campus to feel confident in their journeys.
"It is important to me for the younger generations to feel encouraged to pursue academic and personal achievement as I was once in their spots being shaped by the leaders before me," Zoe says. "I felt driven to support the well-being of Indigenous students through implementing culturally informed events and sharing relevant resources. These past experiences have given me the confidence to continue to break barriers and foster an encouraging environment at the University of Manitoba."
In addition to her mentorship work, Zoe has also been heavily involved on campus, volunteering as a UM Student Ambassador and attending various events such as Open House, Evening of Excellence, and the annual Traditional Graduation Pow Wow.
"Zoe is an accomplished Indigenous role model," says Carla Loewen, director of the Indigenous Student Centre and Zoe's nominator. "She is always open to helping Indigenous students who need advice, and to promoting and encouraging the engagement of Indigenous students to programs, resources and events that are available to them. Humility is one of Zoe's greatest traits, because no matter how busy she is, she prefers to promote the success of others."