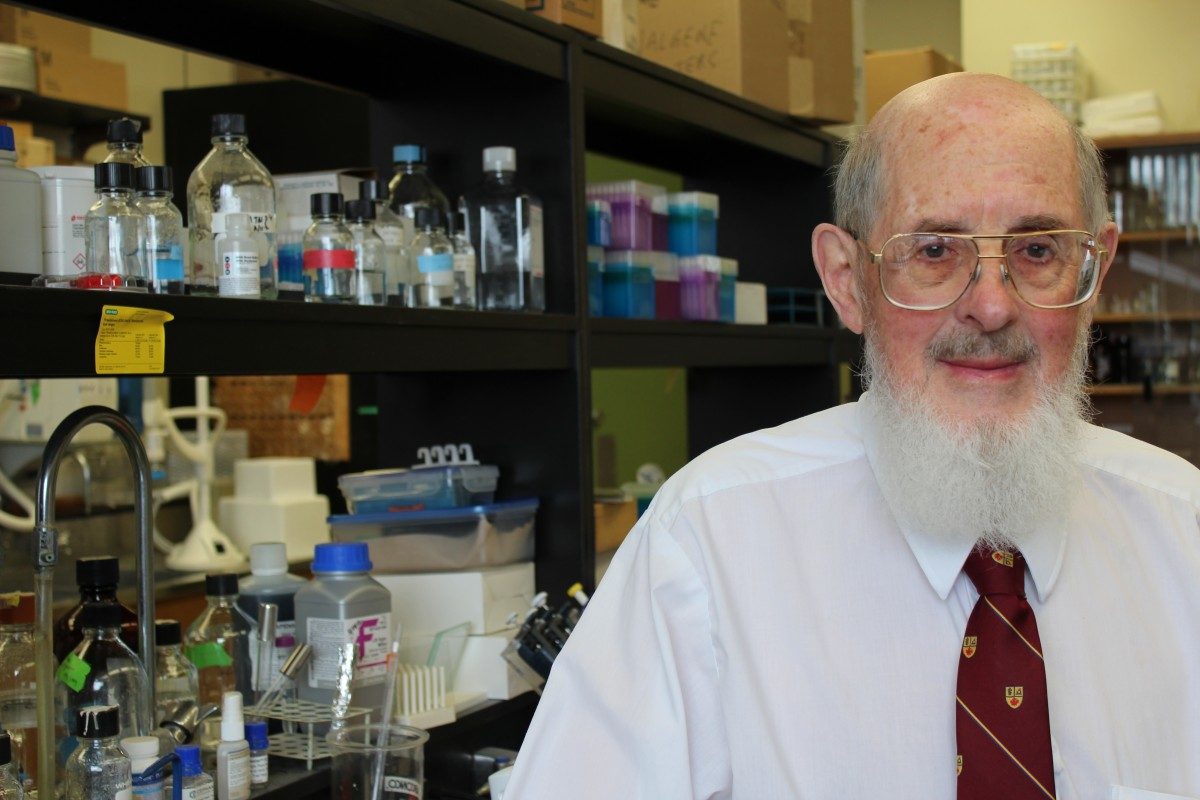 The science of spit
Dentistry prof a global expert at studying slobber
March 22, 2019 —
Dr. Colin Dawes is a proud member of the "Salivation Army."
The professor emeritus, a faculty member of the Dr. Gerald Niznick College of Dentistry for a remarkable 55 years and counting, has devoted his research career to the slippery, slimy mysteries of saliva.
When the British-born Dawes first joined the oral biology department in 1964, the work sometimes felt like spitting into the wind.
"Saliva is not a popular topic. People have always thought I was an oddball," says the gentlemanly dentist-scientist. "In the 1960s, you could count the number of salivary researchers worldwide on two hands."
Today, the octogenarian Dawes ranks as the most-published salivary researcher in Canada. In 2005, the international Salivary Research Group recognized his achievements with an award in the form of a brass spittoon.
A recent honour for the senior scientist was being asked to co-write an article for the international Journal of Dental Research, summarizing 100 years of salivary discoveries. His co-author is California-based Dr. David Wong, the world's foremost expert on detecting signs of disease in saliva.
A number of important findings about the physiology and chemistry of spit were made by Dawes in his lab at the dental college, now part of the Rady Faculty of Health Sciences. The oral biologist conducted many studies analyzing the volume, flow rate and composition of saliva.
Dentistry students were his guinea pigs, instructed to expectorate into vials, or to sit with their heads down and mouths open, letting slobber drip from their lower lips. Some experiments required participants to chew up – and spit out – foods such as raw carrot, boiled rice or rhubarb pie.
Fifty years after graduating, Dr. Greg Smith from the Dentistry Class of 1968 teased Dawes at an event, "I saw you tonight, and all of a sudden my salivary glands starting working overtime."
A "gizmo" placed inside the cheek has existed for collecting saliva from the parotid gland since 1910. But in 1967, Dawes was the first to train research participants to control their flow rate by varying how hard they sucked on a lemon drop while wearing this device.
In the 1970s, Dawes studied how the body clock affects saliva. He discovered that unstimulated saliva flow naturally peaks at about 5 p.m. each day, and that certain proteins in spit also peak at that hour.
In the 1980s, he published a mathematical model of salivary clearance, explaining the role of saliva in clearing sugar from the mouth. Beginning around 1990, he was contracted by the Chicago-based Wrigley Company to test chewing gums' effects on salivary flow and composition.
The professor, who has lectured in 27 countries, says one of his key motivations for scrutinizing spit has been that xerostomia ("dry mouth") is not just a source of discomfort, but a health concern.
"People with a lower-than-normal salivary flow rate are more susceptible to tooth decay because with less saliva, it takes longer for sugars to clear the mouth," he says.
There's only one country – Sweden – where dentists routinely measure patients' salivary flow rate. It's a simple, one-time test that should be standard everywhere, Dawes says, because it can identify those at high risk for cavities and gum disease.
Back in 1971, a pharmaceutical company hired Dawes to conduct a randomized controlled trial of a new drug that reduced stomach acid. "They hoped it would not reduce salivary secretion," he recalls.
He found that the drug did reduce salivary flow, and that when the rate dropped to 40 to 50 per cent of the person's normal rate, the sensation of dry mouth was felt. He was the first scientist in the world to quantify this.
Dawes, who lives in Gimli, has retired from hands-on research, but still reviews manuscripts for journals. Cutting-edge salivary research, he says, is now paving the way for saliva-based early diagnosis of many diseases, including "liquid biopsy" of cancers.
"In the future there will be a little machine," he says. "You'll spit into this thing, they'll press a few buttons, and your saliva will be tested for a particular biomarker."
Displaying his lifelong belief that there's nothing gross about gob, he declares, "Virtually all people would much rather spit into a tube than have somebody take their blood."