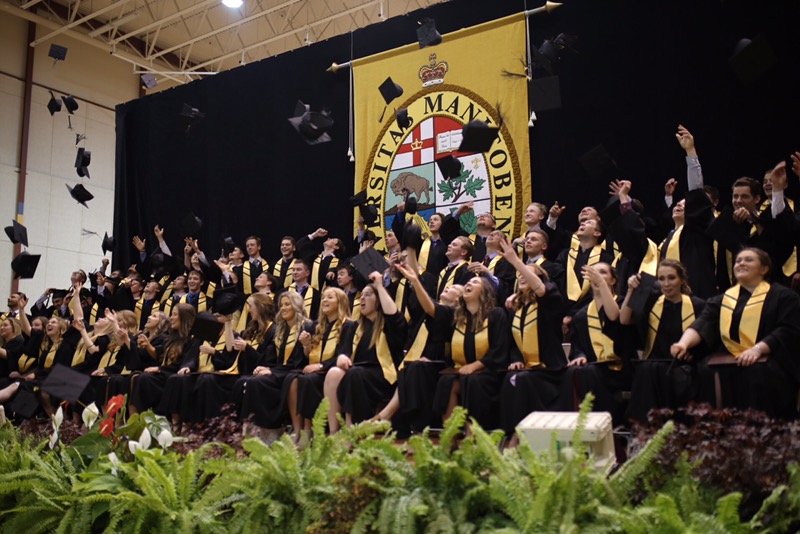 School of Agriculture celebrates 111th convocation
May 7, 2018 —
Sixty-five students received their Diplomas in Agriculture at the 2018 convocation of the School of Agriculture held Friday, May 4, at the University of Manitoba. The graduates hail from towns and farms around Manitoba, Saskatchewan, British Columbia, and as far away as Punjab, India.
Dylan Loewen from Arborg received the Governor General's Bronze Medal, an award given to the graduate with the highest academic standing in the two-year Diploma Program in Agriculture. Drew Luhowy from Rossburn was the recipient of the President's Medal, given annually to a student who combines scholarship with outstanding qualities of leadership.
Diplomas with Distinction, awarded to students who obtain a Grade Point Average of 3.75 or better out of a possible 4.5, were presented to Nathalie de Rocquigny (St. Claude), Brodie Erb (Oak Bluff), Carrigan George (Virden), Nathan Karlowsky (Brunkild), Dylan Loewen, Drew Luhowy, Carlee Milljour (Manitou), Courtney Milljour (Manitou), Joel Plett (Arborg), and Brett Wiebe (Carman).
The Faculty of Agricultural and Food Sciences annually awards Certificates of Merit to those who have made significant contributions to the agri-food industry. This year's recipients include purebred cattle producer Bill Campbell and former Canadian Grain Commission chief commissioner Chris Hamblin.
The Teacher of the Year Award was presented to Devin Pouteau in recognition of teaching excellence and contribution to the students' program of study. This award is selected by the graduating class of Diploma students.
See the complete list of awards presented.