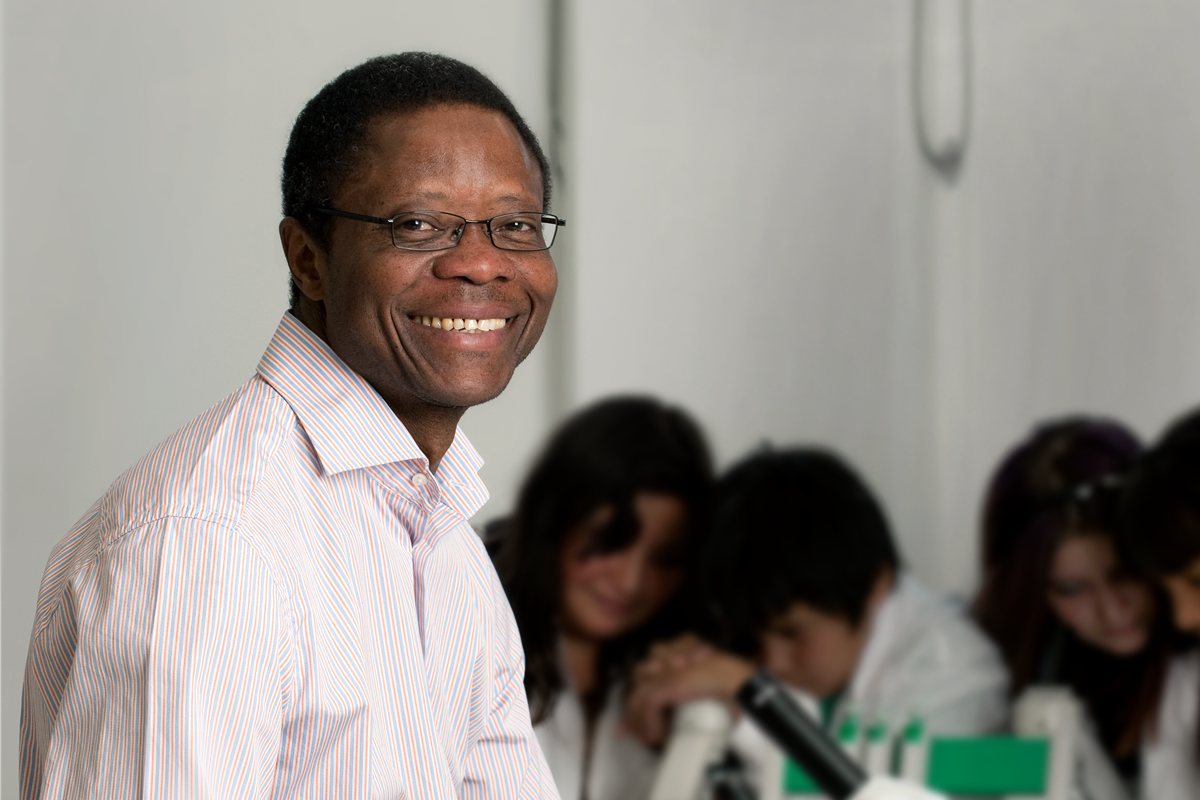 Scholar of teaching and learning honoured with medical education award
February 25, 2021 —
Dr. Francis Amara used to be a laboratory researcher. The professor of biochemistry and medical genetics in the Max Rady College of Medicine was focused on Alzheimer's disease.
But more than a decade ago, Amara realized that he had a greater passion: the science of teaching and learning. He returned to being a learner himself, earning his master's in education at UM in 2010.
Now he's an expert on curriculum development and teaching methods. His research asks questions such as "What makes an effective lecture?" "Should we encourage creativity in medical education?" and "How can we enhance the teaching styles of bioscience researchers?"
In April, the Canadian Association for Medical Education (CAME) will honour Amara with a Certificate of Merit Award, recognizing his significant contribution to medical education. He was nominated by UM.
Amara firmly believes that effective teaching is as worthy of respect as lab research. "Teaching is still undervalued globally," says the professor, who grew up in Sierra Leone in West Africa. "It should be fully recognized as an equal portfolio to experimental research.
"Every basic science department at a medical school (departments such as biochemistry, immunology, medical microbiology and physiology) should designate a faculty member as a champion for teaching and learning. We need scholarship and innovation in the field of teaching."
Amara earned his PhD in Northern Ireland and did postdoctoral research in Sweden before coming to Canada in 1990. At UM he has made outstanding contributions to community outreach, developing science programs for children from disadvantaged backgrounds. He founded the Rady Faculty of Health Sciences' Biomedical Youth Program and was its director from 2006 to 2014.
He's currently pouring energy into an educational project in his home country. He organized a philanthropy network of academics to fund the creation of a science, technology, engineering and mathematics (STEM) centre in Sierra Leone.
The facility, which is now built, will train science teachers while educating high school students. Amara hopes to see many UM colleagues get involved with guest-teaching there, either by travelling to Sierra Leone or via platforms such as Zoom.
At the Max Rady College of Medicine, he says, the central educational challenge is "the age-old problem of content versus time."
It's essential to devote teaching time to the social determinants of health and the health-care needs of underserved populations, he says.
It's also essential to teach up-to-date science, especially because health care is heading toward personalized medicine, based on the patient's genetic profile. And it's important that some doctors become clinician-scientists who work to connect lab research with clinical care.
So how can medical schools do justice to everything?
"I'm really interested in how to address this tension," Amara says. "Some countries are moving toward different kinds of medical schools – some that concentrate on community medicine, and some that emphasize training clinician-scientists.
"This tension has to be looked at holistically. De-emphasizing knowledge of the basic sciences is becoming a trend that is not a sound pedagogical approach."
Amara would like to see a committee formed to better co-ordinate the teaching of sciences, such as biochemistry and genetics, at the undergraduate level and in the professional colleges of the Rady Faculty. "Knowledge is changing so fast," he says.
One teaching method that he recommends is the use of case-based tutorials that integrate basic science with patient cases. "It bridges the gap between science knowledge and how you apply it," he says. "It reminds medical students that the basic sciences underpin everything: diagnosis, prognosis and how you educate patients."
Amara's Certificate of Merit Award comes with the opportunity to pen an article for the CAME Voice.
"I think I want to write about my journey from being a researcher to being an educator," he says. "I want to encourage bringing value back to education, locally and globally."