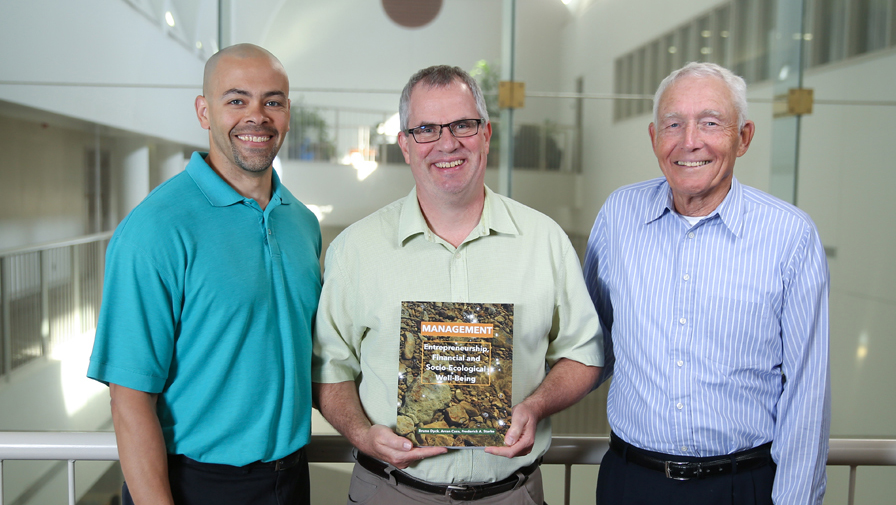 Saving the world, one textbook at a time
October 20, 2017 —
Three professors at the Asper School of Business have co-authored a new management textbook that teaches students how to use entrepreneurship to enhance the financial, social and ecological well-being of the organizations they might someday lead and the communities they serve.
Management: Entrepreneurship, Financial and Socio-Ecological Well-Being (Sapajo Publishing) was written by Bruno Dyck, Arran Caza and Fred Starke. Dyck says the book "takes seriously the social and ecological problems currently facing humankind, and describes management theory and practice regarding what managers can do to address these issues."
Each chapter describes and compares three approaches to management. Financial Bottom Line (FBL) management maximizes financial well-being, and has been the dominant approach to management in the past century. Triple Bottom Line (TBL) management is a more recent approach that calls upon organizations to enhance their financial well-being by reducing negative social and ecological impacts and supporting sustainable development. Social and Ecological Thought (SET) management takes TBL a step further by putting socio-ecological well-being ahead of profit.
The book places more emphasis on SET management than other management texts because the approach is poised to become the first choice of managers in the years ahead, especially among Millennials. It has already been adopted as a textbook for Asper's undergraduate Management and Organization Theory course.
"By teaching with this book we are inviting students to think more deeply about the pressing issues related to sustainability that they will need to address in their careers," says Dyck.
He adds that the book's relatively unique approach, which explores issues through multiple theoretical perspectives on management, has been shown to enhance critical thinking ability, reduce emphasis on materialism and individualism, and contribute to more ethical thinking.
The new textbook also places a stronger emphasis on entrepreneurship than typically found in introductory management textbooks. Guided by the text, students in Asper's Management and Organization Theory course will develop entrepreneurial start-up plans of their own. Dyck says the book is "deliberately designed to expose more students to entrepreneurship to harness their energy for starting new ventures, and uses that as a context to apply management concepts in an organizational setting." An entrepreneurial mindset is vitally important "as we move into an era in which discovering, creating and exploring new opportunities for making a professional contribution to the world will prove the key to success in meeting the world's challenges."
The increased emphasis on entrepreneurship in the book and the course also complements the entrepreneurial orientation of the School and many of its key donors, such as Stu Clark.
The Medium is the Message
Fittingly, the new textbook does more than merely talk the talk of promoting entrepreneurship and sustainability. The authors have made arrangements for students to participate in the book's core message when they purchase their copy.
"For every book we sell, we plan to donate $7.50 to the Canadian Foodgrains Bank for their programming in East Africa to educate small-scale farmers about Conservation Agriculture," explains Dyck. "The Canadian government will match every dollar we donate with another three dollars, so for example the sale of one $25 e-book leads to a total of $30 being spent to support entrepreneurial efforts that enhance financial and socio-ecological well-being."
This term, the total support will exceed $5,000.
"It's a way of getting students to participate in helping others get an education to make the world a better place."
An Innovative Collaboration
Dyck, a professor in business administration, is especially excited about the book because it unites many of the themes he is most passionate about. He says it's the kind of book his students and colleagues have encouraged him to write for years. In particular, he is excited to present the SET management approach because he believes it will become increasingly relevant for Millennials – and for the planet.
Arran Caza, an associate professor in business administration, focused on the entrepreneurial sections that are found in each chapter. He previously taught his management courses using a traditional textbook and says his students frequently commented that he spent as much time disagreeing with that text as he did teaching it. "They challenged me to write a book that I agreed with, so I did."
Caza played an important role in shaping the book's format and feel. For example, rather than the small font and clutter found in standard textbooks, the new book has a reader-friendly font and short chapters. And it's available to students at a much lower price point than many texts – an achievement of which all three authors are especially proud.
Fred Starke, a professor emeritus in organizational behaviour, may be Canada's all-time top-selling business textbook author. Two of his textbooks, Contemporary Management in Canada and Business, are used in universities and community colleges across Canada. A self-described "Financial Bottom Line management guy," Starke says he had fun working his with two co-authors as they developed their understanding of TBL and SET management.
"I can certainly see the merits of their approach," he says, and adds that the diversity of perspectives each of them brought to the text has only served to enrich the final product.
"Our interactions with each other have led to a very balanced view of the advantages and disadvantages of each of the three approaches to management."