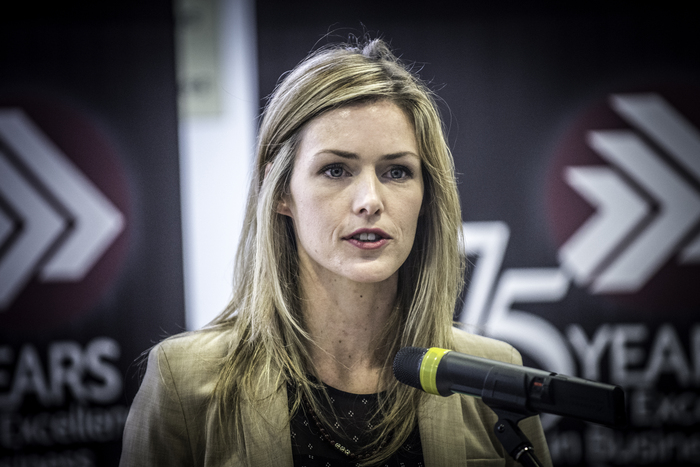 Satellite technology helps ranchers manage feed crops
November 17, 2017 —
Dr. Lysa Porth, director of the Warren Centre in the Asper School of Business at the U of M, is part of an interdisciplinary and international research team that has received $988,000 to improve remote sensing for agribusiness applications.
Working with the Saskatchewan Cattlemen's Association (SCA), the project consists of collaborative research with Alberta Beef Producers (ABP) to use new satellite-based technology to reliably estimate forage growth at the farm level in each province, and to develop a forage production index, which would form the basis for the development of new insurance tools.
"Feed is the lifeblood of any livestock operation, and our government understands the importance of helping to protect ranchers from risk such as losses to their forage crops," says Terry Duguid, Member of Parliament for Winnipeg South. "This project uses cutting-edge satellite technology to equip ranchers with the information they need to manage those risks and demonstrates why the University of Manitoba is renowned for its world-class research. With this targeted investment, our government is helping to ensure our ranchers remain on the cutting-edge of science, which helps to create good jobs and grow our economy."
This project is led by Saskatchewan Cattlemen's Association (SCA) and Alberta Beef Producers (ABP), and involves an interdisciplinary research team with members from the University of Manitoba, University of Waterloo, Nanyang Technological University (Singapore), SCOR reinsurance company and Airbus Defence and Space (France), along with cooperation from Saskatchewan Crop Insurance Corporation (SCIC) and Agriculture Financial Services Corporation (AFSC). Various stakeholders from Manitoba and other provinces will also have cooperation with the project.
"This project provides a tremendous opportunity to bring together leaders in agricultural risk management and insurance, both within Canada and internationally, across academia, the private sector and government," says Porth. "Satellite-derived approaches show promise for improving forage insurance, based on improved design that is cost-efficient, representative and reliable, however, more research and development is needed. Our team looks forward to working with the project partners and discussions with Canadian producers in order to help develop improved risk management for forage based on state-of-the-art technology."
Dr. Porth holds the Guy Carpenter Research Chair in Agricultural Risk Management and Insurance, jointly funded by Guy Carpenter & Company and Agriculture and Agri-Food Canada.
This investment is made through the AgriRisk program which supports the research and development, as well as the implementation and administration of new risk management tools for use in the agriculture sector. AgriRisk is a Growing Forward 2 Business Risk Management initiative.
The Guy Carpenter Research Chair is the first of its kind in the world, where research pertaining to agricultural risk management and insurance is examined from a combined actuarial and agricultural perspective. Through the Chair, Dr. Porth assists in "bridging the gap" and strengthening public-private partnerships to encourage more cooperation and dialogue among producer organizations, insurers and reinsurers, and provincial and federal governments. Much of her research has primarily focused on developing innovative risk management products to achieve more stable incomes for agricultural producers, as well as more efficient risk management solutions for agricultural producers in Canada, and the World.