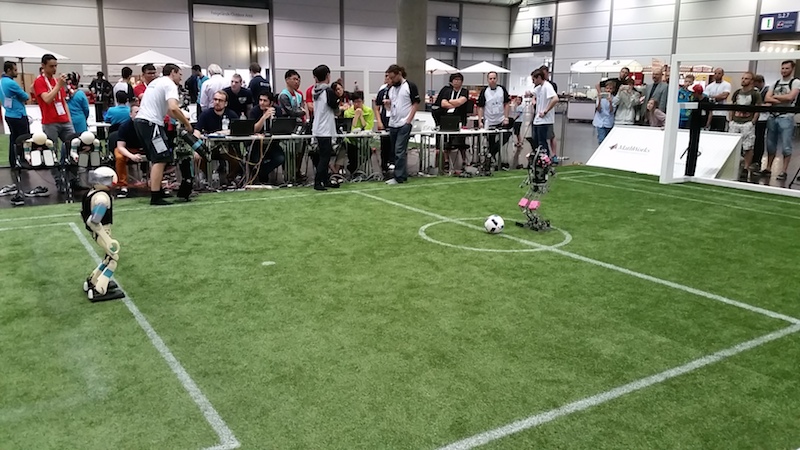 Robotic soccer team wins big at RoboCup
July 11, 2016 —
The U of M's robotic soccer team is heading home from Germany, proudly hoisting a trophy.
U of M students just finished competing at RoboCup, the world's largest and most prestigious competition for intelligent soccer robots, with more than 3,500 participants from across the globe. This year's competition took place in Leipzig, Germany from June 30 to July 5.
Like last year, the U of M entered a joint robot soccer team, AUT-UofM, together with researchers from the Amirkabir University of Technology from Tehran, Iran. The Iranian teammates focused on the hardware and the U of M teammates focused on the software.
The team competed in the Humanoid League Teen Size (2 players of a maximum height of 1.4 meters) competition and won third place in the soccer competition and first place in the technical challenge competition.
"Participating in the Teen size league is more difficult in our experience than using a team with smaller robots, as the larger robots are more challenging to control and power, and physically transporting the robots also becomes an issue," says professor John Anderson, a director of the U of M's autonomous agents laboratory.
The team also achieved an excellent first place in the technical challenge competition, while last year they took second place.
The technical challenge tasks robots with performing particular skills.  This year the technical challenge involved push recovery (i.e. a robot being able to remain on its feet after being pushed from front or back), high kicks, and high jumps.
Congratulations!
The team roster
Amirhossein Hosseinmemar, Computer Science Ph.D. Student
Kyle Morris, Computer Science undergraduate
Abdul-Rasheed Audu, Computer Science undergraduate
Chi Fung (Andy) Lun, Computer Science undergraduate
Long Yu, Computer Science undergraduate
Meng Cheng Lau, Post-Doctoral Fellow
Professors John Anderson and Jacky Baltes, directors of the Autonomous Agents Laboratory, Department of Computer Science
"We gratefully acknowledge support from the Faculty of Science, the Department of Computer Science, and the University of Manitoba, which
makes travel to this competition possible," says a proud  professor Anderson.
The team had four members travel to Leipzig, with the rest working on back-up from Canada.
Research at the University of Manitoba is partially supported by funding from the Government of Canada Research Support Fund.