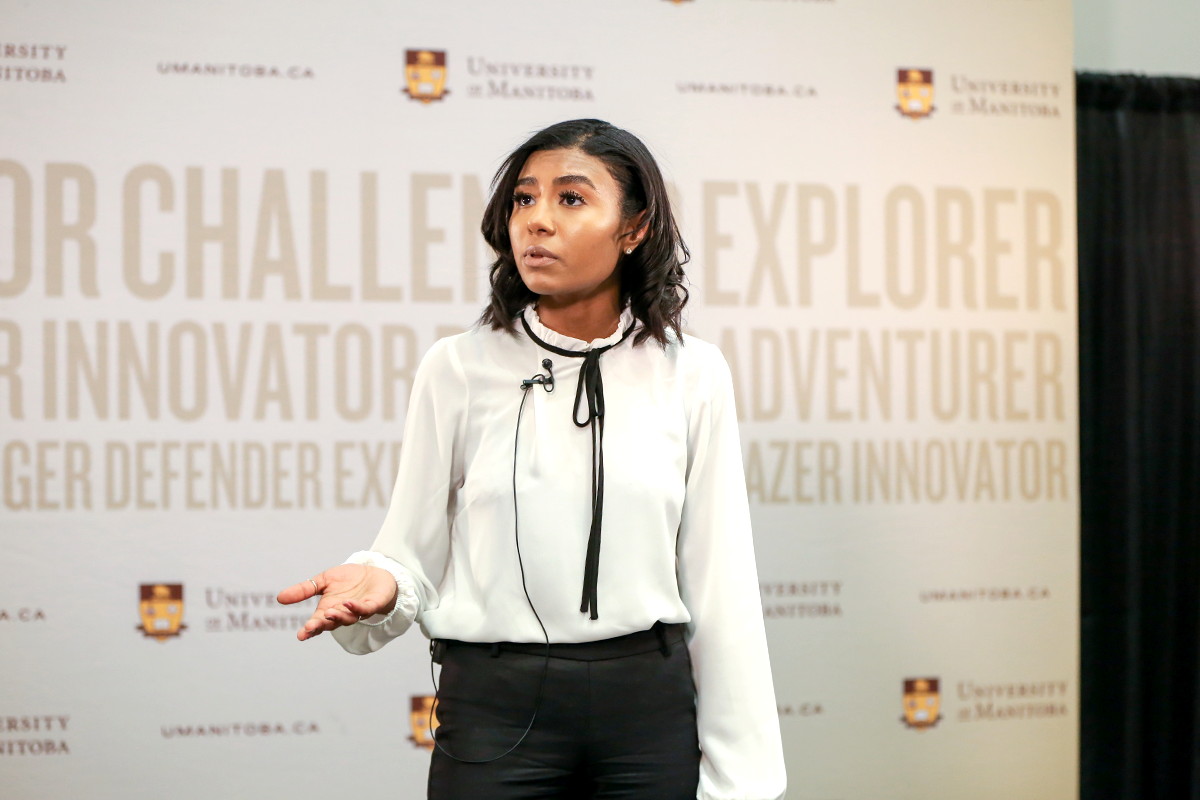 Revealing new ways to cure disorders
May 22, 2018 —
Sandhini Lockman's research could unveil a neurological process nature has kept hidden from us, and if brought to light, it will reveal new ways to cure a variety of disorders.
She grew up in Winnipeg wanting to be doctor, reading books about bacteria and bones. But when she arrived at the U of M on a scholarship, she discovered her true passion was biochemistry, which is good news for all of us.
Lockman, a master's student and 3MT finalist working in the laboratory of U of M's Mojgan Rastegar, studies Rett syndrome (RTT), a neurodevelopmental condition. Caused by a rare mutation on the X chromosome, it typically kills boys within their first year. For baby girls, after about six months, it begins to slowly and ceaselessly reverse their development, robbing them of the skills their parents only just proudly celebrated: their ability to crawl, walk, babble, see and use their hands. There is no cure, but that is where Lockman's work comes in.
In 90 per cent of cases, a mutation of a protein that regulates DNA leads to the syndrome, and this protein is abundant in the brain. Lockman's passion drives her to untangle the complex interactions of this protein and DNA.
By comparing properly functioning proteins to mutated faulty ones, she will discover new ways for clinicians to treat RTT. And by understanding the cause of this rare syndrome, we will better understand the nuanced, normally unseen mechanism at work in the brain, leading Lockman's studies to potentially reveal ways to treat more common conditions, like autism spectrum disorder.
Making an impact has always been Lockman's desire.
"Through my career path in science I wanted to eventually give back to my community here in Winnipeg," she says. "I hope to make a difference in the lives of individuals affected by certain mental disorders for which some have no cure and give them hope."
Research aside, Lockman has already made and impact and provided hope to her community: She inspires inner-city youth to pursue careers in science by volunteering at the Biomedical Youth Program, helping young students develop an interest in medical and basic science so that one day they too can bring about big changes in others' lives.