Retired dean recognized by UM for distinguished service
July 26, 2020 —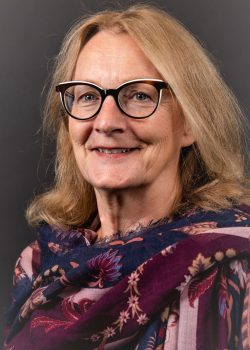 Dr. Karin Wittenberg has been appointed Dean Emerita, a recognition awarded by the University of Manitoba for her distinguished service as Dean of the Faculty of Agricultural and Food Sciences. The Board of Governors approved the Faculty Council nomination on June 23, 2020, upon the recommendation of the Chancellor's Committee.
The nomination reads:
"Dr. Karin Wittenberg began her distinguished academic career at the University of Manitoba in 1985. She served as head of Animal Science, associate dean research, and acting dean of the Faculty of Agricultural and Food Sciences (FAFS) before her appointment as the first female dean of the Faculty (2014-2019).
As dean, Karin facilitated the integration of two departments from the former Faculty of Human Ecology within FAFS: Textiles with Biosystems Engineering and Human Nutritional Sciences with Food Science (with the latter forming a new Department of Food and Human Nutritional Sciences). She also spearheaded transfer of administrative oversight for the Richardson Centre for Functional Foods and Nutraceuticals from the VP Research office to FAFS. These changes increased the Faculty's research capacity, improved administrative efficiency and enhanced the student experience for undergraduates in the Faculty.
She played a significant role in fundraising, attracting over $11.7 M used to create awards, scholarships as well as funding classroom and research facility upgrades. Karin worked collegially to revise tenure and promotion procedures and the Faculty's first teaching load guidelines. She initiated renewal of the Faculty's undergraduate and graduate programs culminating in the introduction of significant revisions to the diploma and degree programs and created the position of associate dean graduate programs to improve the student experience in the Faculty's many graduate programs.
Karin also arranged for other articulation agreements and mechanisms to provide new pathways for students to access FAFS programs. She promoted several initiatives to improve Indigenization of the Faculty's curriculum including establishment of an Indigenous scholar, creation of a "living sculpture" featuring Indigenous plants and attracted funds to support summer jobs for Indigenous students.
Prior to her appointment as Dean, she attracted more than $15.3 M in research grants and contracts, and over $26.0 M as co-primary investigator. She led an initiative to establish the National Centre for Livestock and the Environment (NCLE) in 2007, for infrastructure to support a multi-disciplinary research team focused on long-term improvement of conventional and alternative livestock and land management practices with respect to environmental, economic and human health.
Karin also played a leading role in the establishment of the Bruce D. Campbell Farm and Food Discovery Centre which is a facility to engage both students and the general public regarding the use of science and technology in modern food production.
She supervised 15 M.Sc. students, five Ph.D. students and nine research associates resulting in over 81 refereed publications, 15 book chapters and numerous papers and abstracts in conference proceedings, research reports and conference presentations."