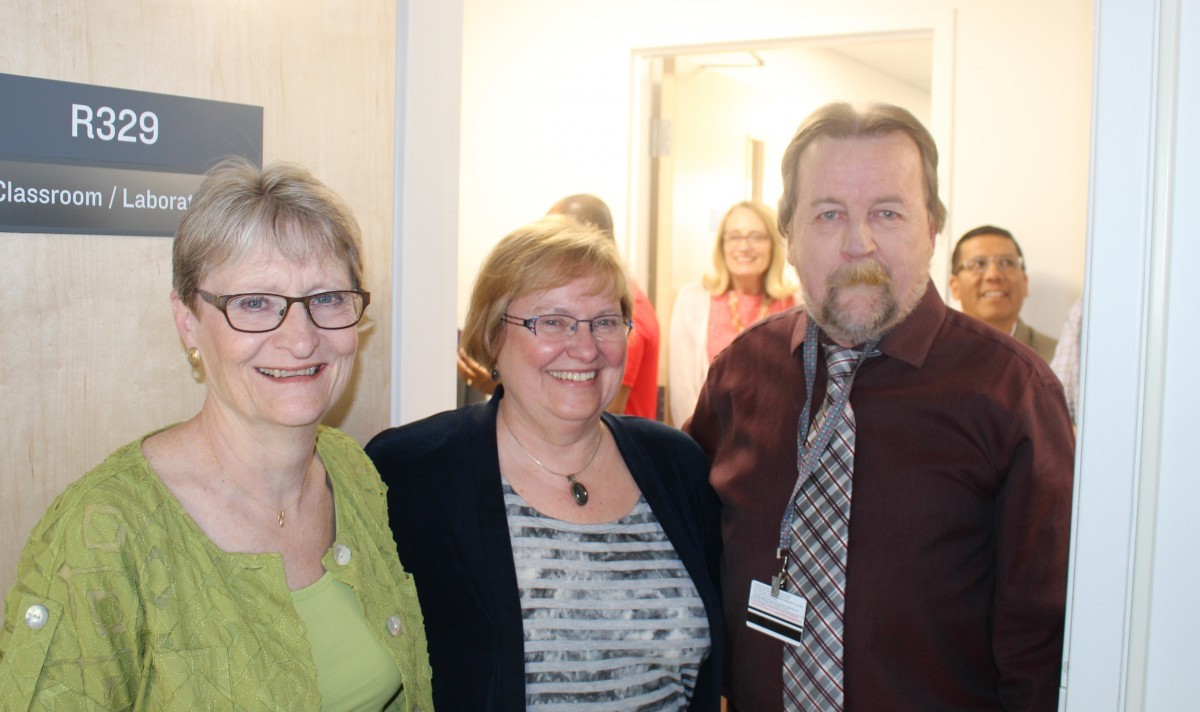 Respiratory Therapy department moves into new home in the College of Rehabilitation Sciences
May 26, 2016 —
The Respiratory Therapy department in the College of Rehabilitation Sciences celebrated moving to their new location with an opening ceremony last week with faculty, students, and invited guests in attendance.
Although the old location in the Isabel M. Stewart building had served the department well, a lack of space, outdated equipment, and poor heating and ventilation precipitated the move to new and improved quarters. The initial move took place in February with classes officially starting on March 1.
The newly renovated location on the third floor of the Medical Rehabilitation building not only allows for more space but for other updated features including state-of-the-art audio visual technology with two 80 inch monitors as well as new classroom and lab space with medical gas pipeline outlets that replicate what students will use in a hospital or medical facility. Another popular feature for students is a study room within the department that has already garnered positive feedback.
The renovations started two years ago and were spearheaded by former Dean of the College of Rehabilitation Sciences, Dr. Emily Etcheverry along with Dr. Brian Postl, Dean, Rady Faculty of Health Sciences and Vice-Provost (Health Sciences), and Andrew West, Department Head, Respiratory Therapy.
According to Ken Chambers, an instructor and Acting Head of the RT department, the new space has made a positive impact on faculty and students and has also created a sense of integration within the College of Rehabilitation Sciences.
"The impact of this new space on our new students was immediate. From the more spacious atmosphere and lighting, to the new AV technology, the comfortable seating and portable adjustable tables just to name a few. On a larger scale, it now allows us to look seriously at the potential increase in enrolment for our program by up to fifty percent," Chambers said. "There is a genuine feeling that the RT department has finally moved to where it belongs, with the rest of our colleagues in the College of Rehabilitation Sciences. I believe that over time, our College will see a closer collaboration between all our students as they integrate with our new space."
The renovations and upgrades to the new RT space were made possible by a generous gift from the Richardson Foundation. Click here to learn more about how this gift supports RT students.