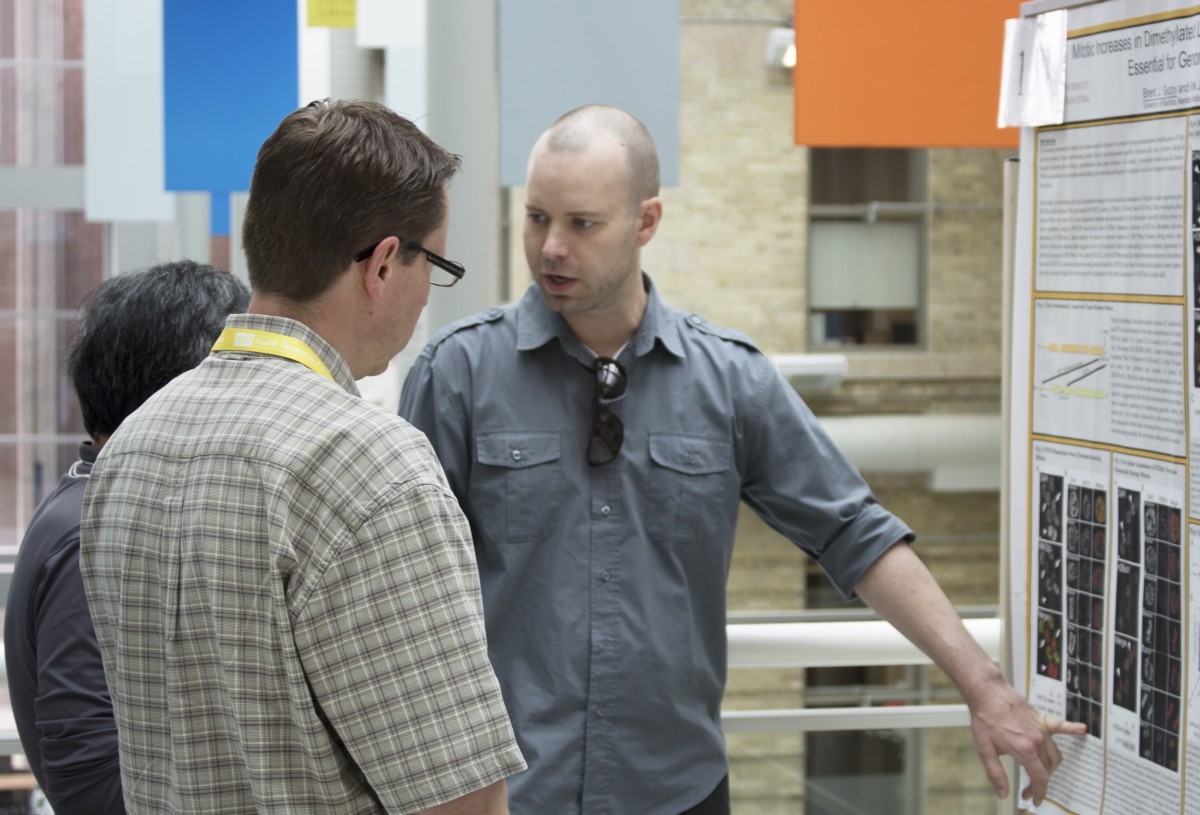 Research Days welcomes health researchers from across North America
June 7, 2016 —
This week, hundreds of Canada's best and brightest graduate students and postdocs will descend upon the University of Manitoba Bannatyne Campus. The Max Rady College of Medicine, Rady Faculty of Health Sciences, will host the annual Canadian Student Health Research Forum (CSHRF), Canada's premier event for graduate student researchers in the health sciences June 7 -9, 2016.
Now in its 29th year, the CSHRF provides a venue for health research trainees from across Canada to present their work, network and be recognized for their contributions.
The CSHRF features research poster days, awards of excellence, tours and social events as well as a symposium – Patterns of Health: A Population Perspective – that will bring together leading scientists from across North America.
This year, 130 graduate students are entered in the Manitoba Student Research Poster Competition on June 7, and 140 are participating in the Canadian Institutes of Health Research (CIHR) National Student Research Poster Competition on June 8. In total, 550 people are expected to attend the three-day event.
"We are proud to host and welcome top master's, PhDs and post docs from across the country to the Rady Faculty of Health Sciences and the University of Manitoba. Research Days creates synergies among health sciences researchers and can lead to important, inter-disciplinary collaborations that bode well for the future of research in Canada," said Dr. Brian Postl, Dean, Rady Faculty of Health Sciences & Vice-Provost (Health Sciences).
This year's CSHRF event also welcomes the Canadian Society of Epidemiology and Biostatistics, which will be holding its 2016 National Student Conference in conjunction with the CSHRF. University of Manitoba graduate students were key organizers of this conference. Also in attendance this year will be participants from China's Shantou University.
"The CSHRF continues to provide career-enhancing opportunities within a national context for our graduate students in health research," said Dr. Ed Kroeger, Assistant Dean (Graduate Studies), Max Rady College of Medicine. "Research Days is a wonderful opportunity for our students across the health sciences to network with top students from across Canada, gain exposure and be recognized for the excellence of their work, as well as learn from internationally-renowned researchers."
The Patterns of Health: A Population Perspective symposium takes place on June 9 in the Frederic Gaspard Theatre from 9:00 a.m. to 4:30 p.m. and feature the following speakers:
 Ann Aschengrau, Sc.D.
Boston University "Long-Term Neurotoxic Effects of Early Life Exposure to Tetrachloroethyene (PCE)-Contaminated Drinking Water"
 Raymond J Carroll, PhD
Texas A&M University"What Percentage of Children in the U.S. are Eating an Alarmingly Poor Diet? A Statistical Approach"
 Sandro Galea, MD, MPH, DrPH
Boston University "The Principles of Population Health Science, towards Scholarship of Consequence"
 Xiangguo Qiu, MD
National Microbiology Laboratory, "Fighting Ebola Virus Infection in the Lab and Field"
 Kue Young, CM, MD, D.Phil, FRCPC, FCAHS
University of Alberta "Apples and Oranges, or Oranges and Tangerines? Perils of International Comparison of Health Indicators"