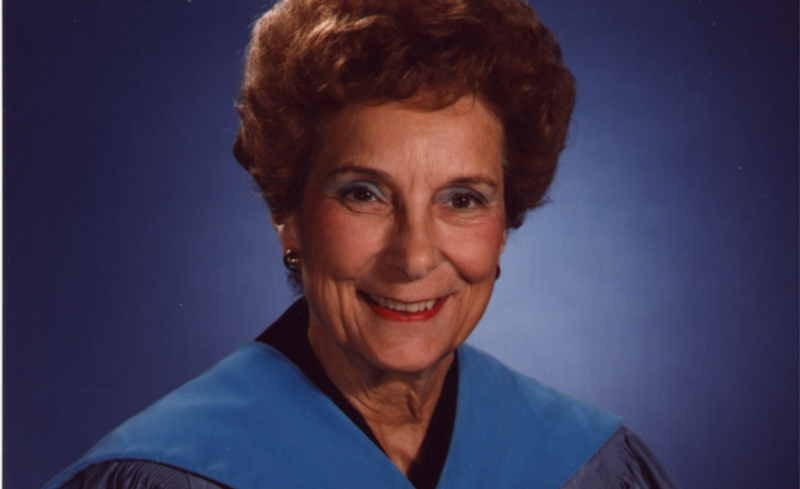 Remembering Helen Glass
February 17, 2015 —
Dr. Helen Preston Glass, in whose honour the Helen Glass Centre for Nursing was named because of her dedication and pioneering role in advancing the nursing profession, passed away on Saturday, February 14, 2015, at the age of 98.
"I know I speak for all of us at the University of Manitoba when I express my sadness at the passing of Dr. Helen Glass," says Dr. David Barnard, University of Manitoba president and vice-chancellor.
"She was a true pioneer and inspired many to achieve the highest standards within the nursing and health care professions. She will be greatly missed, but her legacy and vision for the nursing profession will continue to make a difference as a result of her contributions and dedication."
Born in Regina, Dr. Glass earned her diploma in nursing and her Registered Nurse (RN) designation from Montreal's Royal Victoria Hospital School of Nursing in 1939. Then, as a single mother, she was determined to forge a better and new life so she moved to Winnipeg where she received a Certificate in Teaching and Supervision from the University of Manitoba and taught at the nursing school in Victoria Hospital. She then traveled to Columbia University where she received her Bachelor of Science and Master of Arts degrees and returned to Winnipeg where she began teaching in the University of Manitoba School of Nursing. She later went back to Columbia University for her Masters and Doctorate Degrees in nursing education.
Dr. Glass was named director of the School of Nursing in 1972, a position she held until 1979. She was instrumental in establishing a graduate program in nursing at the University and also in creating the Manitoba Nursing Research Institute. Dr. Glass later became President of the Canadian Nurses Association, and had a great influence on the wording and scope of the Canada Health Act (1984), working for the inclusion of nursing and allied health professionals alongside physicians in the delivery of primary care services.
During her many years as a nursing and administrative professional, Dr. Glass lent her expertise to the development of new policies as the concept of health care shifts from institutional care to community-based health promotion strategies. Her commitment and experience in health care policy development and nursing education and research is recognized internationally.
Some of the many honours and distinctions Dr. Glass has received over the course of her career include the Queen's Silver Jubilee Medal (1977), YWCA Woman of the Year Award for Education (1979), Member of the Order of the Buffalo Hunt (1987), City of Winnipeg Community Service Award for outstanding contribution to the City, and Officer of the Order of Canada (1989).
In 1999, the Helen Glass Centre for Nursing at the Fort Garry Campus was dedicated in her honour, a recognition for which she was humbled and very moved.
Most recently, Dr. Glass was the recipient of the College of Registered Nurses of Manitoba's Centennial Award in 2013.