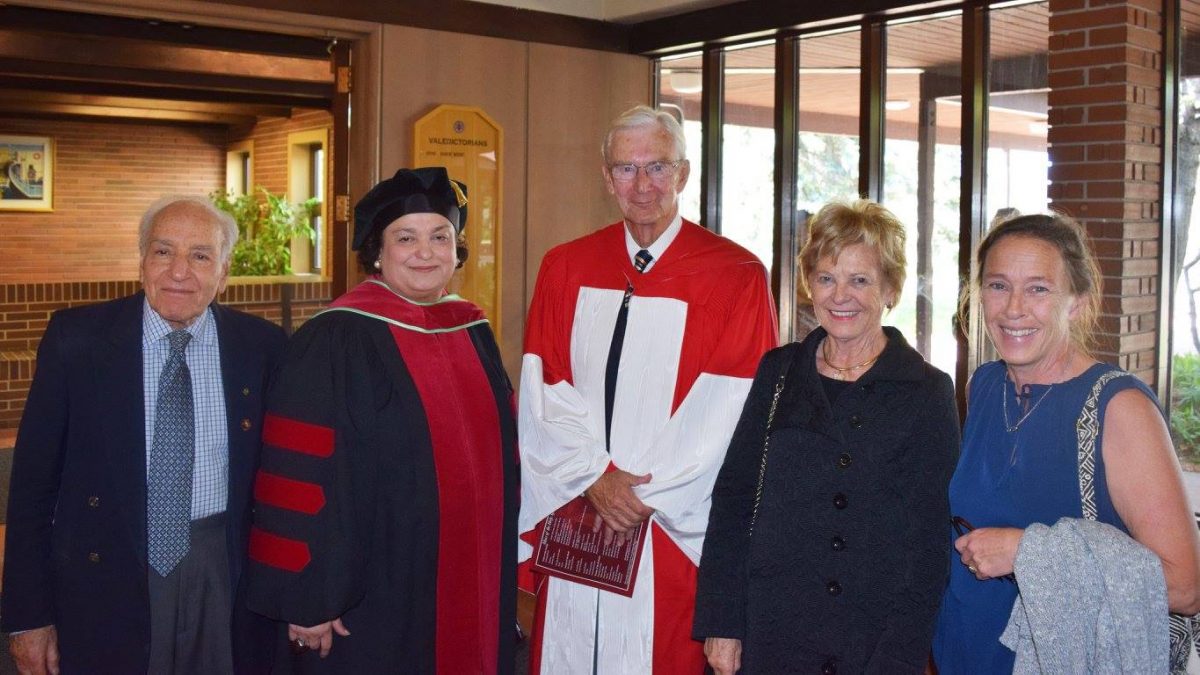 Remembering Els Kavanagh
March 12, 2021 —
This morning, the UM community received the sad news that Els Kavanagh has passed away. Along with her husband Kevin, who passed away last June, Els was a good friend and supporter of the University of Manitoba and of St. Paul's College.
"My experience with Els was always so positive; she was genuine and encouraging," President Michael Benarroch says. "I saw her and Kevin at many Asper school events when I was dean, and they were always very engaged and supportive of our university community. Their generosity as donors leaves a legacy of student support and we will always remember their many contributions to our university and province."
Els and Kevin [BComm/53, LLD/1990] created the Martin Kavanagh-Gaultier La Verendrye Fellowship, and were generous donors to support graduate students in Peace and Conflict Studies at the Arthur V. Mauro Institute for Peace and Justice at St. Paul's College.
Els was the former chair of the Manitoba Arts Community and a board member of the Royal Winnipeg Ballet. She was a selfless supporter of the Manitoba Museum and the Winnipeg Symphony Orchestra, as well as Brandon University.
She was the mother of Jennifer, Sean, and grandmother to Will and John. She had a deep respect for excellence in education, and will be greatly missed by our community.
To honour Els Kavanagh, the Canadian flag in front of St. Paul's College has been lowered to half mast. It will remain at half mast for five days.
Remembering
The following was posted on Facebook by Els son, Sean:
My mom, Els Kavanagh, known affectionately by her keenest admirers as The Bunny, has passed away.
A testament to the thought that some great things come in small packages, her personality, wit and charm was many many times greater than her diminutive size.
This loss is even harder for us as my father Kevin died only a few months ago.
They were, as a couple, a force of nature together. So clearly in love. So obviously a team. Now together once again.
Els came to Canada from The Netherlands a few years after the war. She very rarely spoke of those difficult years living in Nazi occupied Amsterdam, but we could tell it had an impact.
One of her many remarkable qualities was to look forward – not back – and that's what she did.
As the eldest child at 16 and the member of the family with the best command of English, she took a job and helped the Mesmans through the first few years of immigrant life in Winnipeg.
She threw herself into her new country. A trophy winning badminton player, a champion canoeist.
She became incredibly well read.
And though this smashing Dutch lady had suitors lined up down the block, she ultimately chose Kevin; a match that was unshakable for nearly six decades.
Els was a mom that took Jennifer and I on "field trips" to parks and museums and suffered dozens of poorly heated hockey rinks. She car-pooled us and helped with our homework and really only failed at baking.
She wasn't much of a baker.
But she sat on the boards of big hospitals and schools and national galleries and ballets. She was a huge supporter of the arts and especially loved the symphony.
It's the partnership with my Dad though, that I think defined a lot of Mom. They completed each other.
And they relentlessly pursued improving the world around them.
Winnipeg, Manitoba and Canada are missing a pair of great citizens.
Jen and I are struggling as we lost both in such a short time, but we believe they are together now -where they truly belong.