Remembering Dr. Usha Thiyam-Holländer
January 6, 2021 —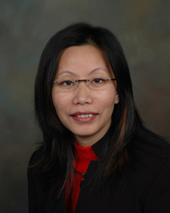 Dr. Usha Thiyam-Holländer, associate professor in the Department of Human Nutritional Sciences, passed away on December 24, 2020 after a brief struggle with cancer. She is being remembered as a passionate scientist, caring teacher and advisor, and a loved colleague.
Usha received her M.Sc. at the Indian Institute of Technology Kharagpur, India, in 2000 and her Ph.D. in Nutritional Sciences at the University of Kiel, Germany, in 2005. Usha went on to complete post-doctoral work at the Fraunhofer Institute for Process Engineering and Packaging IVV in Freising, Germany before she joined the University of Manitoba as an Assistant Professor in 2007. She was promoted to Associate Professor in 2014.
Usha's research centered around the extraction, quantification and isolation of minor components such as phenolic compounds from by-products of edible oil processing, mainly canola. Usha was also interested in the impact of various novel aspects of processing on canola oil and minor components, as well as the development of plant-based functional foods and nutraceutical ingredients.
Usha was a dedicated member of the American Oil Chemists' Society (AOCS). She had recently been featured on the AOCS blog in a Processing Division Member Spotlight where she discussed the challenges of working and teaching during the pandemic, the value of mentorship, and her future plans.
A virtual memorial service was held on January 5, 2021. Her obituary can be found at https://www.arbormemorial.ca/glenlawn/obituaries/usha-thiyam-hollander/59897/ Memorial donations may be made in Usha's name to the Children's Wish Foundation Manitoba Office (350 St. Mary Ave, Winnipeg, MB R3E 0V9).
The flag at the University of Manitoba will be lowered to honour her on January 6.