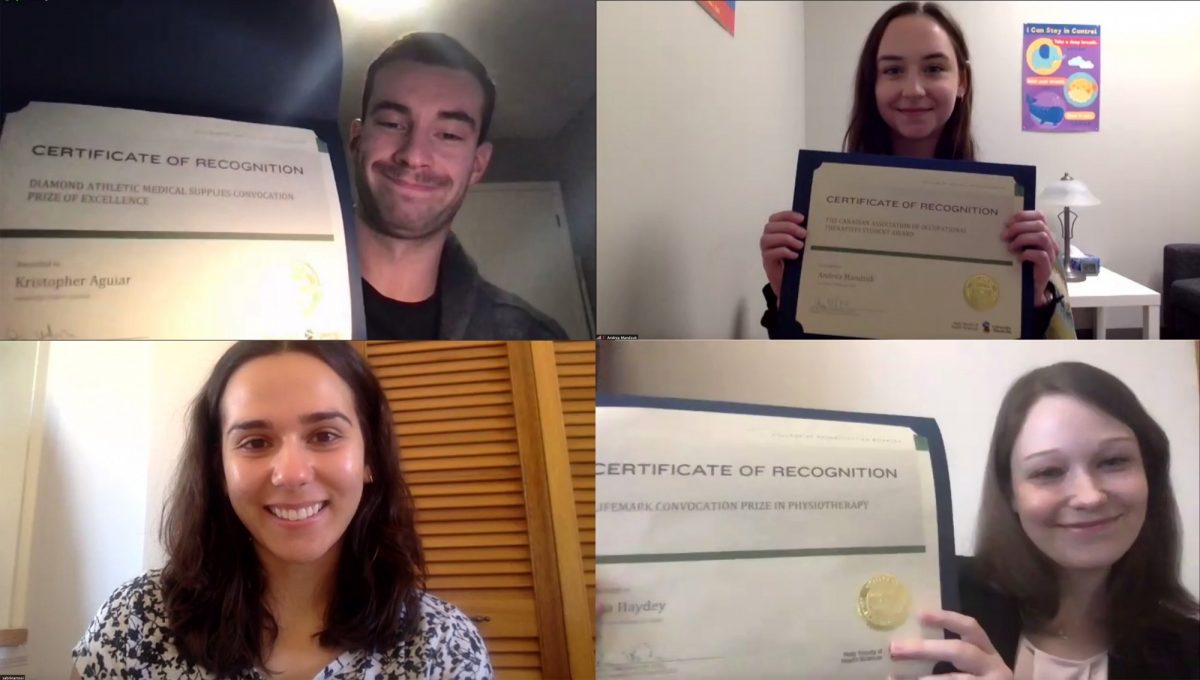 Rehabilitation Sciences faculty and students celebrate success at virtual awards ceremony
November 30, 2020 —
The College of Rehabilitation Sciences, Rady Faculty of Health Sciences honoured 17 of its 116 Class of 2020 graduates at its Convocation Awards ceremony, held virtually on Nov. 26.
The event, for students graduating from programs in respiratory therapy, occupational therapy and physical therapy, is usually held in-person on the same day as convocation, but was rescheduled in a virtual format due to COVID-19. Thirteen of the students were in attendance, along with several faculty members and industry presenters. Recipients were mailed their certificates prior to the ceremony and monetary prizes were deposited into their bank accounts.
"This is a celebration and, these days, when we have an option to celebrate, we should do that," said Dr. Reg Urbanowski, dean, College of Rehabilitation Sciences. "This shows the span of excellence we have in our student body and I think that's excellent."
Several students took home multiple awards, including respiratory therapy graduate Rachel Veitch, who won the BOMImed Clinical Excellence Award in Respiratory Therapy and the College of Rehabilitation Sciences Medal in Respiratory Therapy, which is awarded to the graduate who attained the highest GPA in the program.
The medal was previously announced during the UM virtual convocation on Oct. 22, where Veitch also took home the University Gold Medal for highest standing in an undergraduate faculty, college or school.
Veitch, who grew up in Rivers in southwestern Manitoba, has been working as a respiratory therapist at Brandon Regional Health Centre since May 2020, so was unable to attend the virtual ceremony.
"Entering the health care field during COVID has been challenging," she said. "It has, at times, been difficult keeping up with the changes but I have also learned a lot in the last six months of working."
Kris Aguiar is one of three physical therapy graduates to receive two awards, along with Sabrina Rossi and Lisa Haydey. One of his awards was the Marjorie Spence Physical Therapy Achievement Prize, which is given to an MPT graduate for their community involvement and leadership qualities.
"I spent a lot of hours working at Siloam Mission as part of the PT program," he said. "It was really an honour to be able to receive that because there were a lot of people in my class who were deserving of it."
He also received the Diamond Athletic Medical Supplies Convocation Prize of Excellence for his use of physical activity and exercise in his practice.
"I'm a really big advocate for physical activity and exercise. I'm currently working in gym as I wait for my physio career to start in a few weeks," he said.
Before joining the program, Aguiar worked as a physiotherapy assistant at Elite Sports Injury, where he will be returning as a fully licensed physiotherapist in December.
Occupational Therapy graduate Andrea Mandzuk also won two awards, including the Canadian Association of Occupational Therapists Student Award for achieving the highest GPA in the MOT program.
She was also one of two students to receive the Manitoba Society of Occupational Therapists Prize, along with Raeanne Wysocki, for attaining the highest standing in the final year of the program.
"It really means a lot to me. You don't do this to get recognized, but it's so nice when someone does notice the hard work you've been doing," she said.
Mandzuk noted the last few months of the program were a "rollercoaster" while dealing with the pandemic, which in some ways brought her and her class closer together.
"Even though we weren't physically together, we really relied on each other during that difficult time of uncertainty," she said. "It was such a relief to finish on time with minimal disruption."
Full list of award winners:
The College of Rehabilitation Sciences Medal in Respiratory Therapy – April Veitch
The Canadian Association of Occupational Therapists Student Award – Andrea Mandzuk
The Canadian Physiotherapy Association Award – Sabrina Rossi
The Canadian Occupational Therapy Foundation Future Scholar Award – Amy Cockrell
The Manitoba Society of Occupational Therapists Prize – Andrea Mandzuk and Raeanne Wysocki
The Canadian Physiotherapy Association Leadership Award of Excellence – Thomas Pachal
The Manitoba Physiotherapy Association Professional Development Award – Chelsea Scheller
Lifemark Convocation Prize in Physiotherapy – Lisa Haydey
The Canadian Academy of Manipulative Physical Therapy Award – Sabrina Rossi
The Solita Egert Practice Skills Prize – McKenna Brown
The Canadian Society of Respiratory Therapists Student Excellence Award – Janelle Lazarro
Excellence in Communications Prize in Occupational Therapy – Manveer Dhaliwal
Giséle Pereira Communications Prize in Physical Therapy – Lisa Haydey
The Naomi Rosenberg Palansky Prize – Hannah Brown
Diamond Athletic Medical Supplies Convocation Prize of Excellence – Kris Aguiar
The BOMImed Clinical Excellence Award in Respiratory Therapy – Rachel Veitch
The Future Leader Award in Occupational Therapy – Grace Daet
The Canadian Physiotherapy Association National Orthopaedic Division Student Award – Raymond Cao
Theresa Sullivan Prize for Professionalism and Reasoning Skills – Caitlin Wakeman
The Mrs. Mary Judd Prize – Andrea Simser
Marjorie Spence Physical Therapy Achievement Prize – Kris Aguiar