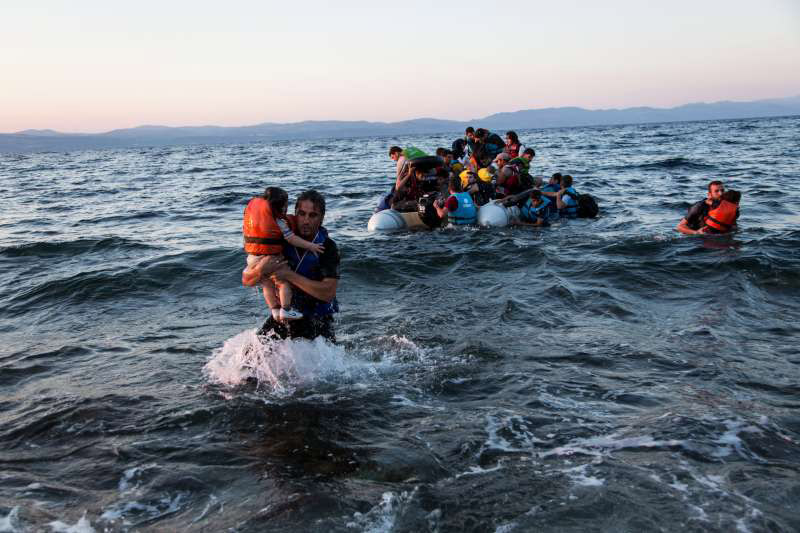 Reflections on the Syrian refugee crisis
December 10, 2015 —
The following is an Op-Ed written by Adam Muller, associate professor in the department of English, Film, and Theatre. He is a co-director of the interdisciplinary Embodying Empathy Project.
I recently had the pleasure of introducing my first-year English students to W.H. Auden's poem "Musée des Beaux Arts." Published in 1939 in the wake of Auden's visit to a Brussels museum the month after Kristallnacht and shortly before the start of World War Two, the poem dwells on what suffering means.
It centres on a painting by Pieter Breughel the Elder depicting the fall of Icarus. In Breughel's landscape, Icarus, the mythical son of Daedalus, flies too close to the sun and melts the wax wings made for him by his father. He plunges into the sea while those around him fail entirely to notice. A farmer plows his field, looking in a different direction; a ship sails nearby but away from him; a fisherman reaches down to secure his catch, missing the moment of catastrophe; and a shepherd tending his flock looks skyward, just as the boy enters the water. For Auden, what Breughel reveals in his painting is what we might call the banality of suffering, human tragedy's minimal claim on us in the midst of our busy lives. In Auden's words, disaster "takes place / While someone else is eating or opening a window or just walking dully along." This is what he calls suffering's "human position."
In discussing Auden's poem, my class ended up zeroing-in on Canada's response to the predicament currently facing Syrian refugees. Wasn't it the case, some students asked, that Canada's willingness to accept some 25,000 victims of violence and terror proof-positive that Auden is wrong? Doesn't the outpouring of sympathy and vast quantity of public soul-searching and commentary across the nation leading up to and since October's federal election testify to Canadians' awareness of remote suffering, caring, and willingness to act generously on others' behalf? As a group we could not finally agree. I think this is at least partly because upon serious reflection, the best answer to both of these questions seems to be something like "Yes and No."
'Strangely partial'
It is certainly the case that it has been decades since Canada has witnessed anything like the present mobilization of public and private resources in response to a refugee crisis. Individuals and community groups across the country, as well as provincial and federal governments, are all preparing to relocate and resettle refugees with alacrity, compassion and a desire to do the right thing. The Trudeau government's official view is that "open hearts and welcoming communities" is "the Canadian way," and this suggests that we are trying very hard to do good.
Even so, there has been very little sustained public discussion of why exactly Syrian refugees have energized Canadians' moral imagination and political will to the extent that they have. While there is no question that the Syrian Crisis continues to unfold in ways visiting terrible harms upon civilians at risk from violence perpetrated by government and rebel forces, including ISIL, Syrians are not alone in facing this risk.
Indeed, UN statistics from 2014 show that the fastest growing refugee populations are located in Central, South, and East Africa, where there has been nearly a 30 per cent increase in the number of displaced people over the year, as opposed to just under 13 per cent in the Middle East and North Africa. Certainly the highest number of refugees worldwide is currently Syrian, but the number of displaced Afghans, Somalis, and Sudanese is also staggeringly high. However beneficent and selfless Canadians' response to the need of Syrian refugees, it also seems strangely partial. For every Syrian recognized as meriting relocation to Canada, there are altogether too many others likewise in urgent need elsewhere whom we do not see – or talk about – at all.
I wonder too about the way in which the term "Syrian refugees" is used and understood. This way of labeling a diverse population implies a degree of homogeneity and consistency belied by conditions on the ground in camps in Lebanon, Jordan, and Turkey. These refugees come from a variety of religious and cultural backgrounds, and not all face the same set of threats. Refugee subgroups do not necessarily get along well with one another, or possess a single, unified set of concerns. Not all possess sizeable diasporas capable of advocating internationally on their behalf, and who can assist with the challenges of resettlement elsewhere. Such, for example, is the case with Yazidi refugees, a group whose distinctive cause has been championed locally in Winnipeg by Project Ezra, an interfaith initiative being spearheaded by Nafiya Naso and members of Winnipeg's Jewish community.
"We would do well to eliminate any traces of the moral smugness…"
The Yazidis are a small and relatively isolated population sharing an ancient religion in communities spread across Iraq, Syria, Iran, Armenia, Turkey, and Georgia. Unlike most of the other groups with whom they are lumped together as simply "Syrian," the Yazidis are facing what the UN and Genocide Watch have identified as genocide. ISIL doesn't seek Yazidis' conversion, expulsion, or exploitation; it seeks their destruction. ISIL fighters have demonstrated this annihilatory impulse in any number of horrific ways, and the world continues to barely notice.
My point is that when looking abroad for good works to do and causes to champion, Canadians must do more than see just Syrian refugees. When looking at "Syrian refugees," Canadians must try to acknowledge the distinct cultures and experiences obscured by this label, as well as differing degrees of vulnerability and need. We need to do more to understand who exactly it is we are trying to help, and why, and also what aid of the sort we can provide is likely to mean for those receiving it.
We would do well to eliminate any traces of the moral smugness in evidence in many recent public pronouncements about Canada's refugee strategy. While commendable, this strategy ultimately does very little to redress a massive problem that António Guterres, the UN's High Commissioner for Refugees, has called "a paradigm change, an unchecked slide into an era in which the scale of global forced displacement […] is now clearly dwarfing anything seen before." For some perspective, in 2014 an average of 42,500 people a day around the world had to abandon their homes to avoid conflict and persecution
We also need to listen harder to the voices of refugees themselves, and move forward with the understanding that getting to know these people as people will require a good deal of effort and hard work. By failing to attend to these voices – without some way of knowing what the assistance being offered by Canadians means to those receiving it – we risk condescension, coercion, and moral narcissism. To attempt to do the right thing badly may ultimately yield a kind of ugliness more damaging (to us, as well as those we seek to assist) than the kind of indifference identified by Auden in his poem. It is, after all, one kind of problem to neglect another's suffering and quite another to misrecognize and mistreat it blinded by vanity, insecurity, and pride.
I remain encouraged by Canadians' desire to help those far away and in need. I applaud the many governmental and non-governmental initiatives that will surely bring relief and peace to many lives uprooted and damaged by war. I am proud of the recently-announced commitment by the U of M to increase the aid it provides for the education of student refugees. But even more must be done if we are to attempt seriously relocating suffering's "human position" on the margins of our everyday lives.