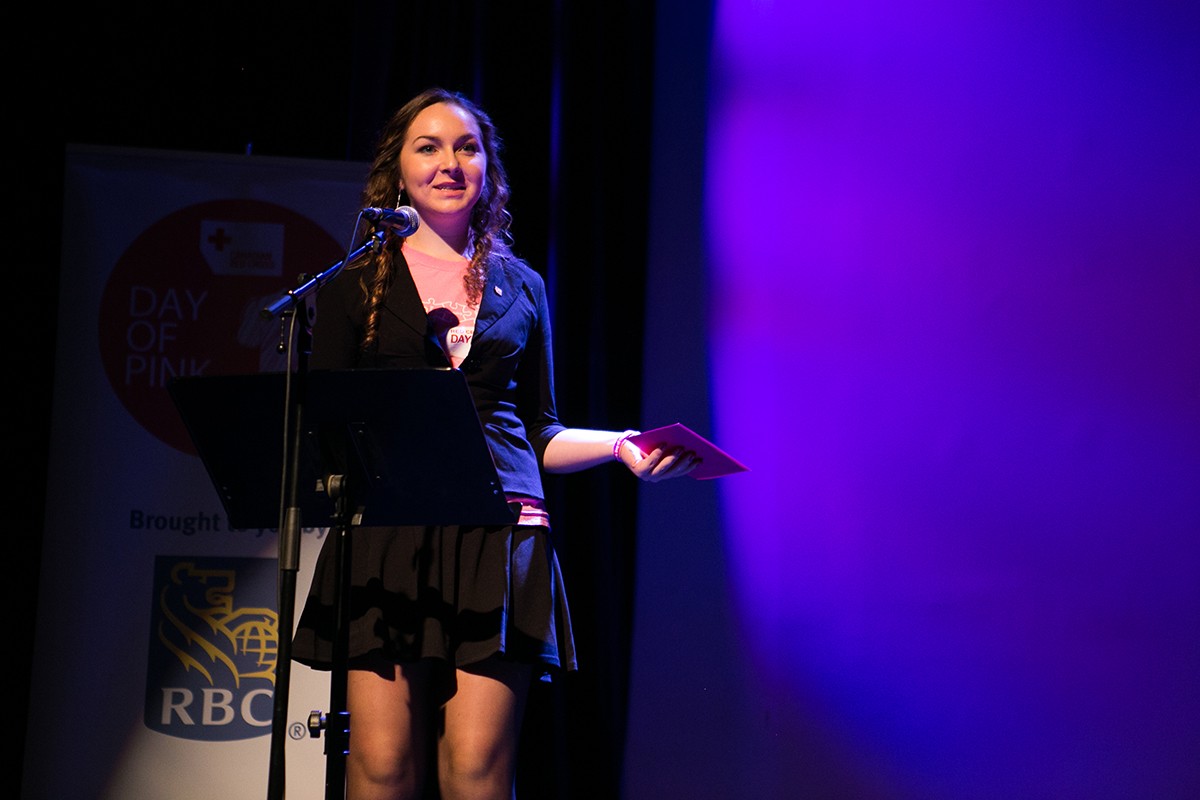 Red Cross names U of M student Young Humanitarian of the Year
July 20, 2015 —
Rhianna Holter-Ferguson is a fighter. She has a black belt in karate and numerous gold medals for her efforts with the Stonewall Karate Club. In her life outside the dojo, however, there lies a stark contrast to the power she exerts on the mat.
The 19-year-old is also an anti-bullying advocate. Her winning battles to help create safe spaces earned her the title of 2015 Young Humanitarian of the Year.
When Holter-Ferguson was in Grade 11 at Stonewall Collegiate, she became involved in the Red Cross' Beyond the Hurt program, completing youth facilitator training with fellow schoolmates. Over the next two years she presented the anti-bullying program at her school as well as the town's middle school. Holter-Ferguson's passion grew, as did her involvement with the Red Cross.
"I was asked to speak on a panel at a Day of Pink kickoff event," says Holter-Ferguson. "After that I was asked to speak at more events and help out with our celebrations on Day of Pink, and loved every minute of it."
Her involvement with anti-bullying initiatives was sparked from personal experiences. When the biosystems engineering student was younger, Holter-Ferguson was bullied. Encoragement from her family helped her deal with the mistreatment from peers and classmates and she says being on the receiving end of bullying gave her the motivation to help those who didn't have the support she was fortunate enough to have.
"Helping to raise awareness about the issue of bullying is so important to me because when someone is being targeted by bullying behaviour they are not going to feel safe, and everyone has the right to feel safe in their school or their workplace."
The winners for the Red Cross Young Humanitarian of the Year award and the Humanitarian of the Year award were announced in late June and will be presented on September 10.
Holter-Ferguson, who is also a Leader of Tomorrow Scholarship recipient, was shocked when she found out about the award since she didn't even know she was nominated. Upon receiving the news, she immediately told her family – mom, dad, and brother – who were just as ecstatic that she was being honoured and recognized for her anti-bullying efforts.
"Winning this award means so much to me," says Holter-Ferguson. "All of the things I do in my community are things that I am doing because I want to help people and make their lives better. Being recognized for my work in this way means that it is really making a difference."