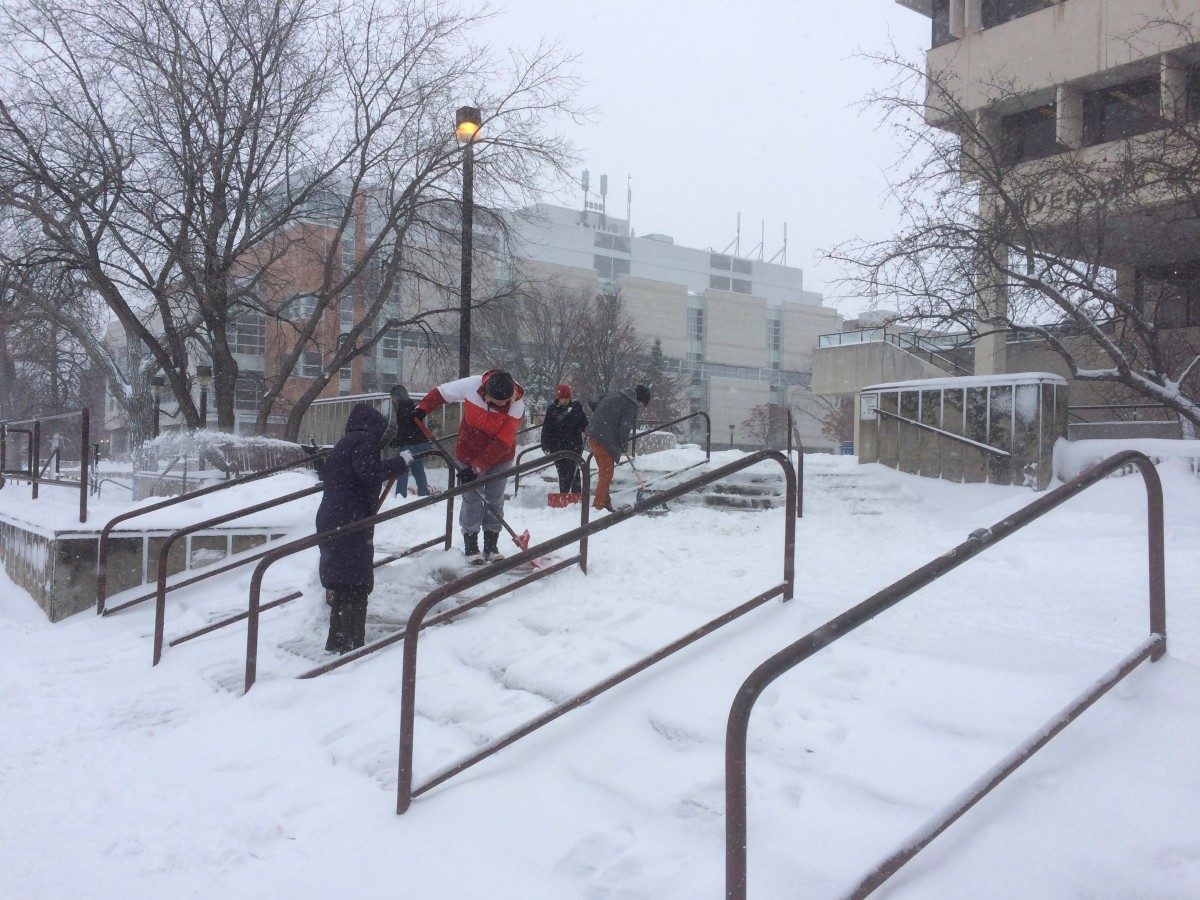 Record-breaking snowfall
All-hands-on-deck needed to clear 6,000 parking lot stalls and 27 km of sidewalks on campus
December 9, 2016 —
The snowstorm that hit Winnipeg earlier this week was huge. The city typically only sees a single snowfall this size once every 10 years. That means snow clearing crews, including those at the University of Manitoba have been putting in long hours making roadways and sidewalks accessible.
"We don't get a lot of these snowfalls so this is kind of extraordinary. Typically we're in good shape after one night of cleaning where people can easily get onto campus and find parking. This week we had a lot of problems because it didn't stop snowing for nearly three days," says Lyle Morin, physical plant's manager of general services.
On average Winnipeg sees about 23 cm of snow in the month of December. Under normal conditions with about four cm of snow falling it takes crews at the U of M approximately 20-person hours to clear all sidewalks and parking lots. Record-breaking snowfalls this week accumulated 30 cm on the ground. High winds have made the snow clearing efforts even more difficult with the snow blowing in and re-covering cleared areas in hours.
"Parking lots across campus blew in very quickly. It just comes right in and as soon as you have a ridge it just starts filling in again really quickly," says Morin.
Priority areas start with with all roadways allowing students, staff and faculty to get onto campus. Areas designated for accessibility are cleared next followed by all remaining sidewalks and parking lots.
If the UofM was a city it would be the third largest in the province. In the end it amounts to tonnes of snow to clear from over 6,000 parking lot stalls, 10-lane km of roadways and 27 km of sidewalks.
Staff from many areas of physical plant were pulled into snow clearing operations–including grounds keepers, gardeners, and equipment operators–who all contributed to an all-hands-on-deck effort in order to make campus accessible. The university's snow clearing operation remains as cost-effective as possible as well, using only staff and not contracting any of it out.
Daytime operations must be kept to a minimum due to heavy vehicle and pedestrian traffic. Major snow clearing operations start at 6:00 pm when it snows and continues until it's complete.
"We shift all our operators from days to nights to start the clearing because there's less traffic on the roads, it's easier to get in and out and we're not having to worry about students and their safety in the evenings," says Morin.
Despite the efforts by physical plant staff to clear the snow, mother nature was simply too much for them to overcome. Morin and his office received complaints and he wanted to remind the U of M community that expectations following snowstorms like the one this week should be modified.
"It is always disheartening to hear negative feedback, especially when you have your snow clearing crew working 20 of the last 36 hours at full capacity to clear the campus. However you cannot take it personally and use this feedback. Seeing if we can improve on our snow clearing operation is always something you have to do. We will get better from this," says Morin.