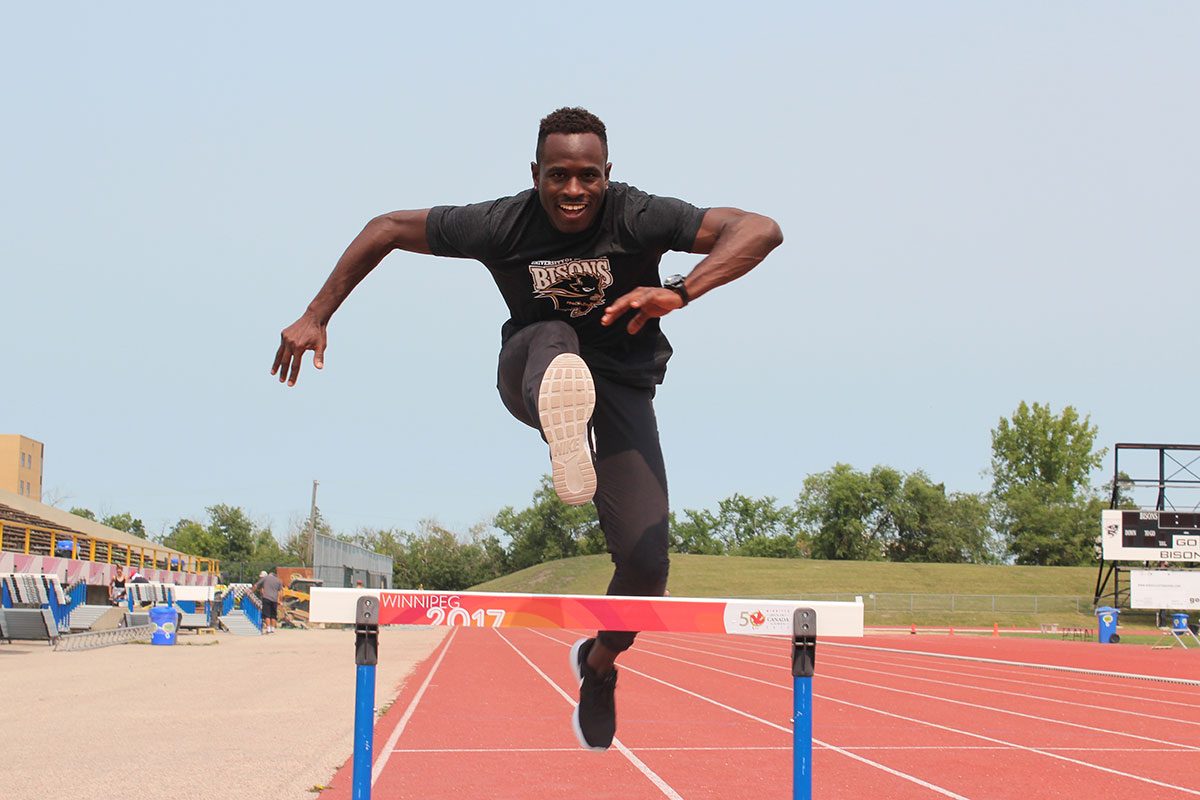 Recollections from the Games: Wilfred Sam-King Jr.
July 25, 2017 —
To celebrate the 50th anniversary of the Jeux du Canada Games, the U of M will be running a Q & A series entitled Recollections from the Games to highlight U of M alumni, faculty, staff and students involved in the Canada Games as athletes, coaches and volunteers.
As a two-time Canada Games athlete, former Bison track and field team captain and elite Canadian track athlete, Wilfred Sam-King Jr. is a shining example of how Canada Games athletes can go on to accomplish great things. The Vice President External for the University of Manitoba Students' Union (UMSU), speaks about his experiences at the 2009 and 2013 Canada Games and how having the games on the U of M campus will impact our community.
What is your favourite memory from your two Canada Games experiences?
My fondest memory was from the 2013 games during the 4 x 100-metre relay where Team Manitoba finished fourth, just outside of the podium.
How do you feel your Canada Summer Games experience prepared you for being a Bison athlete?
The high level of competitors and competition prepared me mentally and emotionally.
Canada doesn't have a university outdoor season, largely due to our climate, so the indoor season for many athletes is the main stage that gets the most attention, press and media.
The Canada Games was my first glimpse at performing outdoor on a national stage and after the 2013 Games in Sherbrooke, Quebec, I felt that I was very prepared to be a Bison athlete.
I actually had one of my most successful seasons with a top three ranking in the CIS (now U Sport) that year.
What do you think about the University of Manitoba being a key hub for this year's Canada Summer Games – specifically the Athlete's Village?
I think athletes around Canada are going to realize how state-of-the-art our facilities are and how incredible this campus and community truly is.
The facilities that impress me include the Active Living Centre, specifically the Bison strength and conditioning room managed by Shawn Preston, Investors Group Field and our new indoor track.
In my mind, we have one of the best athletic facilities in North America. I've trained and competed in many American and Canadian campuses including UCLA and aside from our climate challenges there's not many that rival the U of M.
Do you have any words of wisdom for the athletes competing this year?
Cherish every moment…and don't trade your gear unless it's really, really nice stuff! Don't forget to collect as many pins as possible, too.