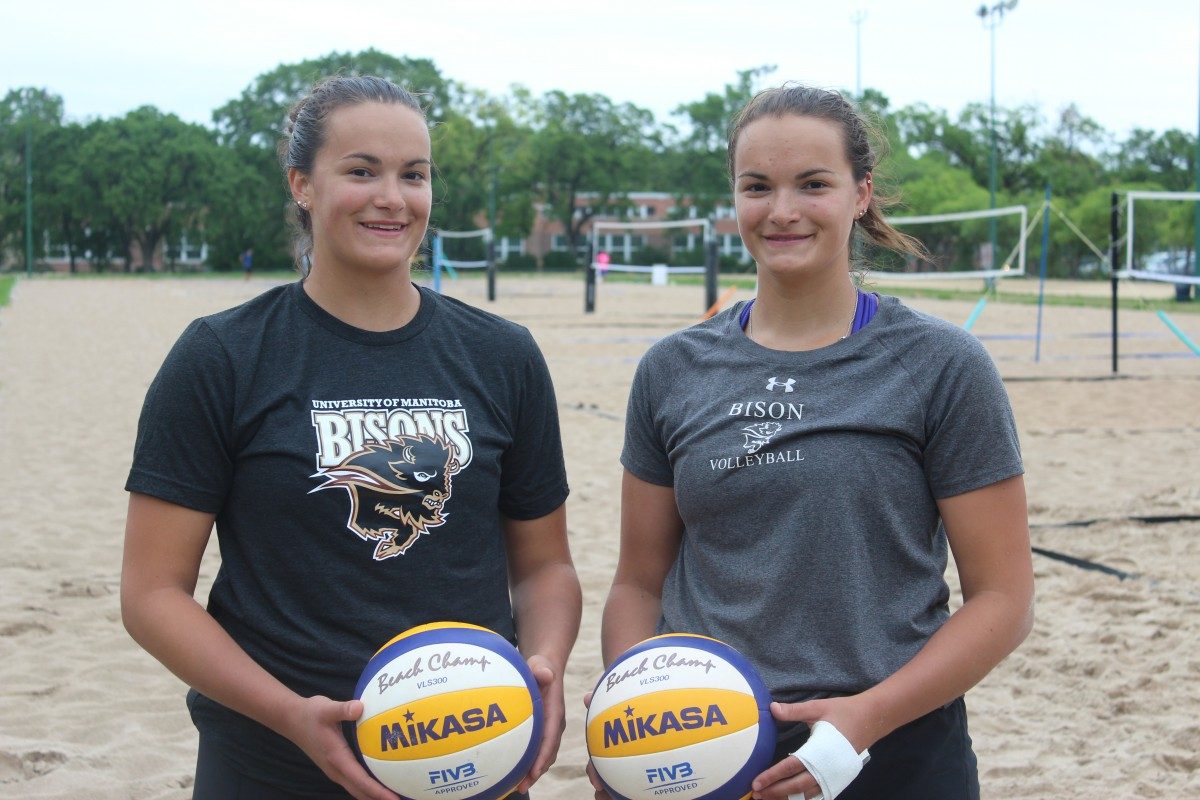 Recollections from the Games: Josie and Kearley Abbott
Twin sisters share their thoughts on competing at the Games
July 31, 2017 —
To celebrate the 50th anniversary of the Jeux du Canada Games, the U of M will be running a Q & A series entitled Recollections from the Games to highlight U of M alumni, faculty, staff and students involved in the Canada Games as athletes, coaches and volunteers.
The Canada Summer Games started with a win for a pair of Bison volleyball athletes representing Manitoba in beach volleyball at the Games. Twin sisters Josie and Kearley Abbott played their first match July 30 to beat New Brunswick in straight sets (21-13, 21-12). The Abbotts will play Nova Scotia on July 31 at 7 p.m. at the Sargent Park Beach Volleyball Centre.
The Abbott sisters shared their thoughts on competing at the Games.
What are you most excited for the Canada Summer Games?
Josie: I'm excited that they are in Winnipeg. There will be a huge support for Team Manitoba in the crowds. That makes it extra special.
Kearley: I'm most excited to take part in a multi-sports games and experience the atmosphere. We went to the Western Canada Games two years ago, so I want to see a bigger version of that here in the city.
What does it mean to you to participate in the Canada Summer Games?
Kearley: It means a lot to me because we get to represent the beach volleyball community but also Team Manitoba as a whole. We'll also get to cheer on Team Manitoba.
Do you find being twins gives you some advantage over your competitors?
Josie: Yes, I definitely think it does. In beach volleyball, it's all about communicating and getting the next point. We're very upfront with each other and we can communicate like sisters not teammates.
What other teams do you think will give you the most competition?
Kearley: We've seen a couple of the other teams. B.C., Ontario and the Maritimes. I think they'll all be tough. I'm not really certain what to expect.
Is there a certain skill that you each bring individually to the sport?
Josie: Kearley usually blocks and I usually defend. It works out well since you need one of each. We also each do different serves. There's a lot of differences between us on the court.
After finishing year one with the Bisons, what are you most looking forward to in your second year?
Kearley: I'm looking forward to a playoff push this year and not just first-round playoffs but hopefully getting to nationals.
Josie: I'm excited to show the other teams and our coach how much we've developed from the team we were last year.
What is your goal for the Games?
Both: To win!