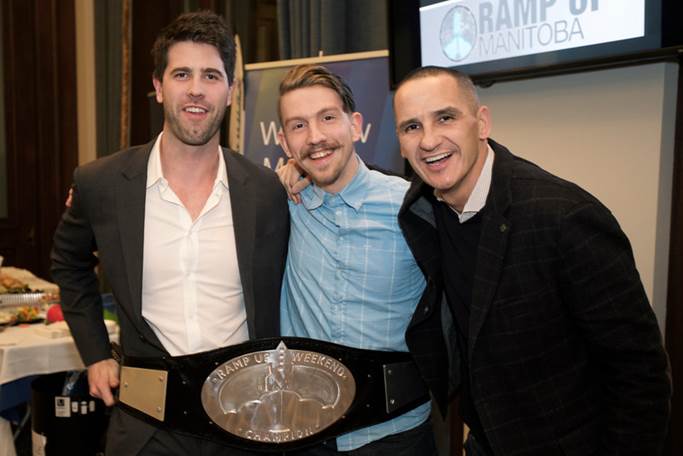 Ramp Up Weekend: Connecting marketable ideas with talent
February 4, 2015 —
Students! Think you have a business idea or project that could earn top spot in the Campus Edition of Ramp Up Weekend and win $1,500? The event hits the University of Manitoba starting Friday, February 6.
The 55 hour business building competition assembles groups of entrepreneurs, engineers and software developers, to take a project or business idea — such as a mobile or web app or even consumer goods — and bring it to life. The event primarily draws those from the Asper School of Business, the Faculty of Engineering, and department of Computer Science but students from any faculty can take part. That is, anyone with a business or product idea can pitch to their fellow Ramp Up participants on Friday, the first day of the event. Likewise, students wishing to gain experience and develop their skills are able to join a team after a pitch has been successful, building upon the idea from the initial pitch to create a viable business plan for it.
The competition aims to build a product or business idea from the ground up in a very short time frame — only 55 hours. The seed of an idea is planted during the pitch phase on Friday, with the over-arching plan growing over the three days with a number of community mentors providing professional advice and feedback to teams. Throughout the entire weekend-long event students will get hands-on experience with business creation, idea validation and concept presentation. They will also get to expand their network and meet people with different skill sets than their own, facilitating those connections.
Ramp Up Manitoba and the Collegiate Entrepreneurs' Organization (CEO) Manitoba have partnered on this event in hopes to create a bridge between students and the start-up community in Winnipeg. Their goal is to support and inspire students to choose entrepreneurship as a career path out of school and to join the vibrant community known as Start Up Winnipeg, says CEO Manitoba's president, Christos Vasilarakis.
Here is the schedule of events in a nutshell:
Friday, February 6: Those with ideas pitch to all the participants from the various faculties. Teams are formed around the top ideas.
Saturday, February 7: All-day work day dedicated to building the product, getting customers and anything else required to transform this idea into a business.
Sunday, February 8: A half work-day followed by a pitch competition to a panel of judges to determine the winners of $1,500 for 1st, $1,000 for 2nd, and $500 for 3rd.
UM Today caught up with CEO Manitoba's president to ask him how students should prepare for the campus edition of Ramp Up Weekend. Here are his tips:
Be prepared to pitch your idea in an exciting and attractive way. The key to success in this event is building a strong team. If your initial pitch doesn't properly convey your brilliant idea, you could lose some talented individuals to other ideas.
Be ready to draw upon your personal network. The teams that draw upon people and resources within their network progress faster than those who fall into group-think. Be ready to exercise all the resources available to you because your competitors certainly will be.
Come in open-minded. If people don't join your team, join another team. It doesn't mean your idea is bad, but it may mean it needs to be re-worked or isn't suited for this competition. Join another team and be part of something great.
To buy tickets, visit: https://www.eventbrite.ca/e/rampup-weekend-campus-edition-tickets-15413291570 or email ceo [dot] manitoba [dot] mb [at] gmail [dot] com