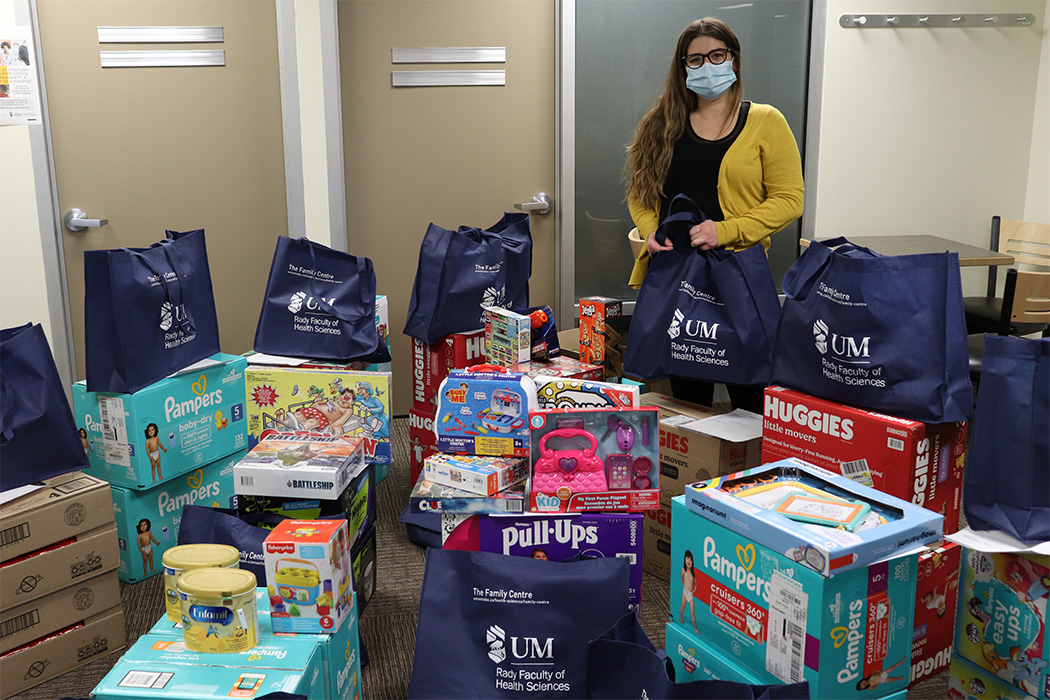 Rady student parents grateful for holiday baskets
December 20, 2022 —
Forty-three UM student families have received holiday baskets filled with children's toys and childcare supplies, thanks to generous donations from the Rady Faculty of Health Sciences community.
"We wanted to help bring joy and ease some of the stress that comes along with the holiday season for our student families who are currently experiencing financial hardship," said Melissa Melo, co-ordinator of the Rady Faculty of Health Sciences Family Centre.
This is the second year that the Family Centre has organized the Holiday Basket Program. This year saw an increase in the number of Rady student parents applying to receive baskets. Melo said that was not surprising, with the significant increase in living expenses students are facing.
Irene Osaghae, a third-year student at the College of Nursing, said she loves to receive the toys, children's books and learning aids. "It means so much for me and my family. My kids are so excited for the toys, which I would otherwise not buy because I prioritize groceries. I am so grateful that staff and fellow students are able to donate to this worthy cause."
When applying for a holiday basket, students fill out a questionnaire so they can receive items such as diapers and formula that are personalized to their needs, along with toys that are appropriate for their children's ages.
"Being a student at the university and having an opportunity to receive a holiday basket for my daughter means more than I am able to describe in words, especially during the holiday season when children expect a lot of gifts and are excited to receive surprises," said Amanjot Kaur, a dental hygiene student at the Dr. Gerald Niznick College of Dentistry.
"I really appreciate [the Family Centre's] effort and time to buy everything and put it together."
After putting out a call to the Rady Faculty community, the Family Centre raised close to $4,000 in monetary donations, as well as a large quantity of toys, diapers and other supplies.
"Our students work so hard," Melo said. "This is one way that our Rady community can give back to those who are juggling studying, providing service in our health-care system and being a caregiver."
Osaghae said she hopes the program will continue, so in the future she can become a donor.
Find out more about the services and resources offered by the Rady Faculty of Health Sciences Family Centre on its website or email FamilyCentre [at] umanitoba [dot] ca.