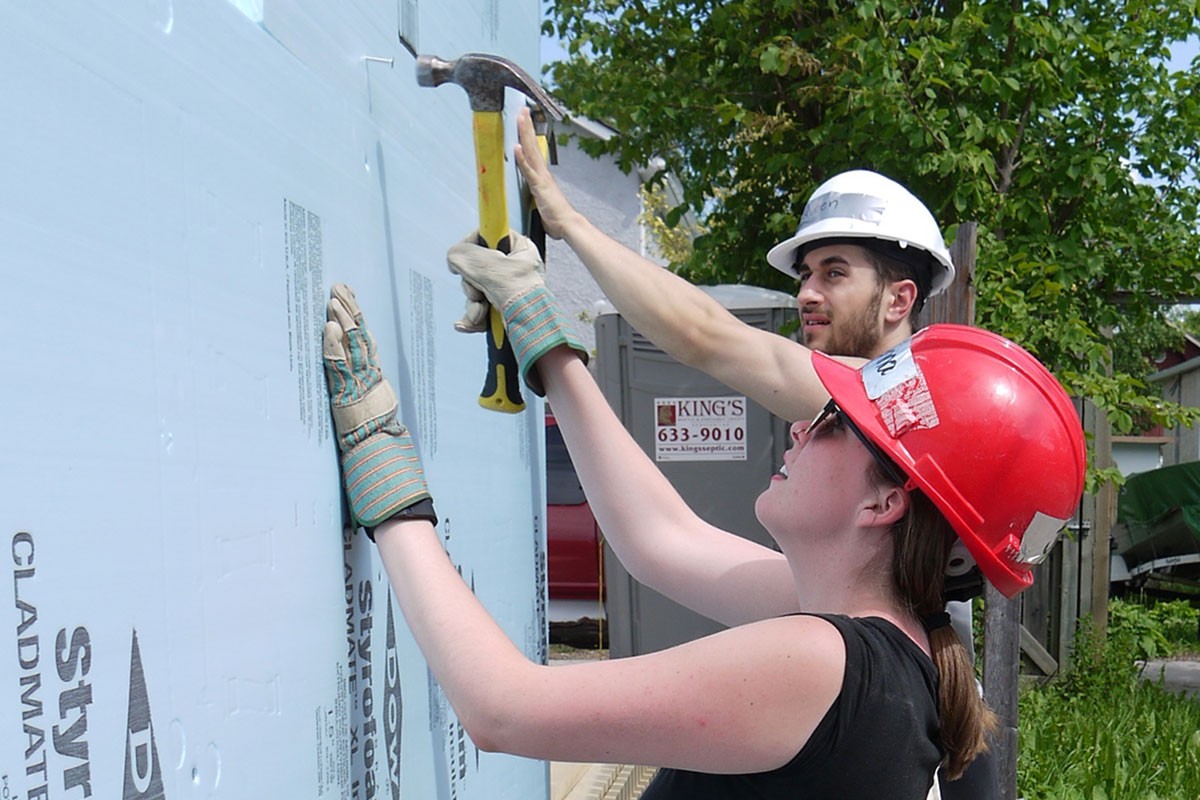 Rady Faculty of Health Sciences partners with Habitat to help build hope
Staff and students help build home in the inner city
June 23, 2016 —
A Winnipeg mom and her two sons will soon experience home ownership thanks to a continued partnership between the University of Manitoba's Rady Faculty of Health Sciences and Habitat for Humanity Manitoba.
The nine-day build project kicked off at 10:00 a.m. on June 20 on the build-site located at 299 Patrick Street.
This isn't a first for the Rady Faculty. To date the community of health educators, researchers and learners in the health sciences faculty have helped build two homes. In 2013 and 2014 the Bannatyne Campus staff parking lot was transformed into a construction site, each home was built at the inner-city campus and then relocated to its permanent site.
"This year we're going into the community and we're building the home at its permanent site nearby. It's exciting because it gives students an opportunity to really experience the neighborhood. They're so comfortable here on campus, it's benign to them," says Brian Postl, Dean of the Rady Faculty of Health Sciences and Vice-Provost (Health Sciences).
Staff, students, instructors and faculty members from the College of Dentistry, Max Rady College of Medicine, Colleges of Nursing, Pharmacy and Rehabilitation Sciences will lend a hand in building a new home for the family of three.
"Habitat Manitoba is thrilled to be partnering again with the Rady Faculty of Health Sciences to build a home for purchase by a Winnipeg family. No one better understands the importance of a stable and healthy home in the well-being of a family than the faculty, staff and students of the Rady Faculty of Health Sciences. That health care professionals, current and future, and the institution that employs and teaches them can come together in this manner is an outstanding example of leadership in our community," says Habitat for Humanity Manitoba CEO Sandy Hopkins.
The younger son, age 13, has a muscular degenerative disease that will ultimately result in him requiring a wheelchair. The home will be custom built for accessibility to meet his future needs. A customized lift system will be installed to provide him access to the home and the kitchen will have a unique layout that will allow him the independence to continue his love for cooking.
According to Postl, the faculty was eager to partner on another build after a year-long hiatus. "As a health sciences faculty we are committed to social accountability and responsibility and what better way to demonstrate giving back than supporting adequate housing for a family in need," he says.
Postl adds, housing is one of the social determinants of health that predicates not only health and well-being but educational success such as completing high school and continuing in post-secondary education. "We had great participation in 2013 and 2014 when we made history by being the first Faculty of Medicine, then the first Faculty of Health Sciences in Canada to sponsor a Habitat for Humanity build."
U of M volunteers– alongside the Habitat construction staff – will actively build the house from the ground up from June 20 to 30, 1:00 to 9:00 p.m. weekdays.