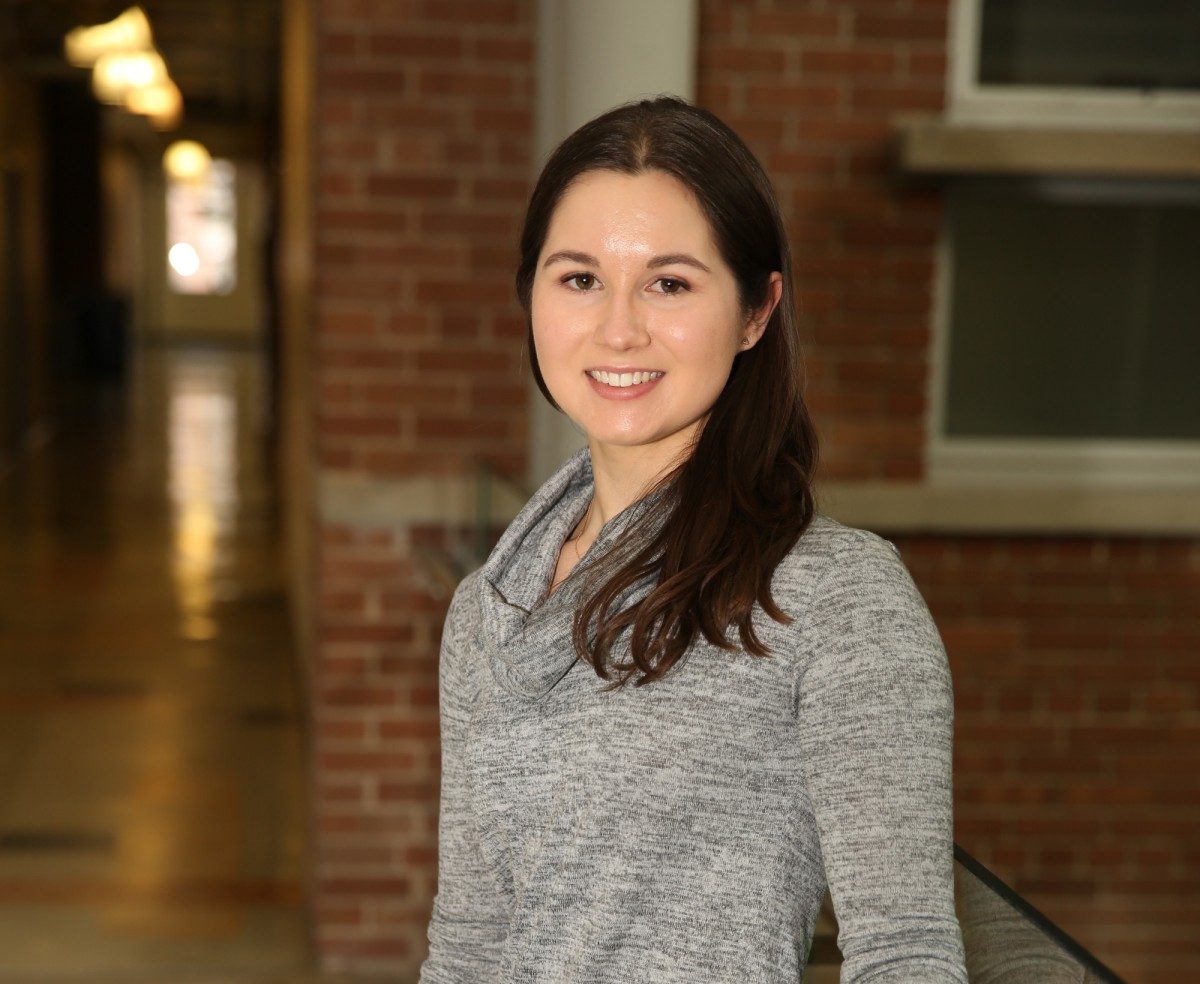 Q&A with Rachel Nickel, U of M's 3MT champion heading to regionals
April 26, 2017 —
Rachel Nickel doesn't like blood yet she's dedicating herself, for the time being, to studying wounds, specifically, how to use magnetized nanoparticles to kill invading bacteria. Days ago she created a new rod-shaped nanoparticle with peculiar characteristics unidentified in literature. This thrills her. She also enjoys that her work could have profound impact on our health-care system: Helping us fight antibiotic resistant bacteria.
Smart, calm and well spoken, Nickel won the Archie McNicol Prize for First Place at U of M's 2017 3MT competition (and also received the People's Choice Award) and is heading to Saskatoon to compete in the regionals on April 28 at 2 p.m. You can watch her compete online and vote, and you should do that.
UM Today sat down with her to learn more about her work and life.
Meet: Rachel Nickel, master's student
Studying in: Department of Physics
Her supervisor: Professor Johan van Lierop, leader of the nanomagnetism research group
UM Today: What made you decide do 3MT?
Rachel Nickel: My supervisor suggested it and it seemed like it would be a nice, low-commitment thing: Write a three-minute speech and then give it. I didn't realize how hard it would be to get stuff into three minutes.
I'm a bit of a procrastinator too, so a week before I wrote a speech and said, "This is three minutes." Then I read it and was like, "Nope. No. That's six minutes." So I started trimming and cutting and as soon as I got it to three minutes on the dot I thought, "Yeah, this is good." And I showed it to my supervisor who was like, "Sounds good, go for it."
And now you're going to regionals?
Yeah, in Saskatoon. I think it should be good. I have to survive the end of the school year first though.
You can sum up your work in 3 minutes. Can you do it in 10 seconds?
I look at biocide-coated magnetic nanoparticles to treat infections.
What does that mean?
Basically, right now, we have all these bacterial infections we can't treat. You have these superbugs that are a huge issue in hospitals because the last lines of defense are failing.
There are two different types of bacteria: gram-positive and gram-negative. For gram-positive bacteria, there is one drug left that will kill them. Gram-negative, there is nothing. If you have a gram-negative antibiotic-resistant bacteria and it has beaten all the drugs you have tried, that's it. There is nothing left.
So my work is trying to figure out different, innovative ways that we can treat these things. So I work with Dr. Song Liu's group in biosystems engineering. His group developed this biocide. Whereas antibiotics kill bacteria, a biocide kills everything living.
That sounds dangerous.
It does. Which is why we use the magnetic nanoparticles. Biocides will kill everything: bacteria, fungi, human cells. Kind of a problem. But if we coat them with the magnetic particles we can apply it, and then remove them when we apply a magnetic field.
What we're targeting, particularly, are burns. If you have a burn wound you have a large surface area, lots of exposed area for bacteria to go in. So we're looking at putting the particles into an ointment, and two hours later come back with a magnet and a piece of gauze and take them out. Cool, right?
So far we have shown that we can kill all of the bacteria in two hours. We can kill the resistant ones in two hours. That's a pretty good time.
But we're focusing on removal right now. We can remove it from wound simulant, but we went and tried actual wounds and it's a little bit trickier because a real wound begins healing in that time and it's hard to get the particles out.
These nanoparticles are eight nanometers across so there's what, 10,000 in the width of a single human hair? So they are really tiny and they get stuck. So my work right now, because I'm in physics, is focusing on making an ideal size and shape of nanoparticles that we can remove them properly.
What made you get into this field?
I really like multi-disciplinary science. I went into physics but even while I was doing my undergrad I knew I wanted to do something more general and application-based, where I could have my fingers in everything. So my supervisor right now approached me to work in the summer for him and he put me on this project and I love it. I get to make the particles. I get to test them. I get to do all the analysis and refinement. I have my hands on everything.
What did you want to be as a kid?
I don't know. I feel like I was kind of an aimless kid. I thought about being a doctor but I don't really like blood. I thought about being an optometrist, but thought I would get bored in it because you do the same thing every day. One of the things I like about research is I come in and I'm trying a whole new synthesis. Maybe it works, maybe it doesn't. But every day is a challenge and I enjoy the variety.
What are your hobbies?
I used to figure skate competitively. I ended up having joint problems so I quit young and got into judging. So I volunteer judge for Skate Canada. Otherwise, I like to read and I like to bake. I think food is wonderful.
Research at the University of Manitoba is partially supported by funding from the Government of Canada Research Support Fund.